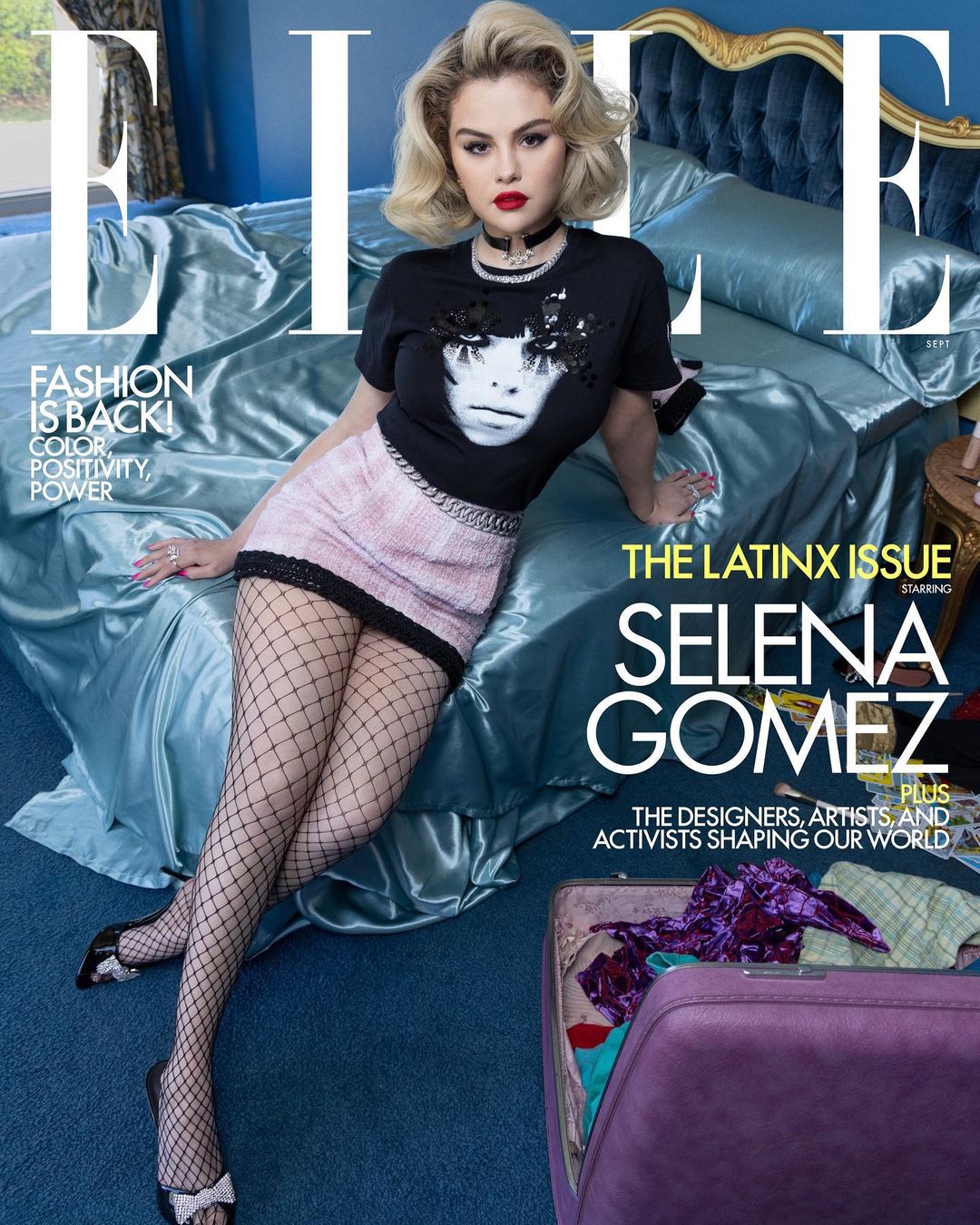 Selena Gomez covers the September issue of Elle Magazine. I think Selena is so pretty and photogenic (like, crazy-photogenic with her Bambi eyes) but I really don't think Elle did her many favors with this editorial. The blonde hair is one thing, but they made her look so cheap, in my opinion. The interview is a bit better, or at least she sounds like she's in a better place in general. She breezes through some subjects, like her bipolar diagnosis and how she voted for the first time last year, and this piece is in support of like five different Selena projects. There's her makeup line, Rare Beauty, there's her Hulu show Only Murders in the Building, there's her new Spanish-language album and on and on. You can read the full piece here. Some highlights:
She moved into a new LA home pre-pandemic after selling two previous homes. "I tried out a bunch of different neighborhoods because I wanted to know what was going to make me feel comfortable in a city that doesn't make me feel that comfortable. I was like, 'Oh, maybe I'll try West Hollywood,' but I was like, 'No, that's not my vibe.' Then I moved to Calabasas, and I thought that would be nice and family-oriented, but it's actually very overwhelming and trendy now. It took me a while to figure out what was best for me."

She lives with friends & her grandparents: "I'm a very communal person. I find happiness when I'm with people I love. My lupus, my kidney transplant, chemotherapy, having a mental illness, going through very public heartbreaks—these were all things that honestly should have taken me down. Every time I went through something, I was like, 'What else? What else am I going to have to deal with?' 'You're going to help people.' That's really what kept me going. There could have been a time when I wasn't strong enough, and would have done something to hurt myself."

On-set COVID protocols. "No one was allowed to be on set. Everybody wore masks and shields. If I touched a prop, they cleaned it," she says. For a kissing scene, she was required to wash her mouth out with Listerine after each take—7 to 10 of them. "It burned my mouth. I was like, 'I want to throw up.' I've never experienced a set like that."

She loved working with Steve Martin & Martin Short: "I got to be in a space with so much wisdom. They became my uncles."

Being diagnosed with bipolar disorder in 2018. "I felt a huge weight lifted off me when I found out. I could take a deep breath and go, 'Okay, that explains so much.' "

Since 2017, her assistant handles her social media: "I don't have it on my phone, so there's no temptation. I suddenly had to learn how to be with myself. That was annoying, because in the past, I could spend hours looking at other people's lives. I would find myself down nearly two years in someone's feed, and then I'd realize, 'I don't even know this person!' Now I get information the proper way. When my friends have something to talk about, they call me and say, 'Oh, I did this.' They don't say, 'Wait, did you see my post?' "

Her Spanish-language album Revelación: "It was a challenge. I think speaking in Spanish is a lot easier than singing." But with a bit more time on her hands than usual, Gomez was able to work with a Spanish coach and really nail it. "I made sure that I didn't look like a fool. I focused so hard on making sure that the language I was speaking, and the way I was speak-ing it, was authentic. I wanted it to exude love—to talk about pain, but in a way that was confident. There is a song about girls saying goodbye to things that aren't good for us."

Months ago, she said that she felt like quitting music: "I don't think I'll ever quit making music," she says. But, she admits, she does still feel like she's constantly trying to prove herself. "I'm not saying I want a Grammy. I just feel like I'm doing the best I can, and it's all about me. Sometimes, that can really get to me." Music, unlike acting, is so personal, she says: "You're pouring yourself out."
She's talked about handing off her social media accounts before, and I do think that's very wise. I wish more celebrities would do that in general, just because I do think there are definitely some celebrities who are social-media addicts. It's not just about curating a certain image for Selena, it's about her own mental health and not wanting to get absorbed in what other people are posting. Speaking of, she didn't mention Justin Bieber at all. Good for her. I do think this is a reference to Biebz though: "I wanted it to exude love—to talk about pain, but in a way that was confident. There is a song about girls saying goodbye to things that aren't good for us."
Re: her comments about voting are mundane, especially since she only voted for the first time last year. When she tried to explain why she waited, she was pretty vague, but then she drew on her experience as a Mexican-American and her growing awareness during the Trump years of the racism her family had experienced. Which… okay, but she didn't have any of those realizations in 2016, when she was 24 years old?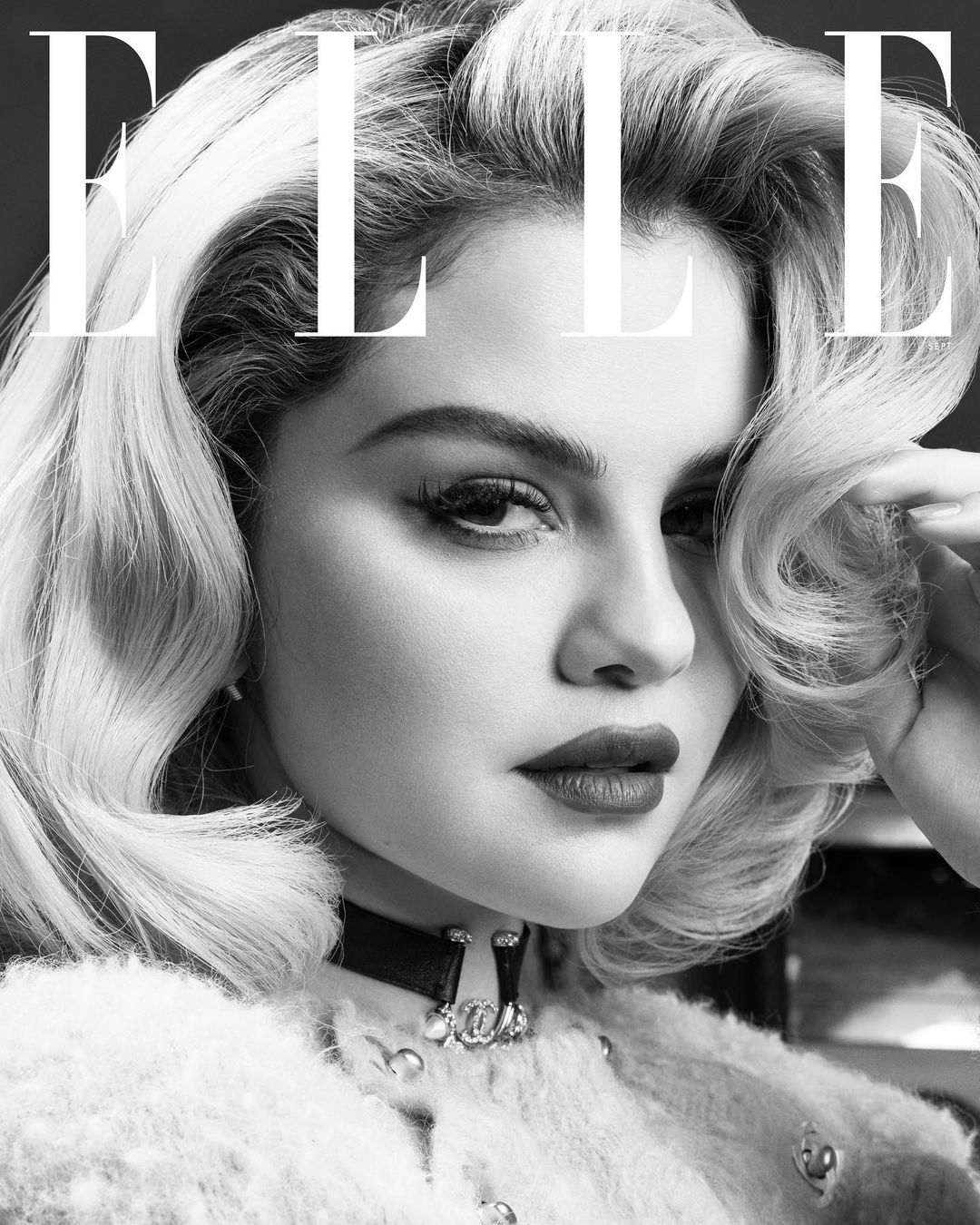 Covers & IG courtesy of Elle Magazine.