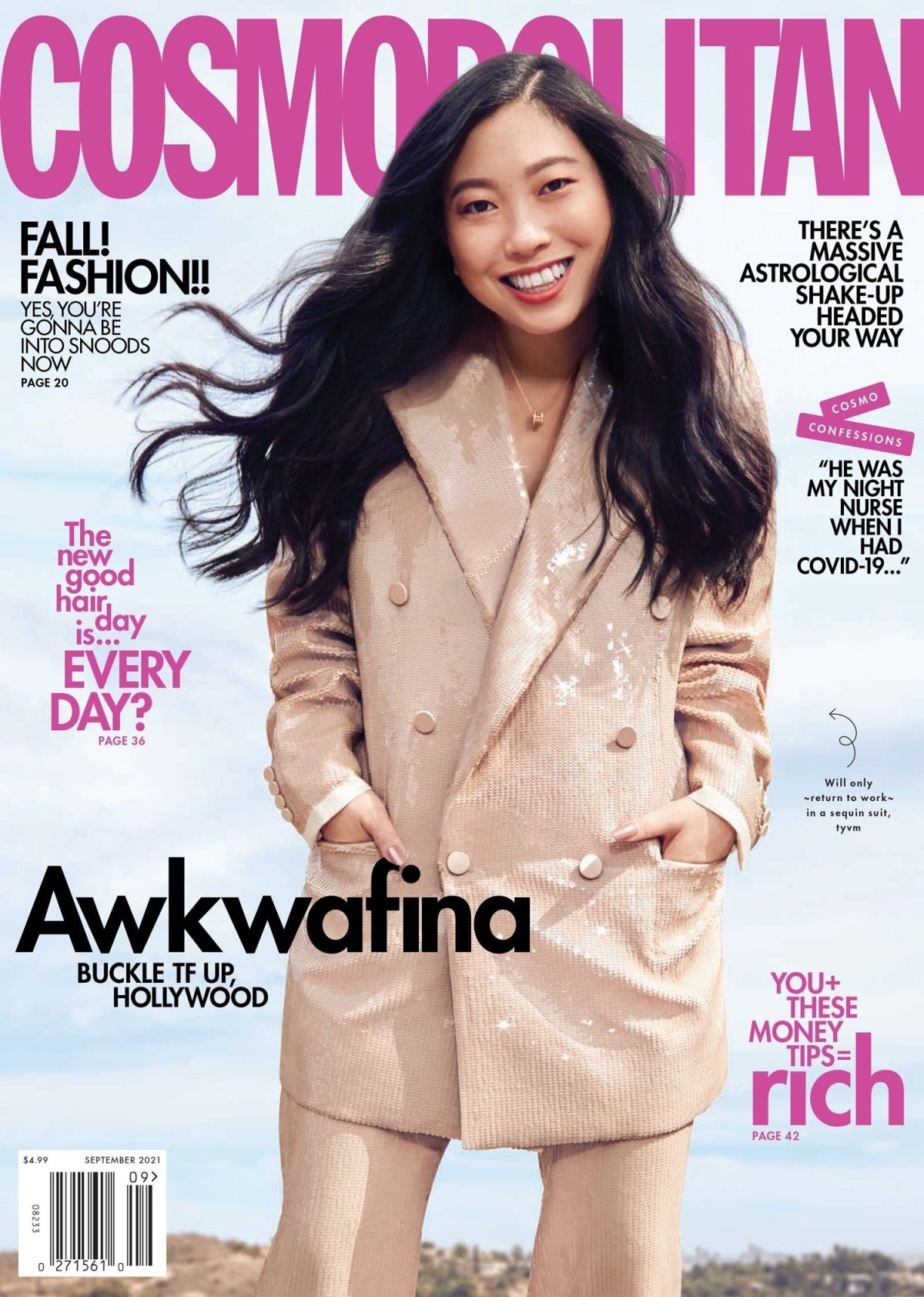 Awkwafina covers the September issue of Cosmopolitan to promote her role in Shang-Chi and the Legend of the Ten Rings. She has other projects coming and going, of course, like her Comedy Central show and several upcoming films, but yeah – we're definitely in the transition away from her Awkwafina persona and her authentic/actress self, Nora Lum. Nora Lum is an in-demand actress. Awkwafina gets a lot of hate on social media for her years of using AAVE. Nora talks to Cosmo about growing up in Queens, making Marvel's first "Asian superhero" movie and more. Some highlights:
Being raised in Queens by her grandmother: "When I was growing up, I knew how I was socioeconomically classified. I knew that my grandma was a working-class immigrant and my dad was a single dad. I knew that I would have to get through in my own way. That taught me a lot of lessons, like you really have to humble yourself, doing waitress jobs and applying to really hip stores and not getting the job and feeling like, What is even out there? You have to really hit a kind of rock bottom to really want it, to fight for it."

After the past brutal year for the AAPI community: "These movies make me so proud, just as a watcher, because they contribute to visibility, which I do think has real-life effects. When the AAPI community is seen as not ancillary characters, it's almost like, then people will know that we're here, you know?"

The pressure to make people laugh: "Yeah, there's always going to be the immediate want that is, 'Okay, well, I'm going to do this because I want you to feel joy right now.' But ultimately, a lot of comedy is grounded in really long periods of solitude and really crazy contemplation."

She's never going to get complacent: "I don't think I'll ever get to that point. Before, I'd do anything because I was waiting, being lost, knowing that things could change tomorrow or they might never. I didn't know that it would work, and when it started to, I realized this is something that could actually happen. It's like when you step into Oz and you start to see one magical thing and you're like, How does that even exist? But then it numbs you to crazier, more magical things."
Nora is second-generation American on her father's side and first-generation on her mom's side. Growing up working class, with that kind of Asian-immigrant background, yes of course she believes in hard work and paying dues and that if you work hard enough, you'll be successful. That's built into the immigrant family's DNA, that's part of the American dream. But she's competing for roles against second-generation and third-generation Hollywood women, women who were born into lives of privilege. I don't know, I don't really have a point other than I'm glad Nora is successful and all of that, but all this made me think about was how many (white) women get their opportunities handed to them on a silver platter and they don't have to "humble" themselves at all.
Cover courtesy of Cosmo.