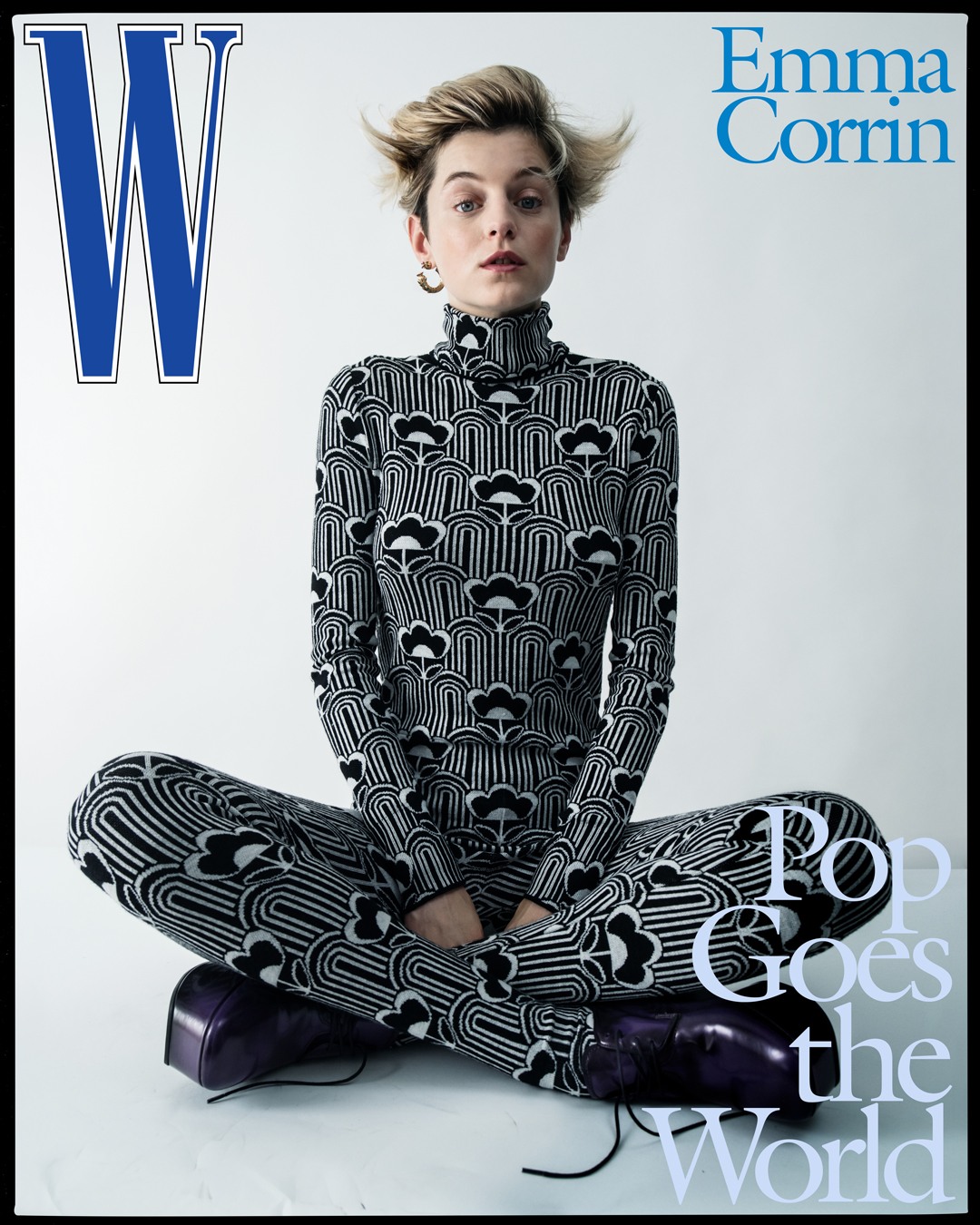 You know how an actor has actually given an iconic performance? People are still talking about the performance for months and years after the fact. So it is with Emma Corrin playing Princess Diana in The Crown. Emma, who is non-binary and uses they/them, got one of the many covers for W Magazine's TV/Fall issue. Emma has moved on and they have other projects in the pipeline, but people still want to talk about Diana. For what it's worth, I think this W Magazine cover functions as Emmy campaigning. Emma already won a Golden Globe and a SAG (as part of the ensemble) for The Crown. Emma chatted with W Magazine about all of it:
When Emma first learned they were cast as Princess Diana: "I was at the end of my auditions. I was actually taken to the set where they were filming some of season 3, and did a couple of scenes with Josh [O'Connor, who plays Prince Charles], and then the director and one of the producers proposed to me in this sort of "Will you be our Diana?" way. It was mad. I think I probably blacked out.

Whether Emma dressed like Diana for the audition: "I did white jeans, crisp blue shirt, and I said to my agent, "I'm going to get my nails done." She said, "Great idea. Great commitment." I got them in the most electric, vivid blue, and my agent was like, "You will change that immediately. Never do that again." I was like, "Well, the ring was blue; she was kind of funky," and she said, "No, Emma. This is so wrong."

Getting Diana's eye-movement right: "I got that from a cat. Not my cat, but a cat that used to come and sit on my wall. Me and Polly, who helped me with movement and character and stuff, were talking about what animal [Diana] would be, and we couldn't figure it out for ages. Then I was watching this cat who was watching my puppy, and this cat was just sitting on the wall like this [makes a face]. I was like, Whoa, it's that, because cats are powerful, can be very mysterious, coy. When they're friendly, it's amazing, and you feel like you know them, but you don't. And I was like, Great, it's her. Perfect.

What kind of animal is Emma? "Every time I ask someone to tell me, "What animal do you think I am?" they always say a bird, because I'm very flighty. It's the worst one. Who wants to be a bird? I feel like you want to be something like an otter, or a meerkat.

The best piece of advice: "It's a very simple one, but it's very much for me, because I move a million miles an hour through everything: When you're living a pace of life where you've got a lot of stuff happening to you all at once, stop and let it go a bit, and chill out and actually just try and sit in moments, as opposed to always thinking or planning or worrying about the next thing. Dan Levy was interestingly telling me—because we had dinner with my flatmate, as well, and we're having various crises that you have in your 20s—"Guys, honestly, your life will change so much, and in ways that you cannot expect, [so stop] worrying about trying to fix everything and have it exactly the way you think it should be, or preempting things or trying to have control over everything at this stage of your life." He said, "Don't sweat it, because you have no idea what's going to happen, and stuff changes. Just let it go a bit."
I'll admit that I had no idea who Emma was before The Crown, and I can only imagine what it's been like for them to go from a virtual unknown to the actor who flawlessly played the young Diana Spencer. It's like A Star is Born, but in real life and with a British accent. And I do think Emma has been pretty stressed in recent years, from filming The Crown to promoting it and campaigning for all of the awards. I hope Emma does get a chance to move past the role after the Emmys and they should definitely find a lot of work all over the place. And yes, Diana was very catlike! She was always very feline in her movements. Probably from years as a dancer, but she did that coy, chin-down, looking-up thing throughout her life too.
Cover & IG courtesy of W Magazine.