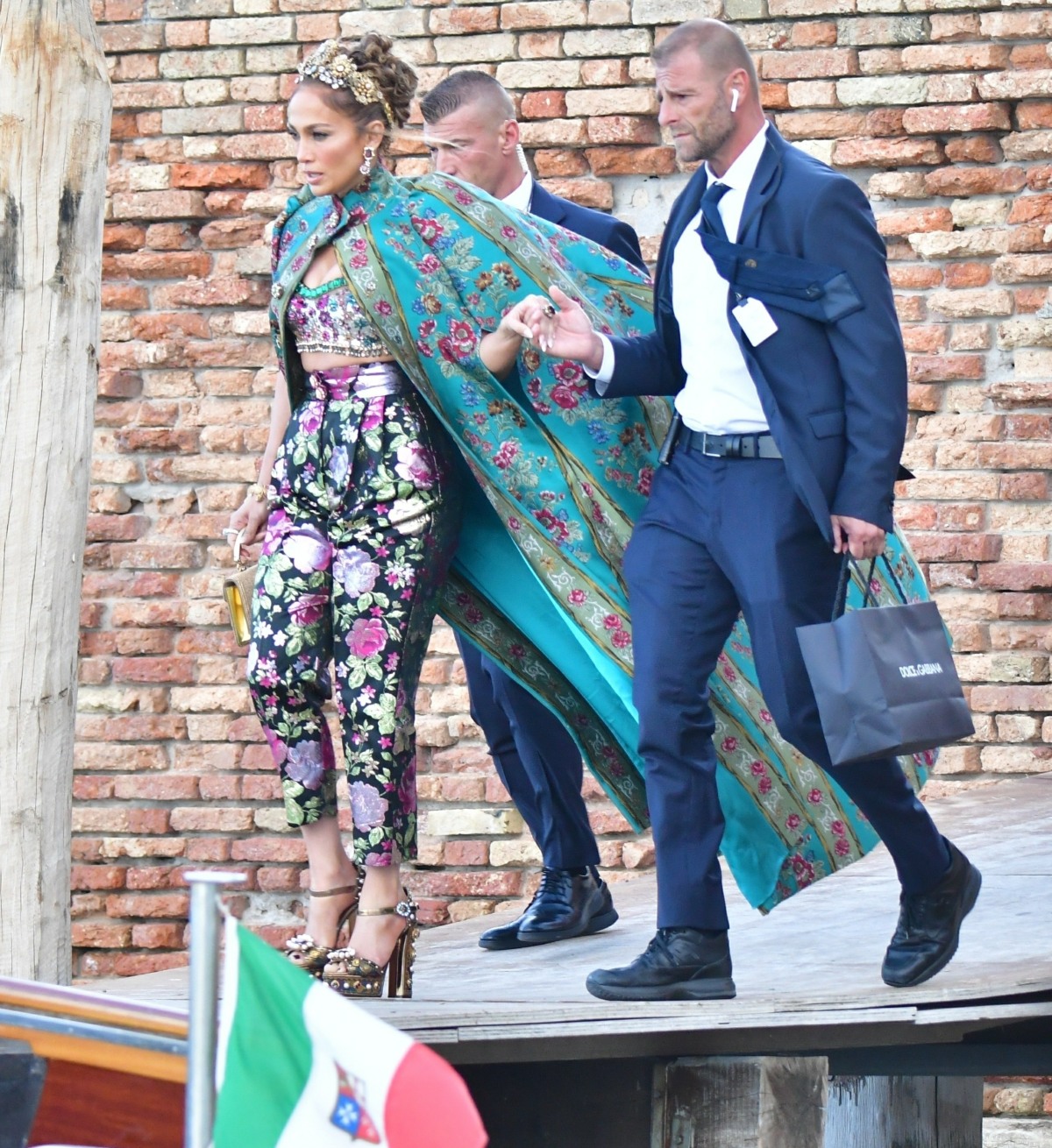 Over the weekend, Ben Affleck and Jennifer Lopez were seen boarding a plane in LA. Soon, we knew their destination: Venice, Italy. I actually had high hopes that they simply flew into Venice early ahead of the Venice Film Festival, which starts on September 1st. Ben is due to premiere his film The Last Duel, with Matt Damon and Jodie Comer, at the film festival. There's even been some speculation that The Last Duel's Venice premiere could be the red carpet couple-debut of Bennifer in 2021. But…Hollywood Life mentioned that there is some mixed gossip about whether Ben even flew to Venice with Jennifer – he possibly just dropped her off at the LAX. Hmm.
In any case, the official reason for J.Lo's visit to Venice was to attend the three-day Dolce & Gabbana fashion show/event. She ended up giving D&G's millions of dollars worth of free promotion as she posted tons of photos all dressed up in a D&G caped ensemble. Her official date for the event? Her manager Benny Medina. It will be interesting to see if J.Lo stays in Venice, right? What if we get Bennifer on a red carpet at this film festival? OMG.
Incidentally, it seems like Dolce & Gabbana's many controversies have been completely forgiven and forgotten by Hollywood actresses and fashionistas. Stefano Gabbana and Domenico Dolce have a long history of saying appalling sh-t about gay people, gay parents and in vitro fertilization. In 2018-19, the designers thought it would be funny to court the Asian market by creating a racist ad campaign with a Chinese model trying to eat Italian food with chopsticks. The designers doubled-down on their racism when Gabbano began going after critics online. These two men are utter douchebags, and it's painful to see how easily everything was forgiven and forgotten by A-list celebrities. I tend to believe D&G convinced a lot of powerful stylists to dress their clients in D&G too. But in J.Lo's case, she's been friends with the designers for many years. Ugh.
Ciao Venice 🇮🇹 ✨👸🏽 @DolceGabbana @JLoBeauty #DGLovesVenice #JLoOnTheGo ✨ pic.twitter.com/U4jrSDIeZT

— jlo (@JLo) August 29, 2021
Photos courtesy of Backgrid, J.Lo's Instagram.