Channing Tatum and Zoe Kravitz are happening. For how long, no one knows. Channing and Zoe aren't saying. They met last year because Zoe was starting to put together her first project as a director, P-ssy Island, and she wants Channing to star. He agreed to star in it and suddenly Zoe's marriage to Karl Glusman was done and dusted. Very weird! So, yes, I believe Zoe and Channing have been happening for months and they've only recently gone public with their romance in a series of New York pap strolls. Now that their relationship is official (ish), People Magazine has sources talking about how much fun they're having together:
Channing Tatum and Zoë Kravitz's new romance is in full bloom. In this week's issue, a source tells PEOPLE Tatum, 41 and Kravitz, 32, "continue to be inseparable" in New York City where they have been spotted enjoying low-key activities together.

"They spent the weekend in N.Y.C., strolled around the city, met up with friends and visited the Guggenheim Museum," says the source. "They looked very happy. They have this cute and flirty chemistry."

Personal reps for the actors have not commented on their relationship, but sources say they share a lot in common.

"Zoë thinks Channing has depth both as an actor and a person," says an industry source. Adds a Hollywood insider: "Channing likes that she is independent and outspoken as well as bright."

Despite the fact that they both worked on the 2017 animated movie The Lego Batman Movie (Tatum voiced Clark Kent with Kravitz as Catwoman, who she is playing in the upcoming live-action The Batman opposite Robert Pattinson), the pair didn't officially connect until the High Fidelity star approached the Magic Mike actor to be in her directorial debut, P-ssy Island.

Kravitz recently finalized her divorce from actor Karl Glusman and Tatum shares daughter Everly, 8, with ex Jenna Dewan.

"They both like to work and be busy," says the industry source. "Channing especially has a full plate with work and his daughter. Zoe loves her work and has a diversity of talents as well. It is an interesting match."
"Zoë thinks Channing has depth both as an actor and a person" - I mean, for years, he had a reputation as kind of a meathead, but I agree that the Charming Potato absolutely has some depth. For one thing, he likes women who have their own careers and profiles and such. He's not looking for a vapid trophy wife – I bet he loves that Zoe has her own career and a lot of sh-t going on in her life. Anyway, while I believe Bennifer is the best celeb-couple to happen in years, I am enjoying Channing and Zoe. What's their portmanteau? Zanning? Zoeing? Choe? Kratum?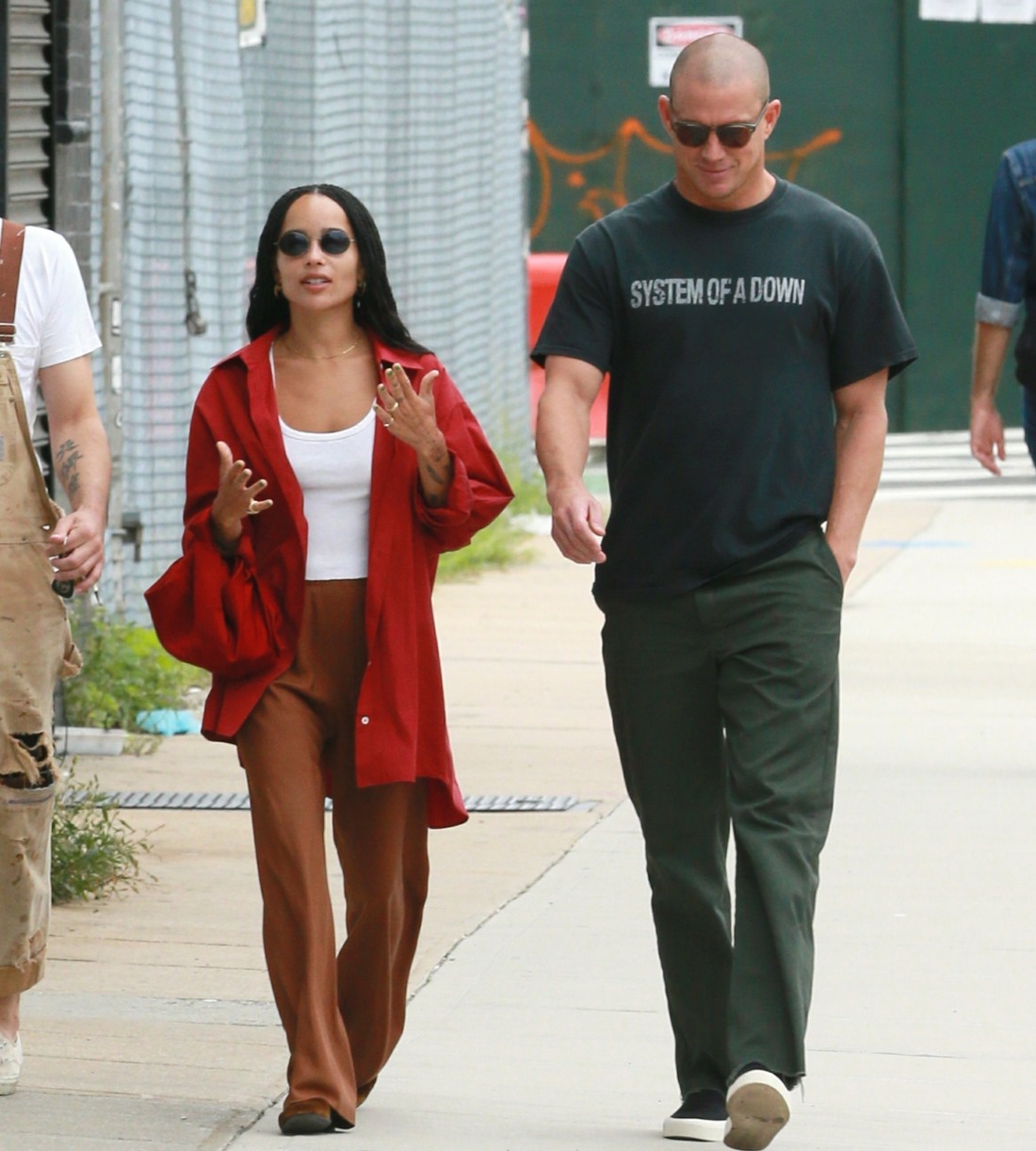 Photos courtesy of Backgrid.