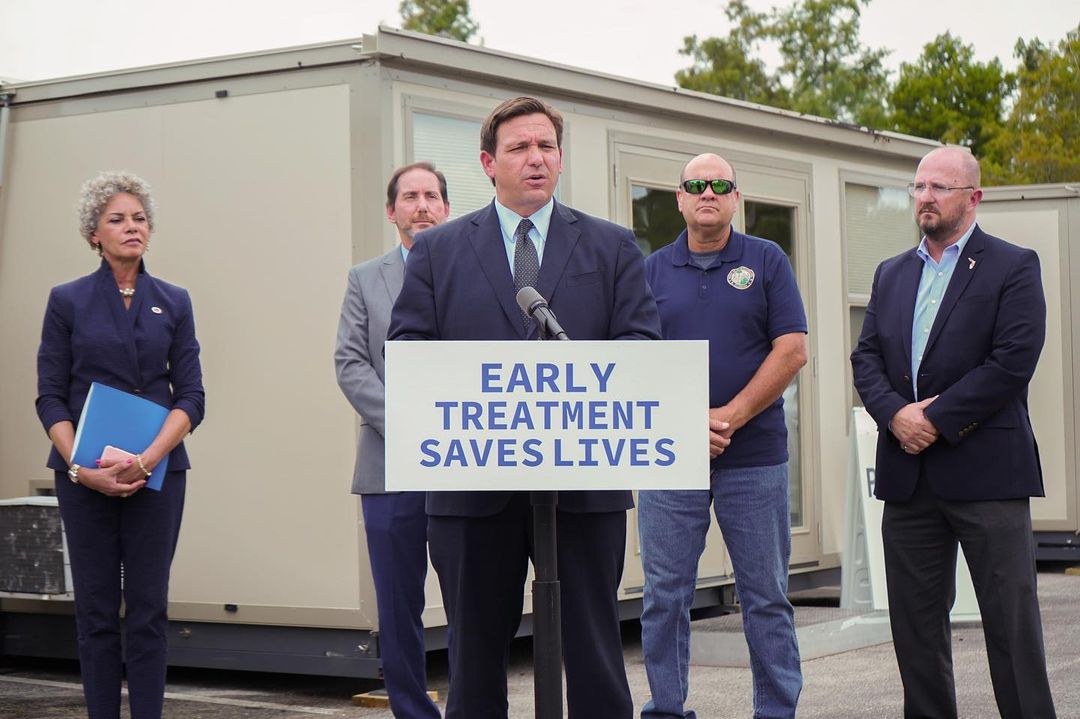 There are politicians whose legacies will be death and destruction. Of course there's 45, with Texas Governor Greg Abbott and Florida Governor Ron DeSantis also working to kill as much of their electorate as possible, particularly their followers. As Florida coronavirus cases and deaths reach record levels, including children under 12 who are ineligible to be vaccinated, DeSantis is appealing a ruling that allows school boards to set mask mandates. Of course he's doing this. He's also imposed $5,000 fines for businesses asking for proof of vaccination, but that's another story. Here's more on this:
Florida Gov. Ron DeSantis has appealed a judge's ruling that the governor exceeded his authority by ordering school boards not to impose strict mask requirements on students to combat the spread of the coronavirus.

The governor's lawyers took their case Thursday to the 1st District Court of Appeal in Tallahassee.

DeSantis wants the appeals court to reverse last week's decision by Leon County Circuit Judge John C. Cooper, which essentially gave Florida's 67 school boards the power to impose a student mask mandate without parental consent.

DeSantis, a Republican, said at a news conference earlier this week that he is confident the state will win on appeal by linking the mask mandate order to the Parents' Bill of Rights law. That law, the governor said, reserves for parents the authority to oversee their children's education and health.

Cooper found, however, that the Bill of Rights law exempts government actions that are needed to protect public health and are reasonable and limited in scope — such as masking students to prevent the spread of COVID-19 in schools.

"It doesn't require that a mask mandate must include a parental opt-out at all," Cooper said in an oral ruling Friday.
State election officials have "moved to withhold salaries for school board members in Alachua and Broward counties" where they're instituting mask mandates. Last month four teachers in Broward county died of covid within 24 hours. The Biden administration has stated that they will cover the salaries of teachers penalized in Florida for mask mandates. Maybe this is why DeSantis turned down $820 million in federal food aid recently, to stick it to the libs who want kids to be fed and healthy. The good news is that DeSantis and Abbot have seen their approval ratings drop as more people die from their terrible policies. Both are up for reelection next year. Maybe next year these large red states will finally get competent governors who aren't actively trying to kill people and take away their basic rights. I hope that this appeal is unsuccessful and that school boards in Florida are able to keep their teachers and students safe.
Look at this f'er promoting monoclonal antibody treatment. I wonder why he's doing that.