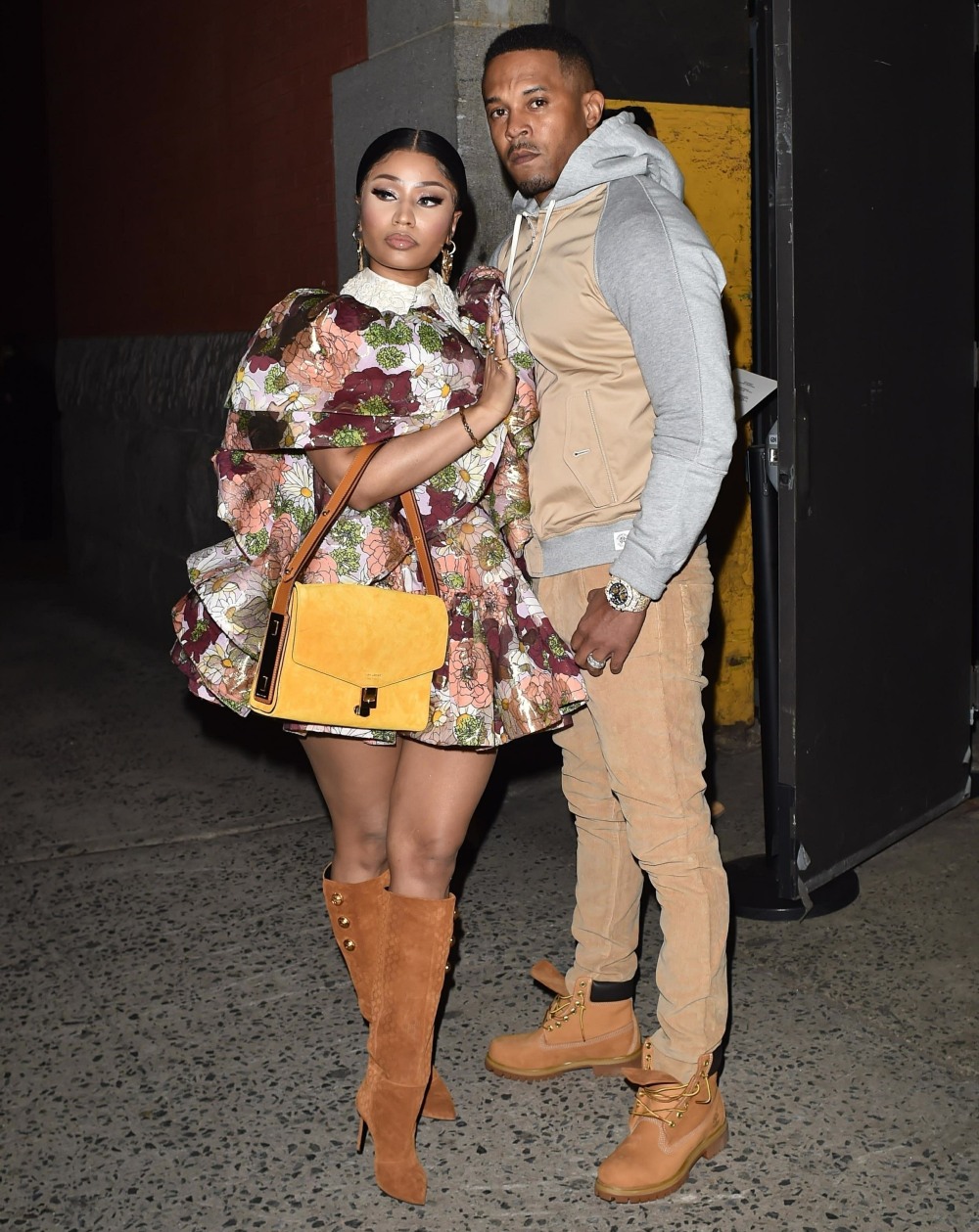 As we've discussed since the very beginning of Nicki Minaj's relationship with Kenneth Petty, Petty is a convicted rapist. Even from the first months of Minaj's relationship with him, there was a lot of reporting around the fact that Petty has done serious time for violent crimes, including rape, and that he had failed to register as a sex offender. Nicki has *always* talked a lot of bullsh-t about Petty's long criminal history, and in August, we learned so much more about what she was doing behind-the-scenes. For years, Minaj and Petty have been targeting Petty's victim – they've harassed, doxxed and sent their associates to intimidate her and her family. They've also lied about her in the media and on social media. Petty's victim, Jennifer Hough, has sued them and she gave an interview about what it's been like to be targeted by this deranged couple. Well, now at least Kenneth Petty is dealing with the fact that he never registered as a sex offender.
Nicki Minaj's husband Kenneth "Zoo" Petty has entered a plea deal for failing to register as a sex offender in the state of California, PEOPLE can confirm. Court records obtained by PEOPLE show that the 43-year-old pleaded guilty on Thursday during a virtual hearing with the U.S. District Court for the Central District of California, which oversees both central and southern parts of the state.

He now faces a maximum sentence of 10 years in prison and a lifetime of supervised release. Petty's sentencing has been scheduled for Jan. 24, 2022.

An attorney for Petty and a representative for Minaj did not immediately respond to PEOPLE's requests for comment. Petty was arrested in March 2020 after being indicted for failure to register as a sex offender. At the time, Petty pleaded not guilty and posted $100,000 bail, according to records accessed by PEOPLE.

He initially faced legal trouble after being pulled over by the Beverly Hills Police Department on Nov. 15, 2019, when the department determined he was registered as a sex offender in New York — but not in California, where he now resides, TMZ reported.
I really hope the plea deal involves serious jail time, but I suspect it will not. I suspect that Nicki Minaj's high-priced lawyers worked out some kind of deal which does not involve any additional jail time. Perhaps something with community service and/or a big fine. This was one of the "reasons" why Minaj and Petty were targeting Hough with harassment and death threats too: in Minaj's mind, all she had to do was pay off Hough to get Hough to "recant" the rape accusation and then Petty would (magically) not have to register as a sex offender. I'm not sure Minaj actually understood that it does not work that way, that Petty took a plea deal on the rape as well, which is the same as a guilty verdict. And besides, Hough wasn't recanting. Anyway, I hope Hough wins a lot of money and I hope Minaj fixes whatever is broken inside of her.
PS… This plea deal went down late last week, and there were some theories floating around that perhaps this was the real reason – and not her cousin's friend's Vaccine Induced Swoleball Syndrome - why Minaj didn't attend the Met Gala. It could be, especially since she's now talking about getting vaccinated like it's no big deal.
Photos courtesy of Avalon Red, Backgrid.