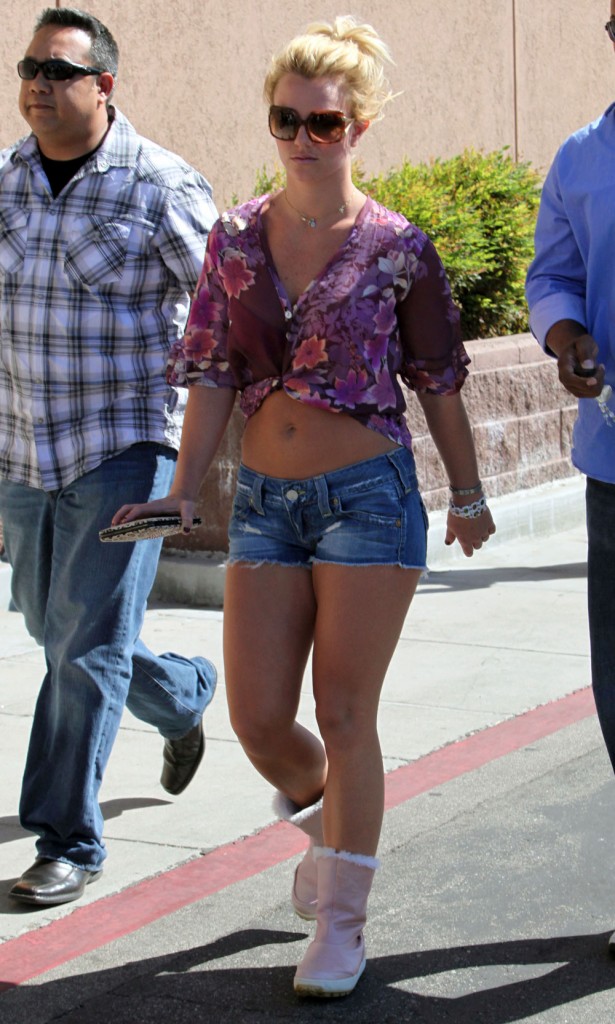 Britney Spears went shopping at a Target in LA yesterday while wearing cut off shorts, pink Uggs, and a see-through floral top tied up to reveal her stomach. It wasn't one of her worst outfits, and at least it covered the important bits. Britney ended the US leg of her tour over the weekend and is now headed to Australia in November. With over a month of downtime, we're sure to see plenty of photos of her at Starbucks, getting pedicures, and shopping.
Britney went to Target for the second day in a row and ended up picking up a pet parakeet afterwards at a pet store in Calabasas, CA.
All of that is fascinating, I know, and this is just an excuse to post these pictures of Brit-Brit shopping. Maybe she dresses like this on purpose, because we didn't talk much about the pretty flowing white sundress she wore to Target yesterday.
In related Britney news, she won an apology from UK's More magazine for billing an interview as exclusive when it just consisted of quotes she'd given other outlets. More blamed a freelancer for presenting the story as new. Jennifer Aniston should really follow her lead and sue some of the magazines that regularly repurpose her quotes.
Photo credit: Fame Pictures