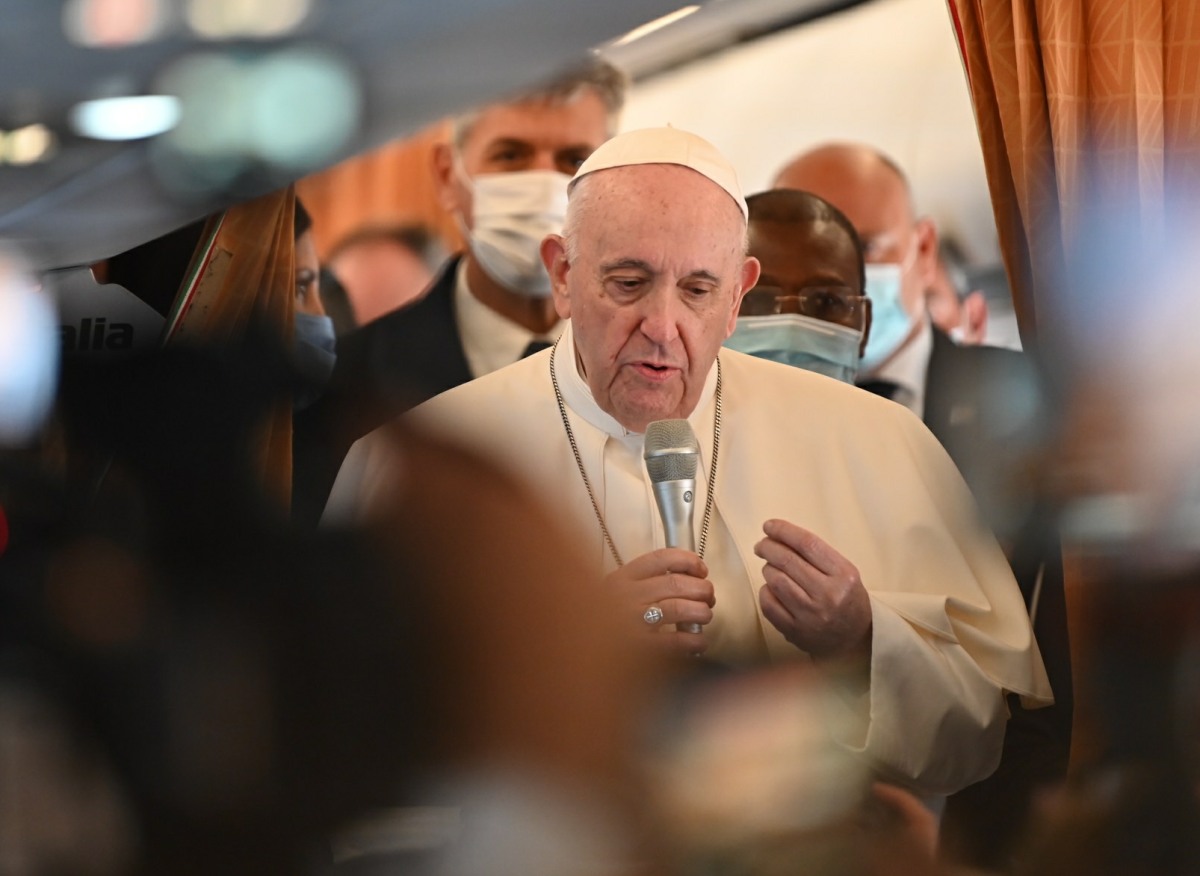 When Pope Francis travels, he often walks back to the part of the plane where journalists and members of the media are seated and he'll take questions and make some comments on the record. It's actually pretty cool, and it just emphasizes what a normal, low-key guy he is. Francis was asked again about vaccines and he was basically like "everyone needs to get the vaccine, periodt."
The Pope has said he does not know how to explain why some cardinals in the Catholic Church are hesitant to get the Covid-19 jab.

"It's a bit strange because humanity has a history of friendship with vaccines," Francis told reporters during a flight from Slovakia to Italy. The pontiff, who is vaccinated himself, has previously encouraged people to get jabbed for the "common good".

He said one cardinal had ended up in intensive care with Covid-19. Francis did not name the man he was referring to, but conservative US Cardinal Raymond Burke, 73, recently spent days on a ventilator in hospital after contracting the virus. It is unclear whether Cardinal Burke is vaccinated or not, but in the past he has been critical of vaccination.

"Even in the College of Cardinals there are some vaccine negationists," the Pope told reporters aboard the Papal plane. "But one of them, poor thing, has been hospitalised with the virus. These are the ironies of life." He added that almost everyone at the Vatican was now vaccinated, and that they were "studying how to help" those who were hesitant.

"As children [we were vaccinated] for measles, polio – all the children were vaccinated and no one said anything," he exclaimed. But the pontiff did recognise that some vaccine debates could increase fears and uncertainty about the jabs, to which he said "we should clarify things and speak calmly".
Francis is old enough to remember polio, you know. He remembers when there were outbreaks of mumps and rubella. He's seen the efficacy of vaccines over the course of his life and I love that he doesn't pull any punches. He has a way of simplifying the message for his flock, which is: don't be afraid, get the vaccine for yourself and the common good. Francis also decided to speak about whether or not Joe Biden – or any pro-choice, Catholic politician – should be able to take communion.
Pope Francis weighed in on Wednesday on a debate roiling the Roman Catholic Church in the United States, where conservative bishops are pushing for guidelines that would deny communion to politicians, like President Biden, who support abortion rights.

"I have never refused the eucharist to anyone," Francis said, though he added that he did not know of any instance when such a politician had come to him for communion.

Bishops, the pope said, should be pastors, not politicians. It was the closest the pope has come to addressing the issue head-on, although the Vatican in June warned conservative U.S. bishops to drop their push to deny communion to Mr. Biden, who is only the second Roman Catholic to be president. On Wednesday, Francis left little doubt about his view.

"If we look at the history of the church, we will see that every time the bishops have not managed a problem as pastors, they have taken a political stance on a political problem," he told reporters on his plane as he returned from a four-day trip to Hungary and Slovakia. He cited a history of atrocities committed in the name of the faith when the church became involved in politics. "What must the pastor do?" he asked. "Be a pastor, don't go condemning. Be a pastor, because he is a pastor also for the excommunicated."

Francis told reporters traveling with him that "communion is not a prize for the perfect," echoing statements he has made in the past, if not specifically in the context of politics or the United States. At a Mass in June, arguing that the church must be as open as possible, he said, "The eucharist is not the reward of saints but the bread of sinners."
I actually love what he says here? I'm not a Catholic, obvs, but I get so annoyed by conservative American loudmouth priests acting like pro-choice Catholics need to be "punished" by the Church or denied communion. Biden is a good Catholic, he goes to church every week, and he believes that women have the fundamental right to autonomy over their bodies. Many Catholics agree with him.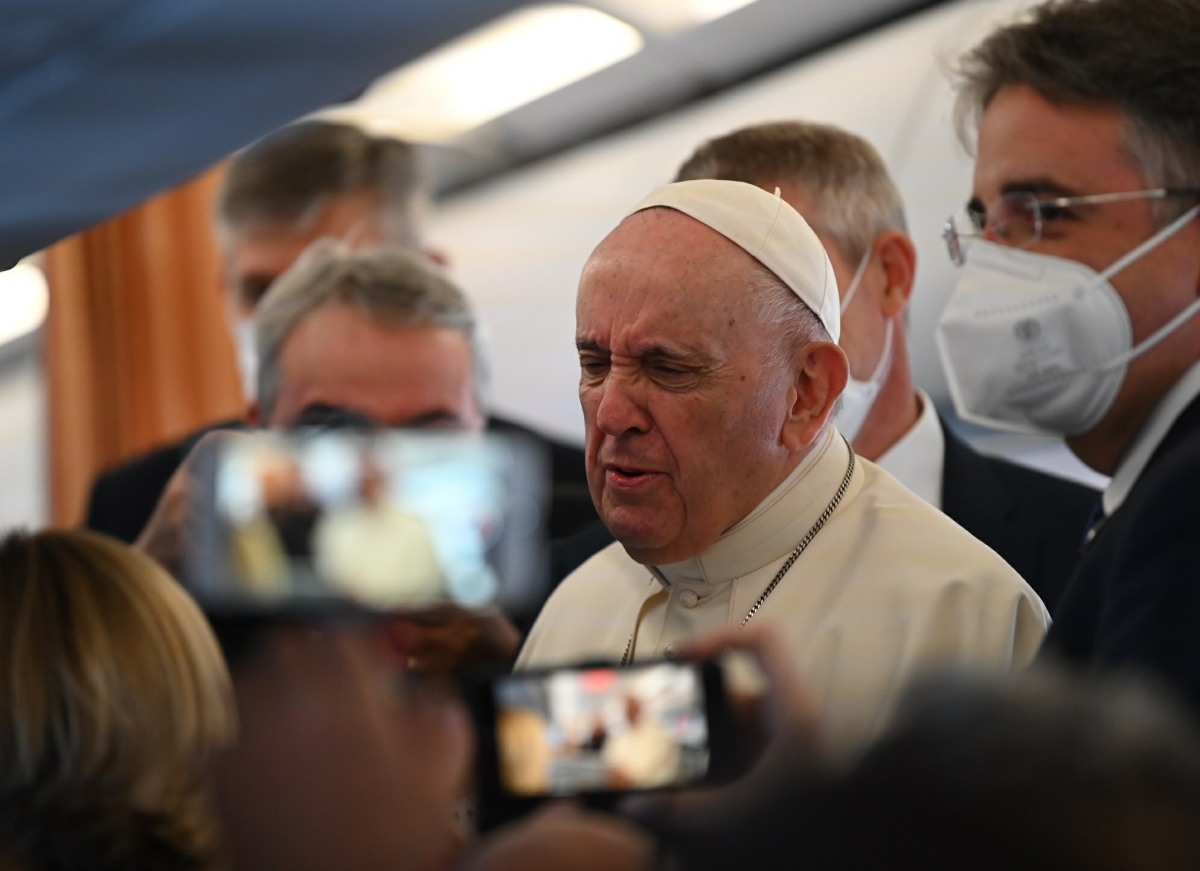 Photos courtesy of Avalon Red.