Vogue's Instagram has been publishing behind-the-scenes photos of the Met Gala, and would you look at this! Channing Tatum walked the carpet solo, and then soon after, Zoe Kravitz walked the carpet solo. They aren't fooling anyone, clearly, because they spent the entire gala hanging out, and then they left together. It's really becoming clear (to me) that Zoe dumped her husband FOR Channing. But they are a cute couple and I enjoy their energy. Call me crazy, but they seem like the younger version of Bennifer, right? She's fashionable, cool, connected and he's an everyday schlub who needs his lady to polish him up. And that's just what Zoe is doing:
It appears that Zoë Kravitz gave rumored boyfriend Channing Tatum a style upgrade ahead of his Met Gala debut, hooking him up with her own longtime stylist, Andrew Mukamal. The wardrobe whiz, who also dressed Kaia Gerber for the event, posted photos of all three stars' looks on Instagram Wednesday. Kravitz, 32, and Tatum, 41, walked the red carpet separately on Monday night, but reportedly couldn't keep their hands off of each other inside the museum and at the afterparty.

It's easy to see why the "Magic Mike" star couldn't resist a little PDA; Kravitz was arguably the sexiest star at the Met in her totally sheer Saint Laurent metal mesh dress and matching thong. Tatum went classic for his first time at the starry shindig, wearing a simple Versace tuxedo. On Tuesday, the former model posted a sweet thank-you note to Donatella Versace on Instagram, expressing his gratitude for being invited to the exclusive ball and his admiration for her work.

"So 20 years ago… i was a kid stand in a room of what would be probably thousands of guys trying to get picked for the shows in Milan. God knows how many they actually saw. Hoping to get picked to walk in the spring show. I never got to walk for Versace in the maybe 6 or 7 seasons in went to the shows. But last night to get to wear this……. other worldly robe…….. and to wear the most classic Versace tux. Cut boxy like Gianni wore in the 90's was beyond my wildest dreams. Donatella thank you so much for having and inviting and letting me wear such elegant and magical clothes. it was dream like. You are a legend!and a myth. @donatella_versace"
I forget it sometimes – I forget that Channing was just a kid from the deep South who hustled for years to make it, that he was a model and a dancer and a stripper, that for years he was on the outside looking in at this kind of life. I wonder what he thinks about Zoe's background, with her two famous parents, her designer clothes, her dad's home in Paris, and her ability to fit into this elite world with such ease. He seems to enjoy it. I bet he feels appreciation for her rather than jealousy. He seems to know he's got a good thing happening right now.
Speaking of, not only did Channing and Zoe (Zanning, come on) leave the Met Gala together, but they went to the afterparties together. They were seen exiting The Bowery late Monday, only they left separately – Zoe walked out with Tessa Thompson and Channing left right after them. Tessa Thompson is, um, all about being the third wheel these days, huh?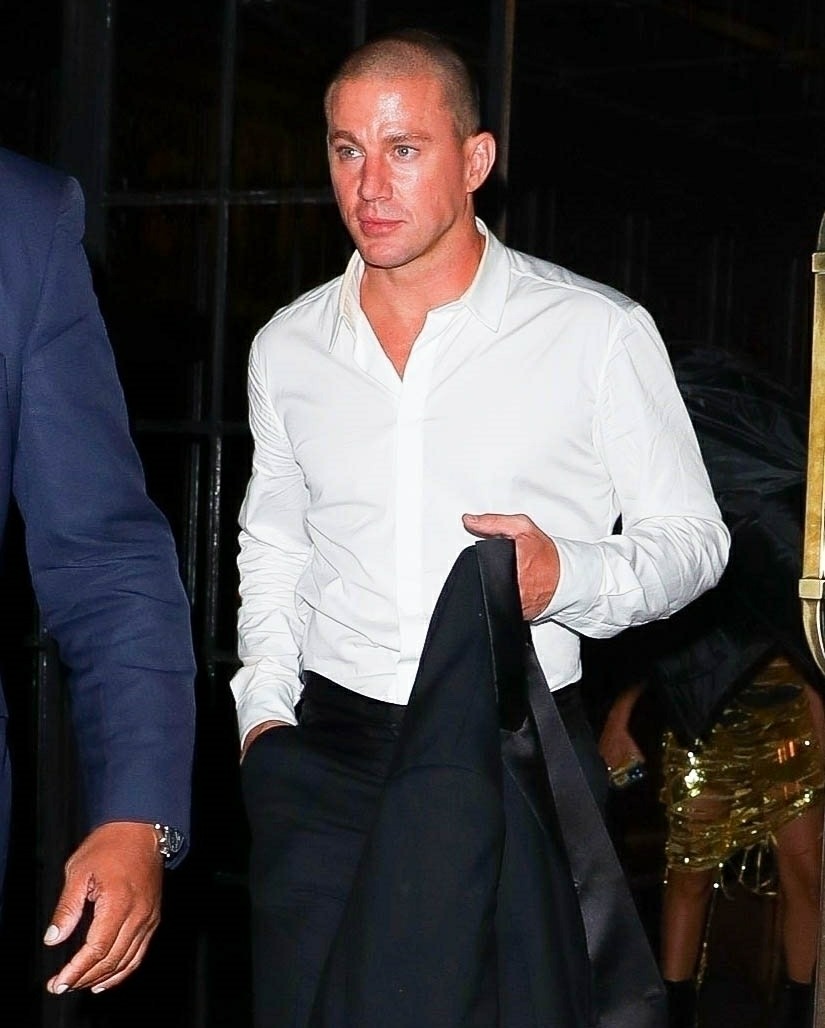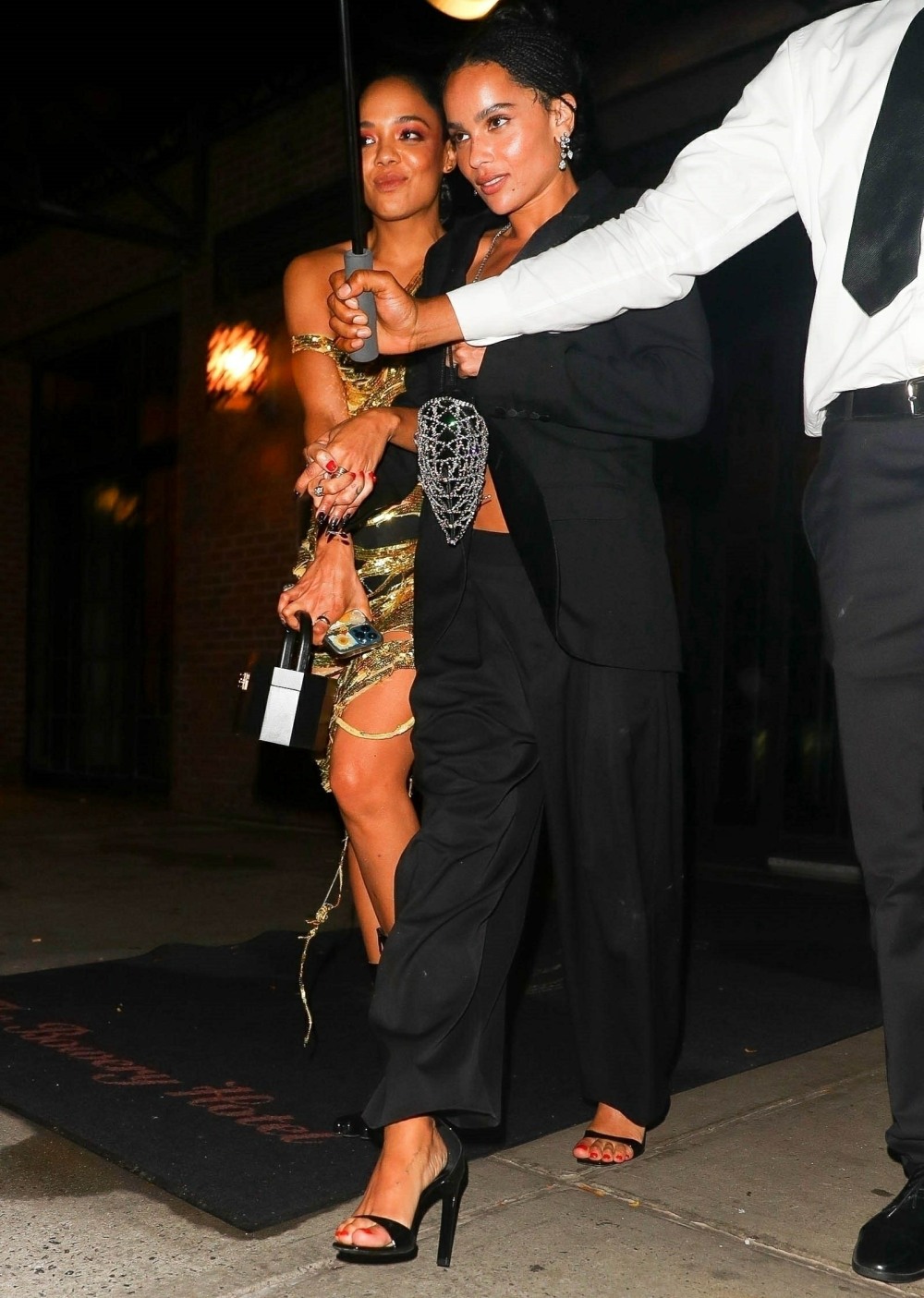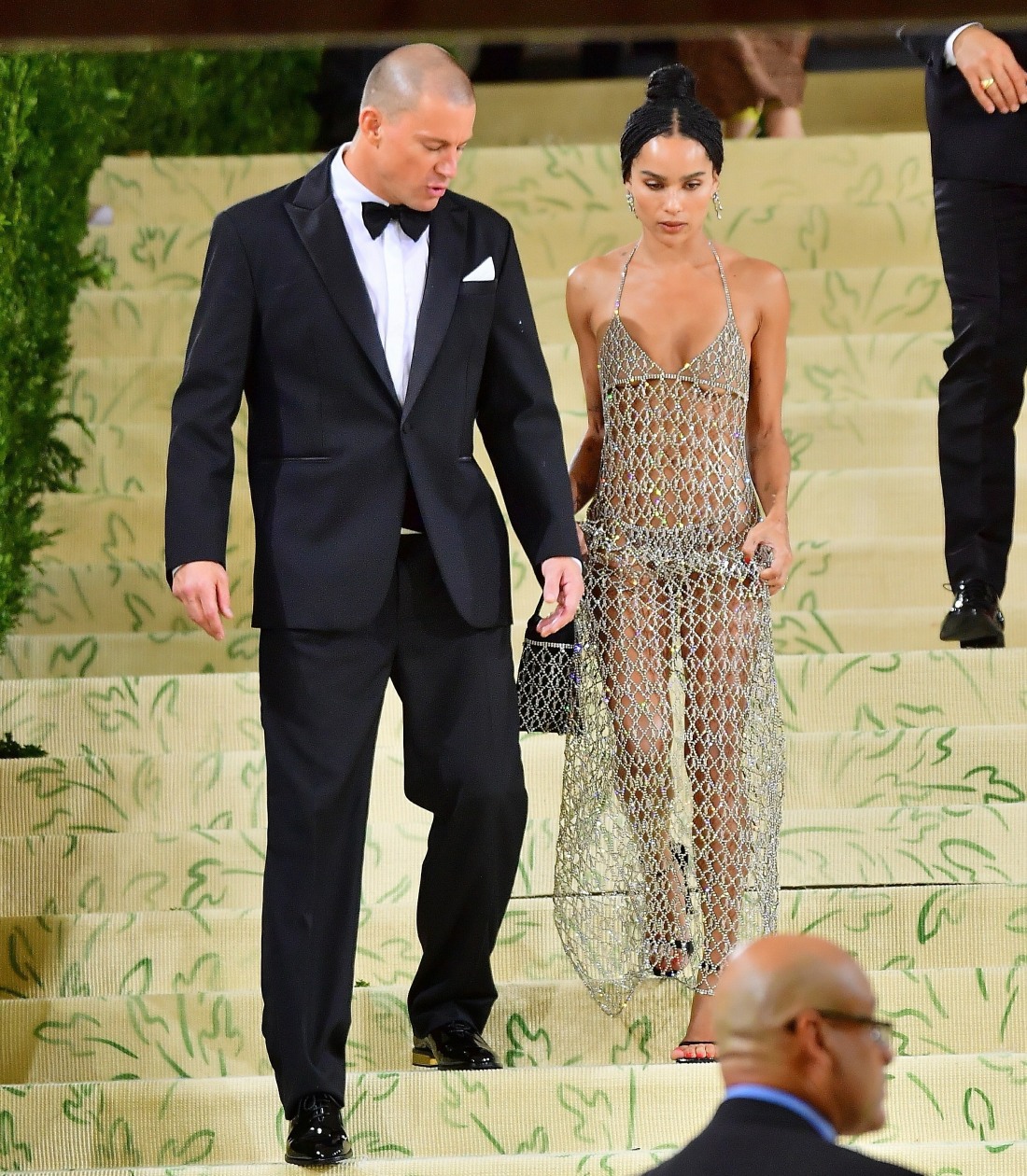 Photos courtesy of Backgrid.