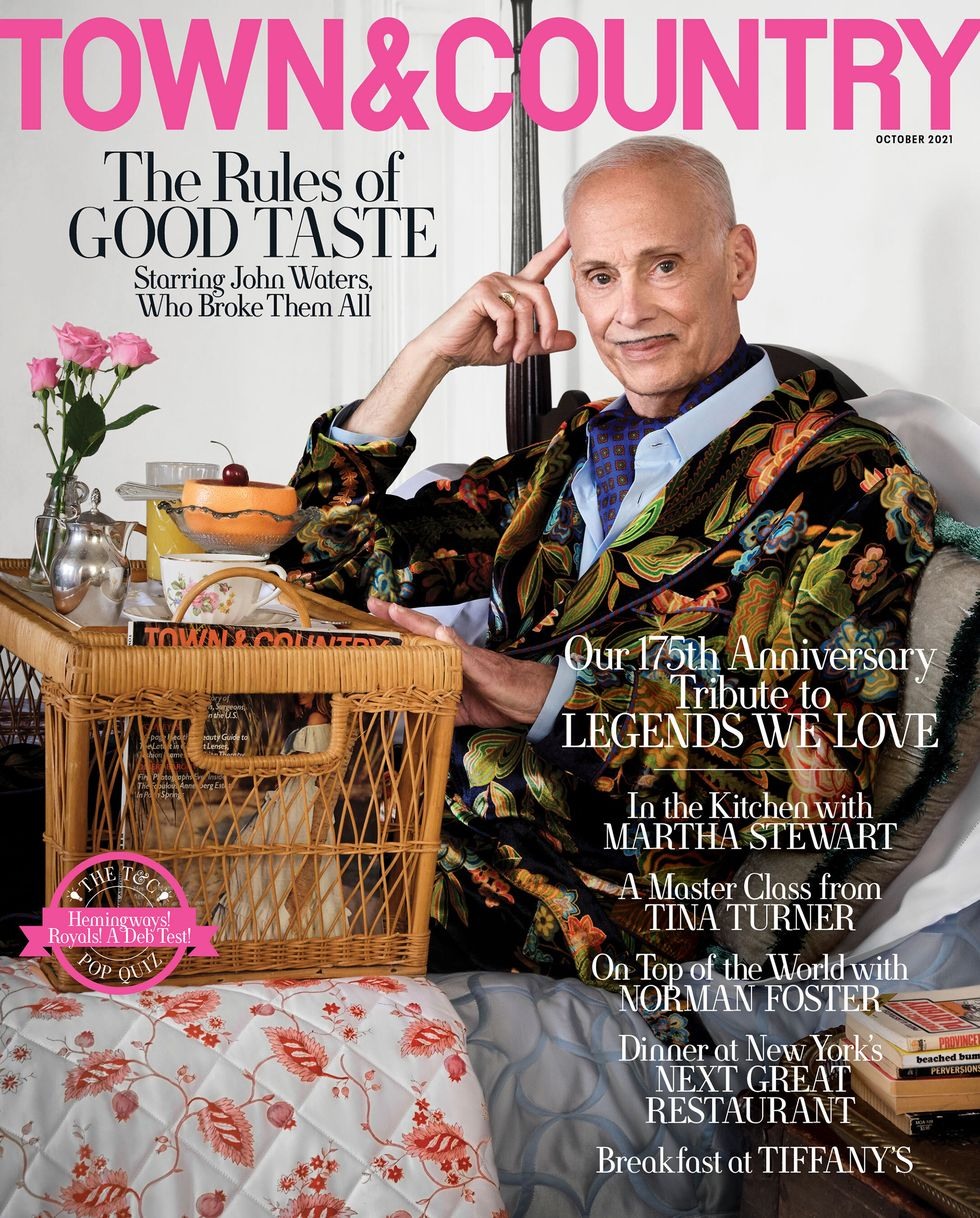 John Waters covers the latest issue of Town & Country. He's promoting his latest novel, Liarmouth: A Feel Bad Romance, but this cover profile is also something of a victory lap. At the age of 75, Waters is not the outsider to American culture, he IS American culture. His trashy, kitschy sensibility has won out. "Tacky" is everywhere, and it is embraced. Waters has never been more popular and more in-demand. He makes appearances in movies and TV shows, he tours with a one-man show, he writes constantly and plans to direct again. He collects art and exhibits his art around the world. You can read Waters' profile here. Some highlights:
How he's being embraced now: "It's like Dolly's famous line: 'It costs a lot of money to look this cheap.' We both knew what we were doing."

His actual style: He loves his Comme des Garçons shirt with a subtle black stripe down the placket. He likes the understated luxury of the label "because you pay a lot of money for clothes that look like they came from the bottom of a thrift shop." Waters, it turns out, saves the loud opinions, clashing prints, and risqué behavior for the screen. "People think I drive a pink Cadillac. My house in Baltimore looks like an old lady's house."

He rents a small apartment in Provincetown, Massachusetts: "It's good to have friends to rent from here, but you have to be careful, because they die. And the new rich people here are so rich they don't rent out their houses. They stay vacant nine months of the year when they aren't here!"

He's been performing live shows since the 1960s: "The college circuit. The non-theatrical circuit. It was huge, where I made my name. I mean, the shows caused riots. We meant to scare the hippies. But we were hippies. Later Divine did the music thing, and I just turned it into a one-man thing. It's more than a way I make my living. First of all, I am in touch with the fans. Believe me, that's important. It's pressing flesh. It's like campaigning. They come see everything you do for the rest of your life. Elton John told me that. The day you stop touring, it's over. I always say to someone, you blink and somebody's there to steal your place. I believe you have to constantly be out there."

He's fine with not being supported by Hollywood: "You have to learn to ride the waves, and you always have to have a backup plan. That's why I did books. That's why I always had spoken word shows. They weren't less to me. That wasn't a lesser career. It was just a new way for me to tell stories. It was always, 'I can't do that, I can do this.'…Hollywood treated me fairly. Their job is to make money, not art. And they were right, the films didn't make money. The problem is that they have to make money in the first week." And, Waters points out, his films are still playing. "Who would have ever thought Multiple Maniacs would be on HBO Max?"

Trump was real trash: "Trump wasn't in on the joke. Even bad taste wasn't fun. Those Christmas decorations? He thinks that's good taste. He ruined bad taste."

On bad taste: "Bad taste. I don't even think there is such a thing anymore. I think what used to be called bad taste is now American humor. When I started, it was sick jokes: 'That's about as funny as an iron lung.' Now the kind of stuff I had in my early movies is normal. That's why my movies are now playing on television, which I never thought would happen. Ever." Waters appreciates what he calls "good bad taste": when people are in on the joke of their own ostentation, citing the musicians Orville Peck and Machine Gun Kelly as contemporary purveyors.
Yes, I think Donald Trump was kind of the dividing line for tacky/trash culture too – Trump was and is cultural trash, not in a kitschy, humorous way. Trump had no sense of humor about himself, and he honestly believed all of those gold toilets, gold walls and gold chandeliers were the height of style. Trump "ruined bad taste." As for Waters… he has an art collection worth tens of millions, he owns property up and down the East coast, he works constantly and he does everything with humor and a wink. I love him.
Cover & IG courtesy of Town & Country.