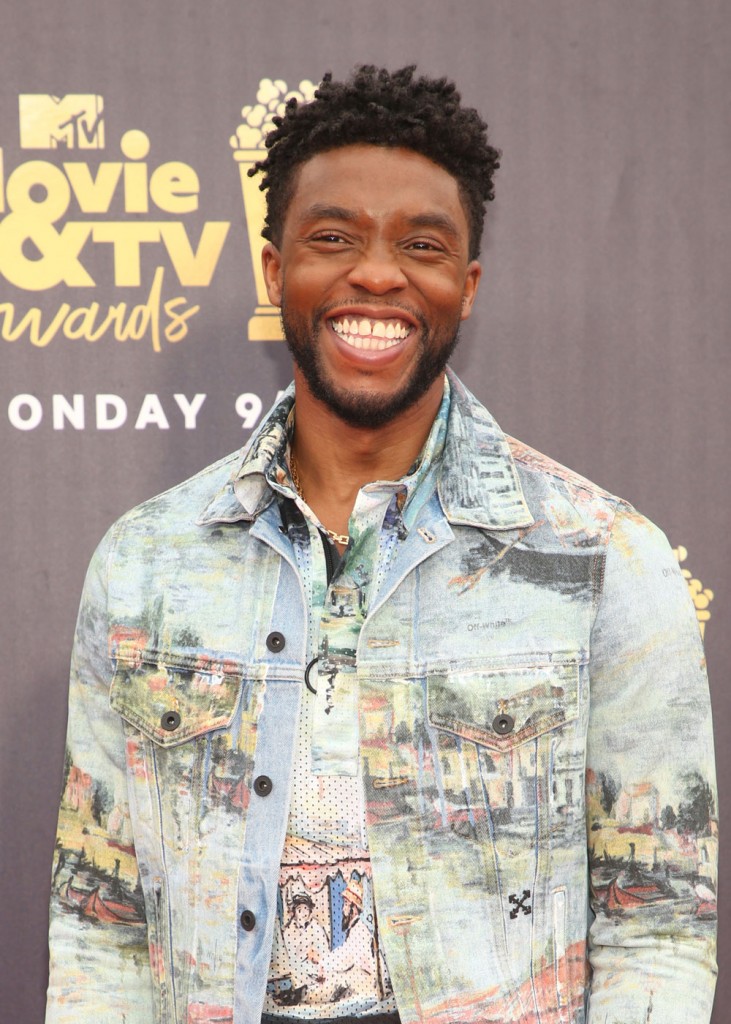 It hasn't been the same since Chadwick Boseman passed away last year from colon cancer. Marvel's Black Panther sequel moved ahead with filming without him and everyone has been wondering how they will handle the storyline without Chadwick. Chad was an amazing actor and the acting world lost a great. The beautiful thing is, Chad's legacy continues to live on, and not just through his catalog of work and life. Chadwick's widow, Simone Ledward-Boseman, and Netflix have teamed up to offer a $5.4 million (overall) scholarship that will cover the full four year tuition for an exceptional incoming College of Fine Arts freshmen at Chad's alma mater, Howard University. The Chadwick A. Boseman Memorial Scholarship has already been doled out to four students at Howard, one in each year. Below are a few more details from Variety:
The Chadwick A. Boseman Memorial Scholarship will provide incoming students in the newly reestablished College of Fine Arts (which was named for the esteemed alumnus in May) with a four-year scholarship to cover the full cost of university tuition.

"It is with immense pleasure and deep gratitude that we announce the creation of an endowed scholarship in honor of alumnus, Chadwick Boseman, whose life and contributions to the arts continues to inspire," said Howard University President Wayne A.I. Frederick, M.D. "This scholarship embodies Chadwick's love for Howard, his passion for storytelling, and his willingness to support future generations of Howard students. I am thankful for the continuous support and partnership of Chadwick's wife, Mrs. Simone Ledward Boseman, and to Netflix for this important gift."

A press release announcing the fund's establishment explained that the first scholarships will be awarded this fall to one recipient in each class, and will subsequently be distributed to an incoming freshman on an annual basis. The scholarship will focus on students who exemplify exceptional skills in the arts and who demonstrate financial need, with preference given to students in the dramatic arts who exemplify Boseman's values, specifically demonstrating a drive for excellence, leadership, respect, empathy and passion. The inaugural class of awardees are: Sarah Long, a freshman in musical theatre; Shawn Smith, a sophomore studying acting; Janee Ferguson, a junior in theatre arts administration; and senior Deirdre Dunkin who studies dance.

In support of the scholarship, Ledward-Boseman said: "Many exemplary artists are not afforded the opportunity to pursue higher learning, we hope to support as many students as possible by removing the financial barrier to education. This endowment represents Chad's devotion to the craft, his compassion for others, and his desire to support future storytellers."

"My deepest thanks to Ted Sarandos, Scott Stuber and our family at Netflix for their generous investment into the education of all present and future Boseman Scholars, and to President Wayne Frederick, Dean Phylicia Rashad and Mr. David Bennett for their partnership and continued commitment to Chad's legacy at Howard," she continued. "I'm overwhelmed with gratitude and amazed at the love and dedication shown by so many continuing to honor my husband's work. I know he'd be proud."
I have finally gotten past the point where I cry every time I write a story about the late Chadwick Boseman. I still feel a heavy sadness and loss and I can't watch any of his movies yet. I have been wanting to watch Ma Rainey's Black Bottom because Ma Rainey is one of the most interesting entertainers in history. Every time I turn it on and see Chad, I get extremely sad so I turn it off. At some point I'll be able to celebrate his life without the pain but I am not there yet. I think it is beautiful that his widow has been working on his legacy this last year despite grieving his loss. I love that she has partnered with Netflix to provide this scholarship for Howard.
I wanted to attend Howard or Spellman when I graduated high school back in the nineties, but the tuition was ridunculous and there were hardly any scholarships available. I also like the fact that the scholarship is geared towards arts students. Those wanting to go into the arts often don't because of the cost of tuition and likelihood of debt without the guarantee of a career. I would have liked to see the scholarship cover the full tuition for more than one student a year, like four, but at least one student a year is a start. I am looking forward to seeing what else will implemented in the name of Chadwick's legacy (I'm looking at you Marvel and Disney) but in the mean time I'll celebrate this win with my H.U. folks.
Photos credit: WENN, Backgrid and via Instagram