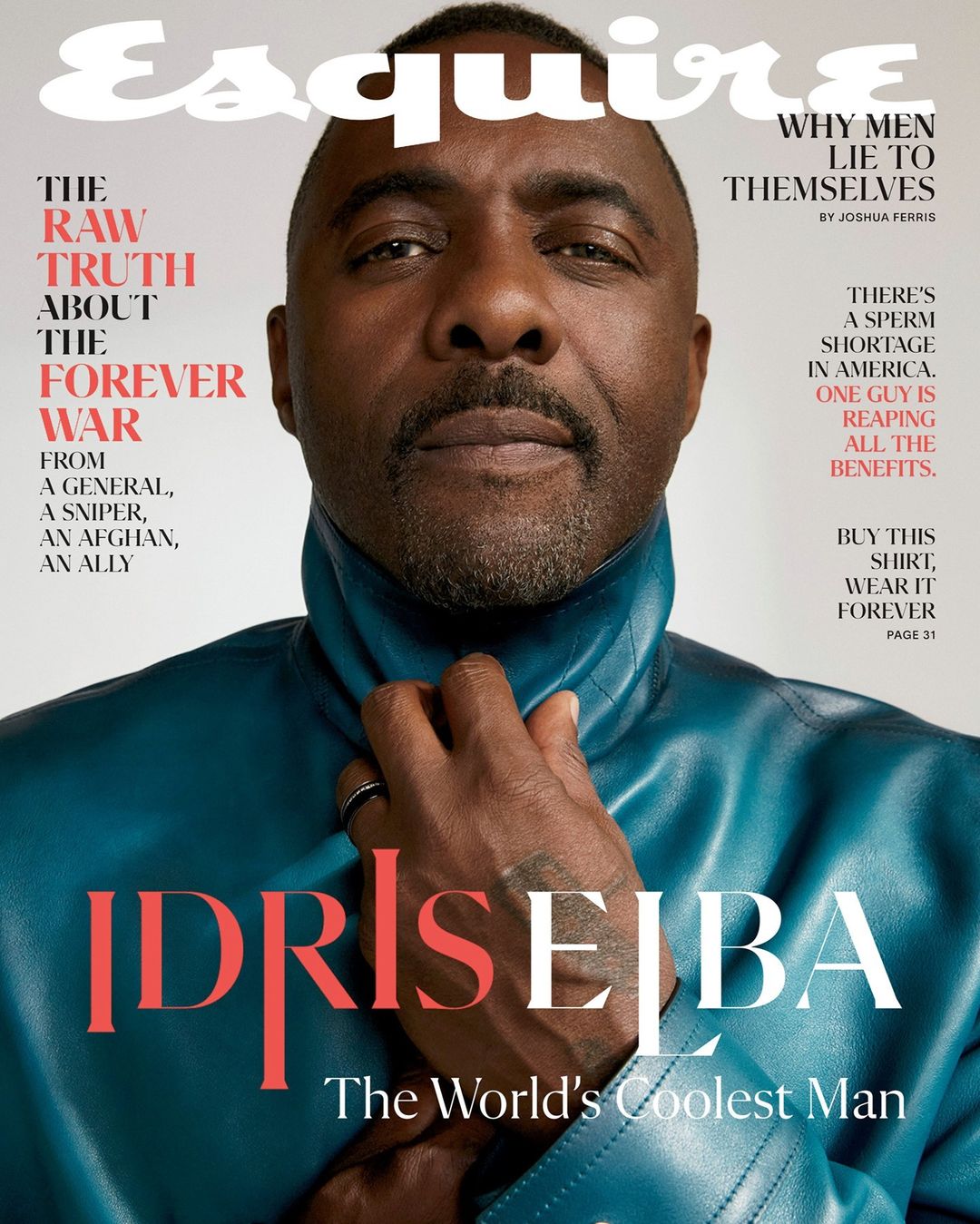 Idris Elba covers the October/November issue of Esquire, mostly to promote The Harder They Fall, where he plays a cowboy in a "revisionist Western." This cover interview was very good. Granted, I'm a huge Idris Elba fan and I would read a ten-page interview where he gave one-word answers. But Idris was particularly reflective in this interview, and he comes across as who he is: a mature, 49-year-old man who has been through a lot of sh-t personally and professionally. He has a lot of grace and class, and even when he's justifiably complaining about racism or unfair treatment, he's never like "f–k them all, I'll burn the place down." He gives people a fair shot, even when they've behaved terribly. You can read the full piece here. Some highlights:
Getting Covid in March 2020: "Having Covid at the time I got it, it was very, very early in its cycle…So it was like, 'Oh, sh-t, I'm going to die.' I could have easily been a statistic: went to a hospital and lungs failed and that's the end of it. Very easily. I've had friends whose families have died"—Elba snaps his fingers—"like that."

All of the stupid conspiracies about his Covid diagnosis: "The good favor that some people in the public eye get—which I definitely benefit from—was gone in an instant. In an instant. People that loved me one moment absolutely f–king hated me the next. It was like, 'You're fake; you're being paid.' No one really believed. It was really a tough time. So where I am now, you're looking at a man that's very thankful. You're looking at a man that's very reflective of what's happened over the last eighteen months. You're looking at a man that doesn't really have time to waste on pretending to be anything but what I am. Who I am and what I am."

His mental health strain: "The last year for me was very, very difficult. I wouldn't put it down to a lack of work or anything like that. I'd put it down to a real mental strain that I couldn't put my finger on, and where it came from. It manifests in waves of anger and, perhaps, depression. A little bit of a lack of, I wouldn't say optimism, but just a lack of joy, sometimes."

Being a public figure, a celebrity: "It looks amazing from the outside, but there's a lot of stuff that happens in the public eye that's not fun. I'm not allowed to just go out and get drunk and have a rant and get kicked out of a pub and then feel bad the next day. Part of your duty is to be an example. So what happens is there's a suppression of stuff coupled with grief. People might think, You're all right; you got loads of money. But it doesn't work that way. You're still human. I can't spend my money in my mind. I can't spend my money in my grief."

Seeing the racism directed at Marcus Rashford, Jadon Sancho & Bukayo Saka. "I was devastated. Devastated for football. Devastated for my country. Devastated. England has this one shining moment where we nearly get there. And the moment we don't get there, it boils down to that. Broke my heart, man. But at the same time, coming from where I come from in Canning Town, that was every day. A moment like that does not define you. And being called a 'monkey' or a 'coon' does not define who you are. But f–k that, I've had it in many different shapes and forms. When I got the role as Heimdall in the Marvel universe, there was a real outcry from a sect of the fans…"

He can't worry about trolls: "If you get to a level like mine, I can't sit here and worry about some dickhead who's got a pseudonym writing, 'Idris is Black, he shouldn't play. . .' I don't care; I shouldn't care about that. Plus, I've got a thick skin, man. I'm old and ugly enough to know that they love you, then they hate you, then they love you again."

Whether he's "the Denzel" for young Black British actors like Daniel Kaluuya & Regé-Jean Page: "I don't know. Denzel and those people were trailblazers in their industry and the first of their kind. If there is a generation that looks at me the way I looked at Denzel and Wesley and those guys when I was coming up, then great. If I'm that for others, then I'm very proud to take that."
He also talked about his family a lot – he has a 19-year-old daughter, Isan, who is a college student and you can tell he's incredibly proud of her. He has a seven-year-old son and they got a puppy (a sheepdog/poodle mix) which his son named Lola. He says he's going to take some time off from traveling and working for a few months, which I think is a good idea – mostly, he seems burned out. Burned out because of the travel, the pandemic, the work, balancing everything with quarantines and lockdowns. He's spent the better part of 35 years working constantly – he absolutely needs some time off.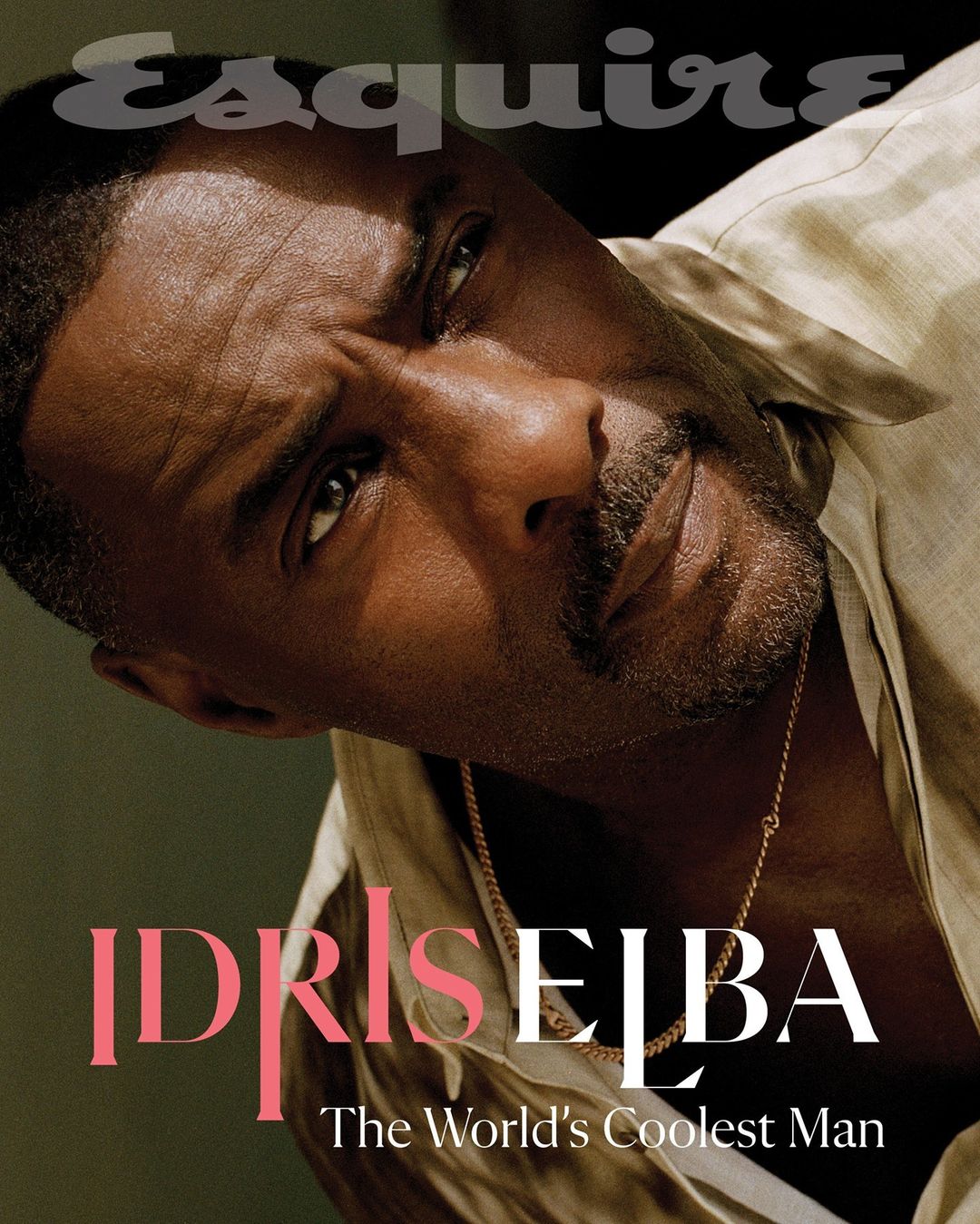 Covers and photos courtesy of Esquire.