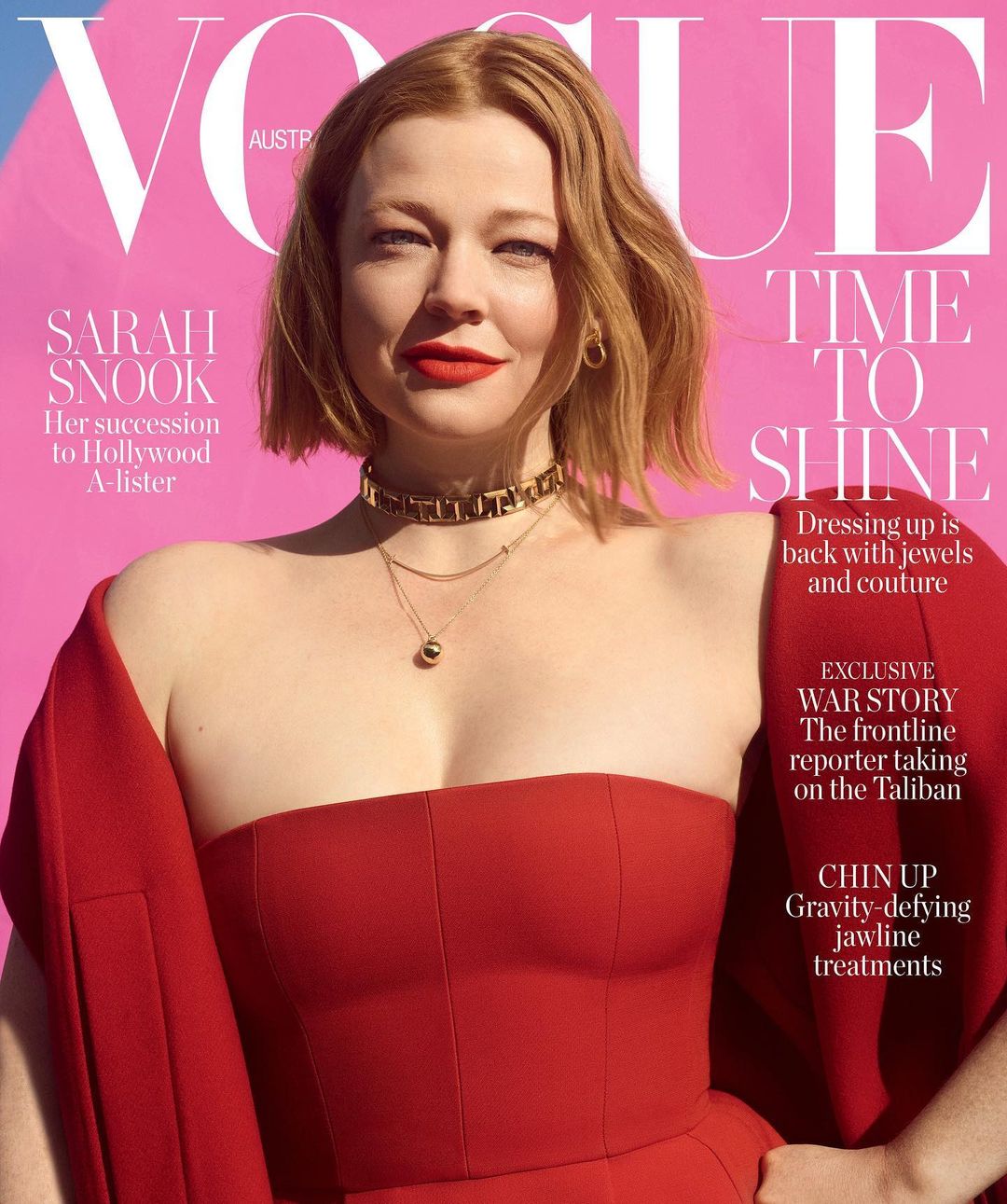 Sarah Snook plays Shiv on Succession. That's by far her most well-known role, as the daughter of a rich a–hole, surrounded by rich a–holes in her family. Snook is not Shiv though. The real Sarah is just an Aussie woman who would prefer to not give a crap about clothes, awards or the hussle. Snook covers the latest issue of Vogue Australia, and I enjoyed this piece, mostly because I've never read anything this in-depth with her. She seems very cool and lowkey.
Love in lockdown: "At the beginning of the pandemic last year, I got locked down in Melbourne with one of my best mates and we fell in love," she says, of Australian comedian Dave Lawson. "We've been friends since 2014, lived together, travelled together, always excited to see each other, but totally platonic. We've just never been single at the same time. I proposed and we got married in February in my backyard," she adds, of the small Brooklyn ceremony in the presence of her housemates and Succession co-star Aussie Ash Zukerman who also played witness. The bride wore a vintage velvet Chloé coat and Blundstones.

She's enjoyed this time: "It's been a ride. There's so much heartache and sadness in the world, but on a micro personal level, I've been very fortunate. There's a really lovely grace in that without the pandemic, we might not have ended up together so quickly."

She hates the wealthy elite: "Unfortunately, I think this year has certainly demonstrated in the nonsense race to space that's been happening with the wealthy and elite that it hasn't really affected those echelons of privilege as much as it has every other demographic."

She loves playing Shiv: "I wonder whether people think that I'm a bitch. I like that she's forthright, that she speaks her own mind. She believes that she's allowed to be in any room because she could probably buy the building. She's still waters run deep. There's something else going on down there, like her dad, a volatility."

She hasn't needed her Australian stylist Laura Jones. "I've got to get my head out of the trees. I've been chainsawing and chopping wood to keep in shape."

How she feels about being red-carpet ready: "I mean, every time you get a role, you're like: 'Oh, this one's the one. I'm going to really work out and get fit and look like the movie star I would hope to become or have a career doing.' And every time, I'm like: 'Can I really be f–ked subscribing to an unrealistic beauty standard that then perpetuates and makes more women unhappy because they feel like they can't attain something that's not actually realistic anyway?'"

Her version of Jane Austen's Persuasion was cancelled: "The short story is that Netflix decided to greenlight their own, so Fox abandoned the one we were doing, which is disappointing because it was a great script and a director I really wanted to work with. But had I been doing that, I wouldn't have had the opportunity to come back to Australia so soon and see family and friends."
I like that she reveals her secret marriage with a shrug! And she proposed to her friend! I always feel like Australians are just built differently, maybe it comes from dodging life-threatening wildlife from birth or something, but they just approach love and marriage differently in such a fundamental way. They meet someone, fall in love, get married and there's just zero angst or second-guessing or melodrama. Anyway, she sounds like a sweet country girl, it's amazing that she plays Shiv so well.
Cover and IG courtesy of Vogue Australia.