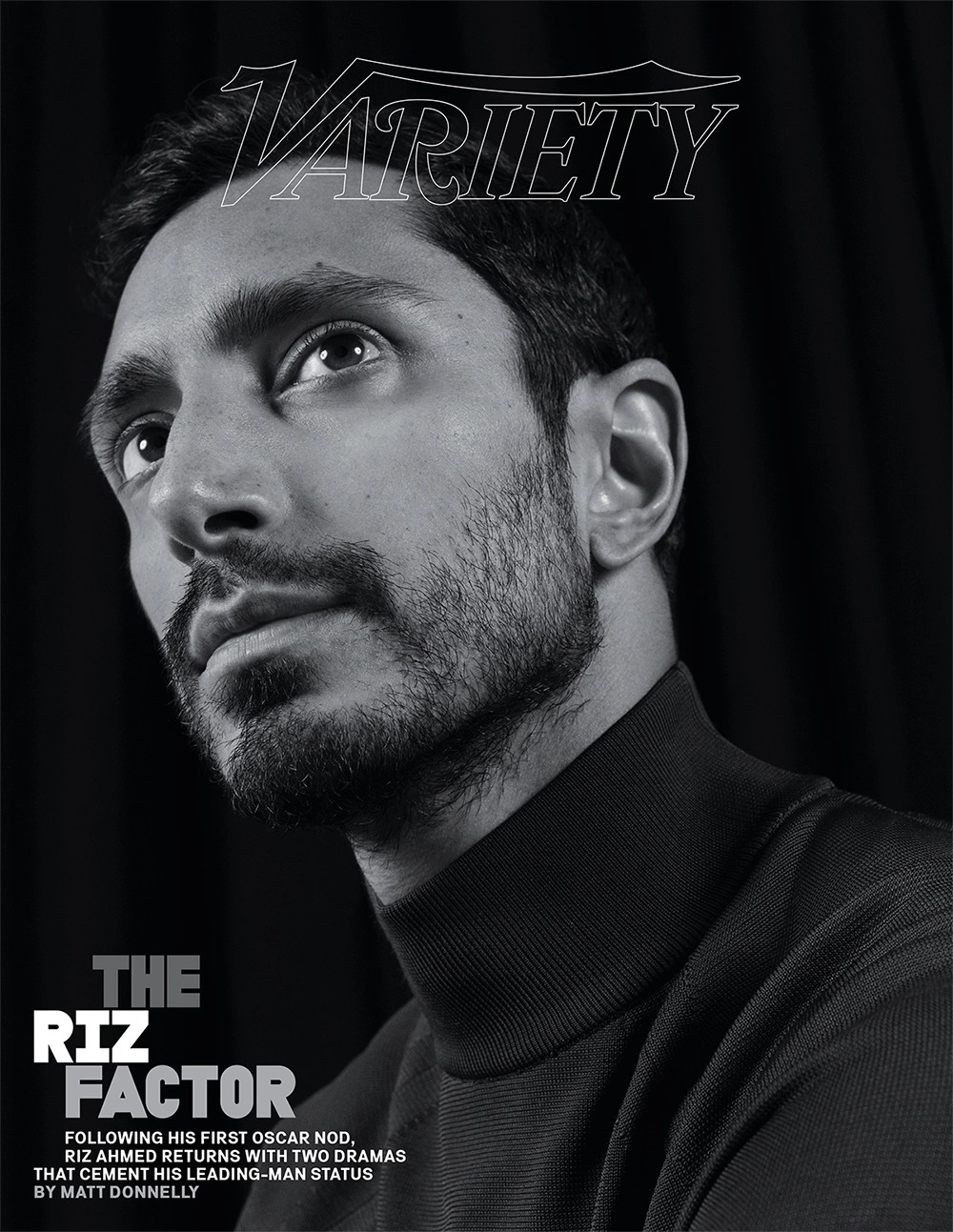 Riz Ahmed has a lovely cover story in Variety to promote a variety of projects. He's promoting Mogul Mowgli, in a role which was built to be closer to who he really is (a British-Pakistani man who loves rap, with a foot in two worlds). He's also promoting Encounter, where he plays a British military officer dealing with an alien invasion (or something like that). I love Riz and Sound of Metal was one of my favorite movies last year. He's able to bring such intelligence, tenderness and stillness to his performances. He's the first Muslim man to win a lead-actor Emmy (The Night Of), and he's the first Muslim man to get nominated for a best actor Oscar (Sound of Metal). Some highlights from his Variety interview:
His childhood in England with Pakistani immigrant parents: "At home with my mom, I would watch these Pakistani sketch shows. What I loved about it was the same actors playing these wildly different roles from sketch to sketch. As much as I enjoyed the skits, I realized that these actors could be all of these different people. So playful and silly."

His other early influences: "The stuff I would really binge was Jackie Chan. I loved this idea of blending genres of action and comedy. Bruce Lee, as well. These were leading men who were from a different part of the world. There was something very powerful about seeing Asian men that were slight and skinny, powerful and formidable. They were so embedded within their own culture, and what they were doing translated and spoke in such a universal way."

Deciding to leave the UK to try his luck in LA: "I remember having a chat with Idris Elba in London thinking, 'Man, I'm not going to go to America. What are they going to do with someone like me over there?' It was terrible, this idea of no clear example or something that's been carved out before you," he says. Elba confided that he had been in a similar position as a man of color facing a dearth of opportunities in the U.K. "He said to me, 'Don't categorize yourself. What have you got to lose?'"

Finally working consistently in his late 20s and 30s: "I didn't really think a career was viable for me until 10 years into it, so early on I felt like I had to work on developing a lot of range. After 'The Night Of' popped, I felt a sense of momentum. It happens to a lot of people. The roller-coaster nature of this business keeps you on your toes and stops you from getting complacent."

On his internet-boyfriend status: "From the outside, people project all kinds of stuff on me. But I'll take it. It's like, who has been allowed to be seen as a sexual being or a romantic interest? If myself and the others you mentioned can be part of changing that, then it's all good."

What he learned from working on 'Venom': "I'm not saying I don't like those big movies. I'm saying I had not learned yet how to bring myself to those movies. Those films teach you stamina, technical craft, and it is a skill to be able to eke out your artistry in that setting. Look at Javier Bardem in 'Skyfall.' I just hadn't developed the skill set at that point to do the technical thing and the emotional thing."

Code-switching: "The idea of making masks and wearing masks is something that came very naturally to me, as someone who grew up code-switching between different cultural environments and class environments. Shape-shifting to fit into other molds. Acting became an extension of that, and more recently what I've thought about it is taking masks off. Of course, if you believe on some deep internal level that you aren't the right type — the right color, shape, size, accent — then you will start instinctively wearing masks. So it's been a shift in self-perception for me to say, 'You know what? I am enough. We are all enough.'"
I think it's difficult for most white people to understand how starved we are for media and entertainment representation. By "we" I mean Indian-Americans, Pakistani-Americans, British Indians and British-Pakistanis. It can't be "oh, you have Bollywood" or whatever. It really matters to a lot of us that we can see someone who looks like Riz succeeding and finding his own way. And of course someone like Riz, someone with a foot in two different worlds, finds it easy to code-switch. He's been doing it all of his life. Oh, and I f–king love that the younger generations of British actors go and talk to Idris Elba, the oracle. And that Idris is giving them good advice too, that they should go to America and try, you never know.
Photos courtesy of Avalon Red, Backgrid, cover courtesy of Variety.