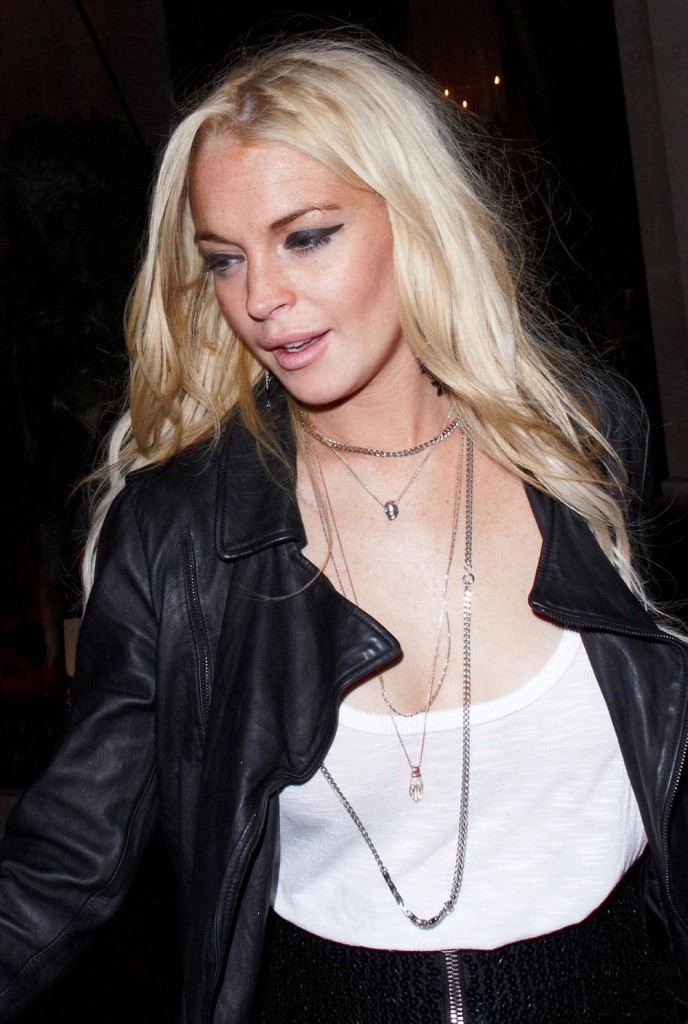 After spending any amount of time looking at the horrible pictures of Lindsay Lohan on her big, jacked, cracked-out, sketchy Paris trip, most people have come out with several opinions about LL. First, the girl's style is bullsh-t. Secondly, the girl is messing up her face big time. Something about lip injections, but her forehead and general puffiness might indicate something a lot more serious in the plastic surgery department. Third, the girl is on drugs. No one's eyes are that glassy without some major help from some kind of pipe.
Michael Lohan disagrees with us. Sort of. Lindsay's dad thinks that her problem is a prescription drug addiction. Michael has given an interview to Radar where he describes how he's the one who will save Lindsay from the clutches of the… prescription drugs….? I'm still not buying it. That girl is on something heavier than Adder all (which sources have claimed in the past that Lindsay was/is addicted to). If you can stand Michael's smarmy grossness, try getting through this interview:
Lindsay Lohan's Spring 2010 collection for Ungaro debuted over the weekend in Paris to lukewarm reviews. But it was the actress's shockingly frail appearance that garnered the most attention.

Wearing a white, asymmetrical mini-dress, Lohan looked out of it and gaunt as she walked the runway following Sunday's show.

Now in an exclusive interview with RadarOnline.com, Lindsay's dad, Michael Lohan, is speaking out about his daughter's downward spiral; one he blames on prescription drugs.

"I'm going to get her off the prescription drugs that she's on," Lohan told us in a candid interview. "I hate it when people talk about illegal drug abuse… because it's not just drinking and illegal drugs that kill you. Prescription drugs can destroy and kill a person and are sometimes harder to stop. Look at Heath Ledger and Michael Jackson."

Lohan asked us not to reveal what specific medications he believes his daughter is abusing, but says they've taken over her life.

"You know why Lindsay's not acting in feature films right now? Because she can't," he said. "Because the girl with all the talent is hidden and buried deep inside this fungus that's grown because of the prescription drugs. She can't be herself. When you hug her she's like, vacant inside. When she kisses or holds me I get chills, and not in a good way-in a bad way."

Lohan had a chance to spend some quality time with his oldest daughter following the break-in at her Hollywood Hills home. He says he was shocked by how much she'd changed.

"She's a different person. I was out there for a week when she was living at the Sunset Marquis Hotel and I would sit there and cry. It was horrible. This was not the kid I raised," Lohan told RadarOnline.com.

Lohan says he's speaking out now because he's worried about Lindsay's health and fears she's being taken advantage of by those he calls "enablers."

"I don't care what anyone says about Lindsay. The Lindsay Lohan I lived with when I was married was a focused, intelligent, gifted girl that needed no prescription medication, no assistance from a therapist. Whoever the people are that came into her life and convinced her otherwise should be thrown in jail, because they're the same type of people who are responsible for the deaths of Heath Ledger, Michael Jackson and DJ AM," Lohan said. "Everything was fine in our family until Dina and I got divorced. And that's when all the kids' lives started to unravel… including Lindsay's."
[From Radar]
I dry-heaved when he said, "When she kisses or holds me I get chills, and not in a good way-in a bad way." And I don't buy that Lindsay's problems are rooted in her parent's divorce, either. I think she was screwed up long before then, but I'm willing to give significant blame to both Dina and Michael. They're unquestionably (in my mind) terrible parents who are still trying to profit from Lindsay at any cost, even as her career, beauty, and talent has evaporated. Michael's just the parent who's trying the angle of profiting from his daughter's drug abuse. In any case, it doesn't really matter. I've said it before, Lindsay isn't going to get help for anything because in her mind, she's functioning. And that may be the saddest thing of all.
Lindsay Lohan is shown on 10/3 and 10/4 in Paris (white clothing) Credit: Bauergriffinonline. She is also shown on 10/5 in Paris. (purple cape) Credit: INFPhoto.com