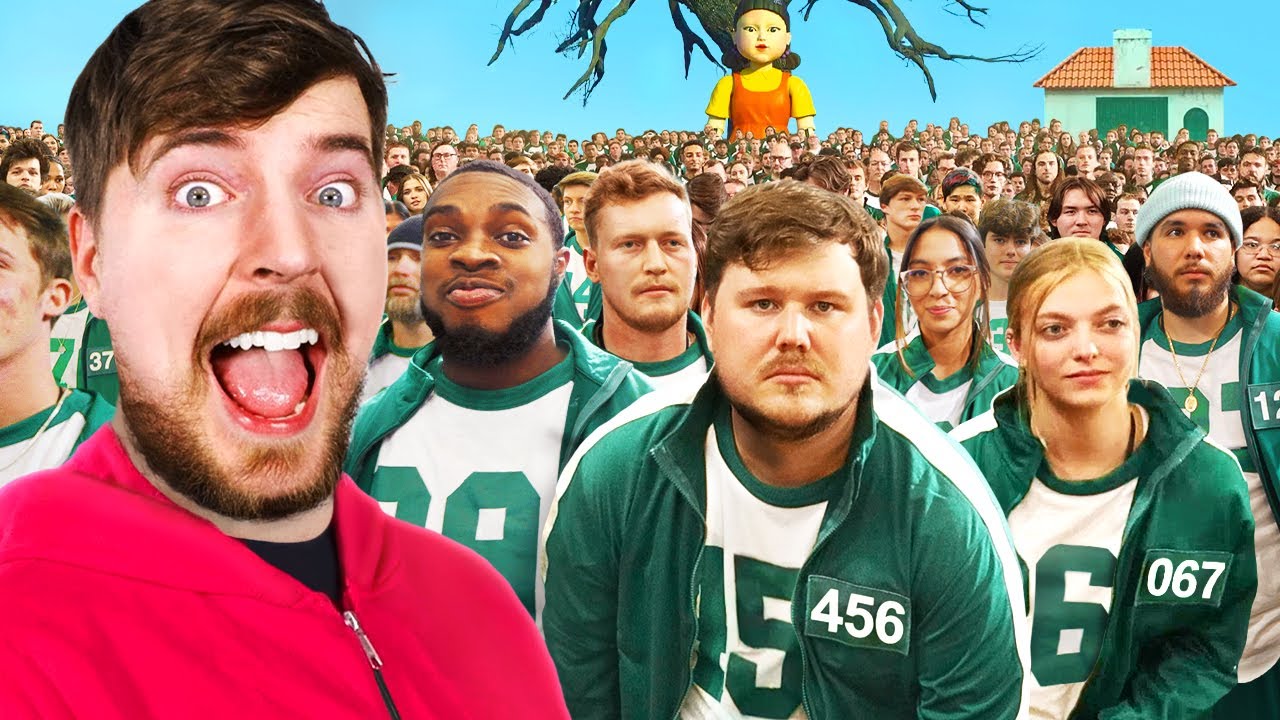 There are spoilers for this YouTube video which don't reveal the winner
I first saw this story on JustJared and was kind of floored that a YouTuber would have enough resources to pull this off, but that just shows I don't pay enough attention to the most popular YouTubers. I asked my teenage son if he'd heard of Mr. Beast, the YouTuber with 80 million(!) subscribers who recreated Squid Game complete with 456 contestants and every game from the series. My son had heard of him and he said he finds him annoying. Having watched the competition, I completely understand that sentiment, however it was entertaining. It was also horrifying, especially when they recreated the red light green light game complete with little exploding packs under the contestants' shirts. As a twist the marble game paired up the people who were best friends. That part was almost as sad as during the real show!
This video was sponsored by a mobile game company called Brawl Stars and you could tell because the production value was amazing. Everything looked straight from the set of Squid Game, including the marble game set which looked the same, like a South Korean neighborhood. The total cost for the resulting was $3.5 million. Here's more, from The Independent.
Youtube star MrBeast has created a real-life version of Squid Game by inviting 456 random players to compete in a tournament offering a $456,000 (£342,000) cash prize for the winner…

The internet personality, who boasts 76.2 million subscribers, documented the entire process of constructing the real-life recreation of the Squid Game set.

"I recreated every single step from Squid Game in real-life," MrBeast says towards the beginning of the video.

Kicking the Game off with "Red light, Green light", the YouTuber explained: "Every single player has a device strapped to them, that when they're eliminated, it pops."

MrBeast revealed that making the video cost over $3.5million, and the funding of it was provided to him by the mobile game company Brawl Stars.

The entire sum was divided into two parts – $2m for set building and production, and $1.5m for cash prizes.
Along with the competition video there's also a behind the scenes video that shows how they planned out the massive sets and prepared for filming. It's truly impressive how much work went into this. Mr. Beast has a whole production team and a warehouse. Filming, editing and special effects were accomplished in about ten days.
I went into this wanting to dislike it, but it was entertaining. The glass walkway scene was truly stressful too. It started off feeling exploitive like the show but the fact that everyone went home alive with money made it no worse than any other game show. People weren't getting physically hurt like on Wipeout, but it surely was psychologically stressful.
In that video Mr. Beast promised to give $10k away to a random subscriber. He's since received several million subscribers and millions in publicity for this. After looking at his other videos, which include "Offering People $100,000 To Quit Their Job" and "I Spent 50 Hours Buried Alive," I'm not going to subscribe. Also, my son told me this guy has a burger franchise called Mr. Beast Burger. Apparently they just operate out of existing restaurants and you have to order on an app.
Real life Squid Game with 456 people goes live today at 4pm Eastern 🙂 pic.twitter.com/vC7S54AVk0

— MrBeast (@MrBeast) November 24, 2021