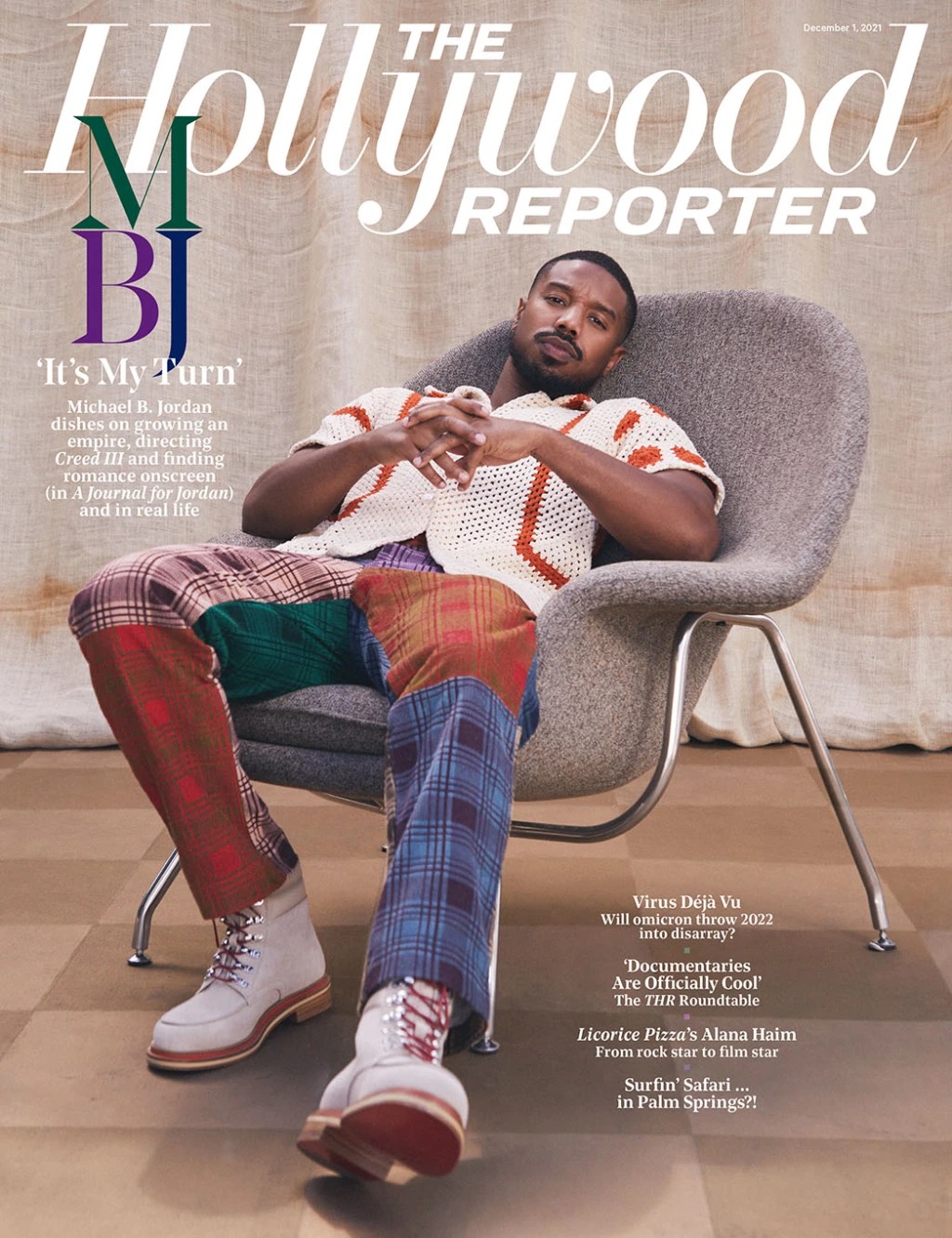 Michael B. Jordan covers the latest issue of the Hollywood Reporter, mostly to promote his latest film, A Journal for Jordan, where he was directed by Denzel Washington. He also talks about Creed III, which will be his directorial debut and a return to a much-loved character. MBJ is hyper-organized and forward-thinking. He has a plan and it's a plan for world domination. He doesn't just want to be the best actor of his generation, he wants to be a global superstar who can make any movie he wants and lift up other artists of color. That's what this THR piece is about too, his plans, his goals, and how he will achieve everything. Some highlights:
His window: "To be young, Black and successful — and disruptive — in this industry, there's a certain navigation to get to the place I need to get to. This is the most open that things have been for somebody who's in favor right now, and you try to hold that moment and stay in it for as long as you can."

On Denzel Washington & Will Smith: "Denzel perfected 'leading man.' He was like, 'I'm going to f–king dominate this one thing and master it' — the specificity of that got him to the point where he is universal and can do anything… Will [Smith] took an enterprise approach, and that's something I connect with. He says all the time that he doesn't feel like he's the most talented, but he works the hardest. It's work ethic, big vision, marketability."

Why he was ready to play a romantic lead: "There are roles that I passed on that I knew I didn't have enough life experience to play. I was like, 'What can I pull from?' But I finally found what love was."

On his relationship with Lori Harvey: "When I was younger, I don't know if I could have handled the onslaught of opinions and being picked apart, and also being conscious of what the other person's going to go through. It takes a special person to deal with that." But also, he says, "the situation for me was real enough" to share. "There's a premeditated planning of staying out of the way [of the public eye] that sometimes kills spontaneity and intimacy. I wanted to take that away and give this the best chance it had, in this weird world that we live in, to be somewhat normal…. Long story short, I think it's just the timing of everything. It was the right time for me. Yeah. I'm happy."

The period of rejection in his early 20s: "Secretly, I felt left out and overlooked. And I think that drove me further into the cave of working hard. Like, 'I'll show you.' Years later, I understand that what's for you is for you. Maybe if I got too much too fast in the beginning, I would have broken mentally and emotionally. You see how Hollywood chews and spits people out. So, God gave me what I can handle. And part of me is like, 'I'm just making up for lost time.' "

Why he was the first artist with an inclusion rider: "I don't want to be the sole validator and fixer of everybody else's company. I'm not the Black friend you need to get to be like, 'I'm good because Mike's here.' "

He's an empath: "When I was in school, I always thought that maybe I was paying attention to a frequency nobody was paying attention to. I'm an empath, so I feel everything to a fault. Vibes, energies, conversations, tones of words, levels of speech, body language, behavioral patterns. That's getting real personal and deep, but those are the things I see in everyone all the time. And that can be isolating. I bite my tongue with certain conversations. Reading the room is a good skill to have in this industry, but it's hard for me to notice the elephant in the room and act like it's not there."
It strikes me that when all is said and done, he has the potential to be bigger than Denzel and Will combined, and that's likely his goal too. I completely respect his grind, his vision, his work ethic and his morality. I do wish he would carve more time out to just have fun and really be friends with his peers rather than it needing to be some kind of creative clique though! He talks about that a lot too, how he feels like a loner, and how much he'd love to be friends with other prominent Black creatives. Call Issa Rae and HANG OUT! Call Donald Glover and get dinner together! Just do it. As for the Lori Harvey stuff… lord, she's really living the life. I'm sick with jealousy.
Cover & IG courtesy of THR.