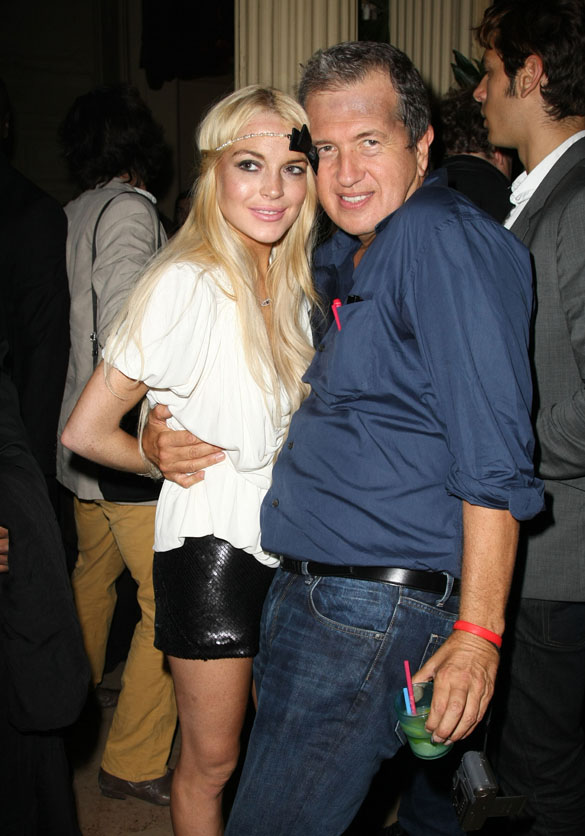 Lindsay with Mario Testino on October 5th. Image thanks to Fame Pictures .
Back on Tuesday of this week, Lindsay Lohan's dad, ex-con Michael Lohan, took to the media to describe Lindsay's addictions. While it could have been a good thing – after all, we know she's on something – Michael made it clear in his Radar interview that Lindsay's addictions are of the prescription drug variety. Right. Don't get me wrong, I'm sure Lindsay's on prescription drugs too. I just think she chases her Adderall with a vodka on the rocks and crack. Anyway, Michael announced that he was "going to get her off the prescription drugs that she's on" but he didn't really seem to have much of a plan beyond talking to the press about his daughter's cracked-out mess of a life. But give him forty-eight hours, and the man's got a plan! Sort of. Okay, it's not so much a plan as a half-assed public statement of intent to do something, or at least talk about to anybody who might care.
Hot on the heels of Michael Lohan's claims that his daughter is addicted to prescription drugs, RadarOnline.com can confirm that the Lohan family wants to stage an intervention for the troubled actress.

"I had a conversation with her, her mother and everyone…over the next couple of weeks I'm going to be doing things in a pretty public way," Michael Lohan told RadarOnline.com exclusively.

"But Dina has got to get on the same page with me. It's a serious situation. You can't just talk about it and tell me that you want to do an intervention and then do nothing."

A source tells RadarOnline.com that Lindsay relies on a bevy of prescription medications, including Adderall (used for Attention Deficit Disorder), the anti-depressant Zoloft, anti-anxiety and bi-polar drugs.

Michael's public criticism of his daughter has garnered some backlash from those who say he is betraying Lindsay's privacy. But Lohan says he knows what he's doing.

"When Lindsay doesn't adhere or listen to what I say about serious situations, I feel I have to speak publicly to put pressure on her," he said. "If she doesn't take my advice and do what I say…the more pressure I put on her, the more likely she is to eventually do the right thing."
[From Radar]
So he's got a plan to make a plan to do some kind of intervention, "in a pretty public way… But Dina has got to get on the same page with me." Ah, do you see it? The tragic logic, the built-in excuse of that statement? Michael Lohan is hellbent on saving his daughter, and he'll do anything to save her… except none of it will work unless everyone is on the same page as him. If they're not, then the "intervention" fails and it's not Michael's fault because people just couldn't get on the same page as him. He really is a classic abuser. It's always going to be someone else's fault in his mind. Gee, I wonder where Lindsay got it? Between him and Dina Shoe-Han, none of these kids really had a chance to be anything than trainwrecks.