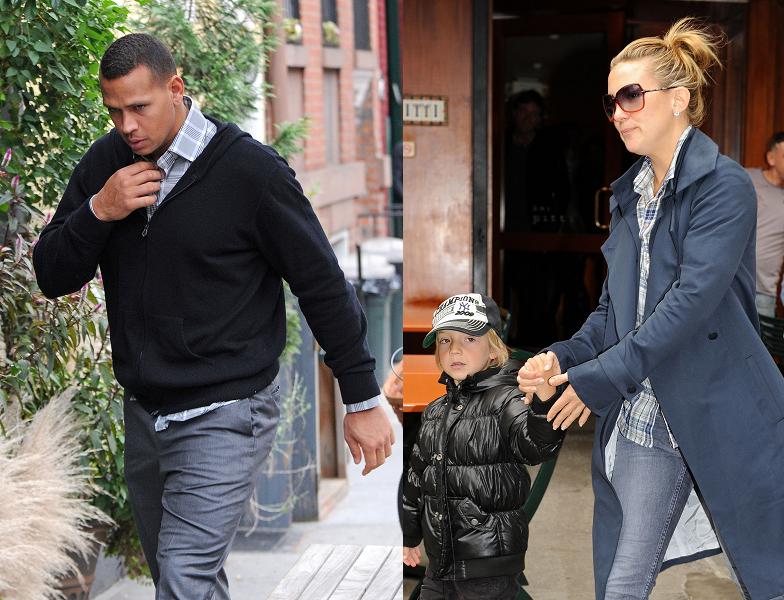 Kate Hudson and Alex Rodriguez seem to be getting closer by the minute. After their summer fling turned into something more substantial, it seems Kate and A-Rod can't get away from baby bump rumors, moving-in-together rumors, and now engagement rumors. That's right… OK! Magazine is reporting that A-Rod and Kate are so serious about each other that they're planning a New Year's wedding in Aspen. Which is exactly how Kate married Chris Robinson – although technically they had their ceremony in Old Snowmass, Colorado. But still, A-Rod thinks it would be nice to get married in front of the fireplace… and he's already asked for Goldie Hawn and Kate's step-dad Kurt Russell's blessings for the marriage.
Kate Hudson and Alex Rodriguez are serious about making a life together — and according to a pal, the smitten New York Yankees slugger is ready to make the Bride Wars star his wife, even getting mom Goldie Hawn involved. "Alex called Goldie and asked if she and [her partner] Kurt Russell would give their blessing to his asking Kate to marry him," the pal tells OK!.

"Alex is planning on doing it around New Year's. Usually Kate goes away with her family to Aspen, and Alex thought it would be romantic to do it front of a fireplace while snow was falling outside."

Already acting like a married couple, A-Rod and Kate brought Ryder, her 5-year-old son with rocker ex-husband Chris Robinson, along to look at luxury properties in NYC's trendy Greenwich Village, SoHo and TriBeCa neighborhoods. The previous week, Kate played mom to Natasha, 4, and Ella, 17 months, A-Rod's daughters with his ex-wife Cynthia, as the pair toured six-bedroom homes on the West Coast, where the couple plans to reside during his off season.

Although Kate's rep claims persistent rumors that the blonde beauty is already engaged and pregnant are "absolutely not true," friends still worry that the headstrong actress is moving way too quickly.

"She did it with Chris, Owen Wilson and now Alex," notes another insider. "[Kate's] a hopeless romantic. She always jumps in head first and ignores all the red flags."
[From OK! Magazine]
Is Kate moving fast? Yeah… but she always does that, and it sort of works for her. Honestly, I think she might have even been moving slower in this A-Rod relationship than she did with other boyfriends. That's what makes me think this relationship with A-Rod might be more serious than the others. Kate seems to be making an effort, but A-Rod seems to be trying too. I actually think this OK! report may have some merit, and I wouldn't be surprised if Kate and Alex got hitched within the next six months or so. Now, I do wonder what Goldie really thinks about all of this. There were rumors that Goldie doesn't care for Kate's neverending man-drama, so she might simply be happy to see her daughter hooked up with someone relatively stable.
Here's Kate, Alex, and Ryder leaving Bar Pitti in the West Village on October 1st. Images thanks to BauerGriffinOnline.