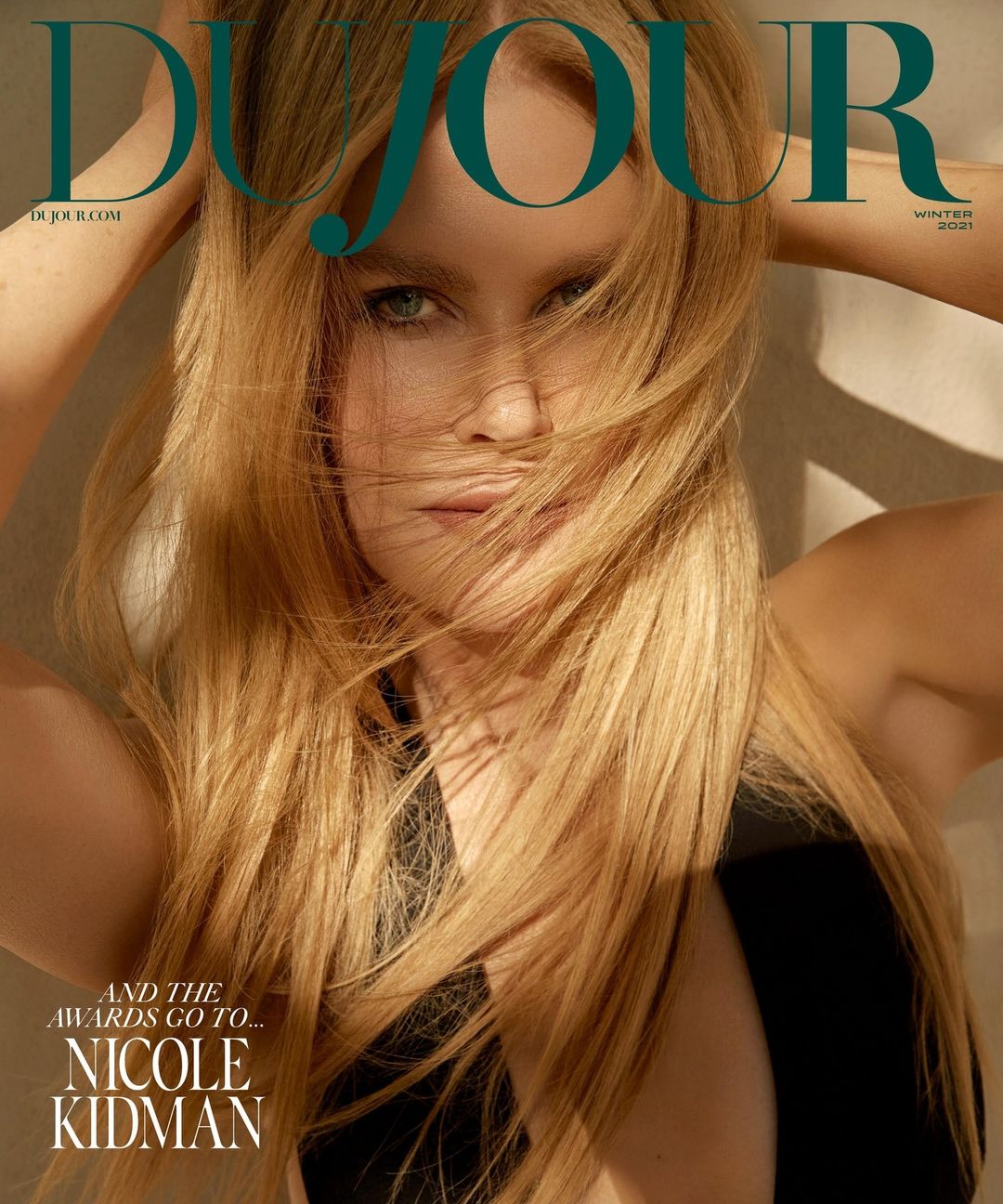 Nicole Kidman covers the latest issue of DuJour, mostly to promote Being the Ricardos and to do her little Oscar campaign for the film. The DuJour cover story is trying to remind people that before Kidman's love affair with Botox, she was actually known as something of a shapeshifter actress, someone who could play any part and do any accent. Is that still true? I don't know. If anything, Kidman's accent work has been a bit wonky as of late, and even with all of the wigs at her disposal, she still always ends up looking like Nicole Kidman. You can read the full DuJour piece here. Some highlights:
She's relieved by the response to Ricardos: "I was so frightened… I thought, 'Oh, my God, I'm not the right person. Maybe I didn't think this thing through.' And then it was too late to get out of it."

She always gets anxiety about the big projects: Kidman acknowledges that this process—dive headfirst into a project, then have debilitating anxiety about it—is "part of my trajectory. I get terrified. It happened on The Others," the blockbuster horror movie from 2001, and it happened the following year with the role of Virginia Woolf in The Hours, which garnered her an Oscar.

Why she takes those big swings: When it comes to her "big swings," Kidman admits "there's a lot of unconscious decision-making" at play. "I have a very stable home life, so I can go off and then always come back here. It's also part of getting older and just looking at life. There's a consensus in the industry that as a female actor, at about 40, you're done. I never sat in a chair and heard someone say, 'You're past your due date,' but I've had times where you're turned down and the door is shut on you. It's definitely changing and moving, but that's what Being the Ricardos is about."

Her first attempts at Virginia Woolf's voice were bad: As an actor, says Kidman, "you've got to have a thick skin." When she was prepping for The Hours, she remembers trying to imitate Virginia Woolf's voice for the director, Stephen Daldry. "It was absolutely dreadful," Kidman recalls. "He said, 'I so don't want that. You're not going to do that.' Directors say 'no,' if they're truthful." On Eyes Wide Shut, she adds, Stanley Kubrick would ask, "What was that?" "over and over."

She doesn't need a nice director: "I choose carefully the directors I work with. It's not about nice. It's about [deciding] I want to be the vessel. I'm here to help. What can I do?"

Comedy is hard. "It's crazy hard. I never really understood how hard it was. You look at Julia Louis-Dreyfus. You look at Mary Tyler Moore. They're bold. They're willing to not hear a laugh."

Her kids: Her daughter Sunday Rose "wants to be a director. Through nothing I've done, though. She's learned to edit, and if I even offer to be in one of her films, the sense is I'm not getting anywhere near them." Recently, Kidman says her daughter directed a production of Annie on stage. "All I wanted to do was whoop and holler," Kidman explains. "But I'm kept on a tight lock and key. I just want to go, 'You're amazing.' But I'm not allowed to call out the window of the car or even compliment too much."

Hands-on parenting: "I have this huge desire to be there for them. I don't want to miss their bedtimes. That bedtime is so deeply important for me. We talk. We try to have some consistency. The biggest consistency is 'I'm here and I love you and that will never change.' It's a constant balance."
She always says that she tries to get out of movies at the last minute and I believe her. I think she probably arrives on set or location, gets nervous and calls her agent and begs him to find a way out of the contract. She must do that for nearly every film! I definitely wish she had found a way to get out of Being the Ricardos, but here we are. I do like what she said about getting older and giving fewer f–ks about what you're "supposed to do" and all of that. I think a lot of women feel like that too – it's not that you stop caring about things once you hit 40, and it's not like you stop getting nervous or anxious, but you do stop caring about the little sh-t, like keeping up appearances or other people's opinions.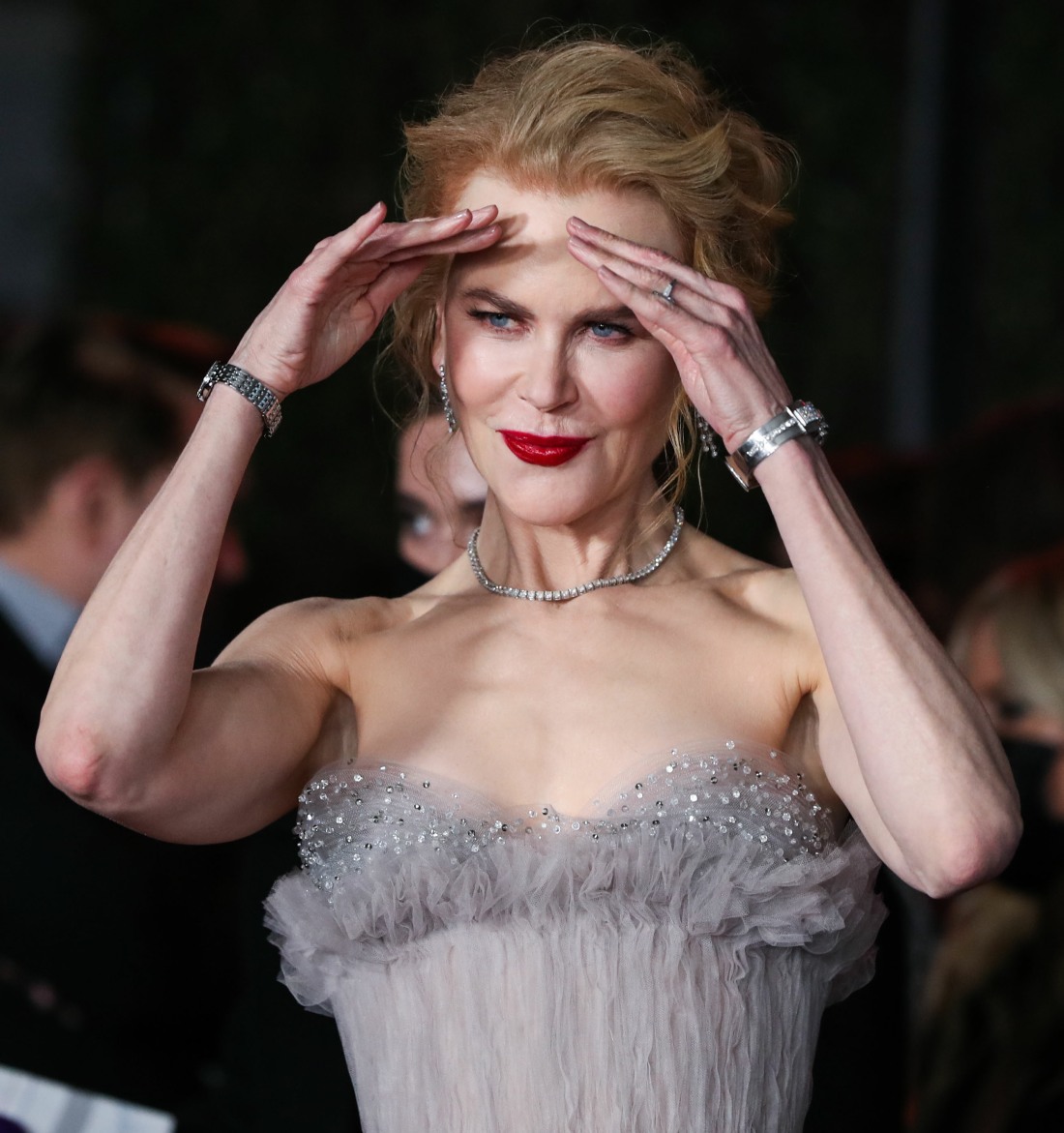 Cover courtesy of DuJour, additional photos courtesy of Avalon Red and Backgrid.