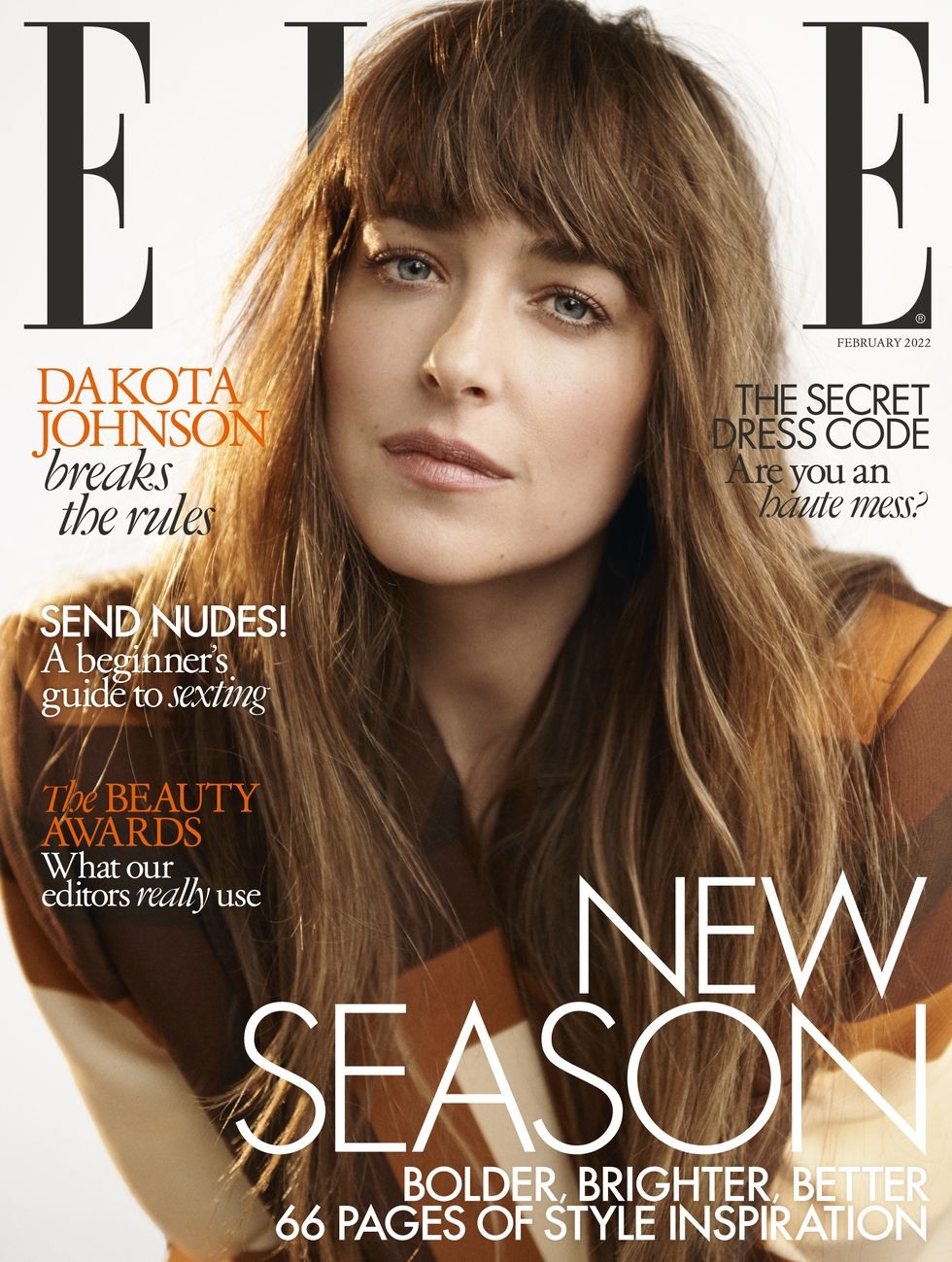 Dakota Johnson cover the February issue of Elle UK to promote The Lost Daughter, a film which has gotten great reviews for its script and its triptych of performances by Jessie Buckley, Dakota and Olivia Colman. Dakota seems pretty happy right now, like she's gotten some stuff figured out in her life. She's been with Chris Martin for nearly five years, she has a great house, her career is going very well and she's only 32 years old! She seems older than that at times, and younger than that at times. She talks about that with Elle:
She's incorrigible: "I was born on the Day of the Incorrigibles. And I'm like, That makes sense. I do not like stupid rules, like rules for rules' sake. Or people implementing rules because they're seeking power. If a chair is marked "Do not sit here" I'm like, "Why the f*ck not?" I don't know where this came from and why it got so bad."

She also has a sense of serenity & calm: 'Well, my parents are… I don't think I get it from them, they were wild when I was growing up. I think maybe I'm guarded. And that comes off as serene."

Her relationship with Chris Martin: "We've been together for quite a while, and we go out sometimes, but we both work so much that it's nice to be at home and be cosy and private. Most of the partying takes place inside my house."

How she feels at the age of 32: "I feel both 48 and 26. I've had a lot of life in my life. I had a lot of life really young, so I think I feel older."

On her role in The Lost Daughter: "I don't read women like Nina very often. It's very rare to read a young woman who is lost, drowning, angry and hungry to be seen, who isn't someone's fully formed idea of what a woman should look like."

On Olivia Colman: 'Well, I was like, I wonder what she's going to be like? But we loved each other. She's so maternal and embracing and always wants to hang out and drink wine and talk.'

She thought about her own mother as she worked on TLD: Melania Griffith was 'making everything possible. She was able to be a nurturing, generous, loving mother, and do her job and be an amazing partner to her husbands. But there were also really dark times. So the point is to say that nothing is perfect all the time – nothing. [My mom has] seen it three times. I think it's coming from being proud of me. I also think it's something that she hasn't seen on screen before, and she's like, "You can say: I f*cking hate being a mother today?"'
It's crazy to think about the fact that she's third-generation Hollywood royalty, that she learned how to drive on the set of Nash Bridges, that Antonio Banderas was her step-dad, and on and on. That's what makes her seem "older," she has lived a lot of life. But there's also a girlishness to her, and I mean that in a nice way. Anyway, I'm glad she's comfortable enough with Chris to say something about him in an interview. I wonder if he still hates it when his ladies talk about him?
Cover & IG courtesy of Elle UK.