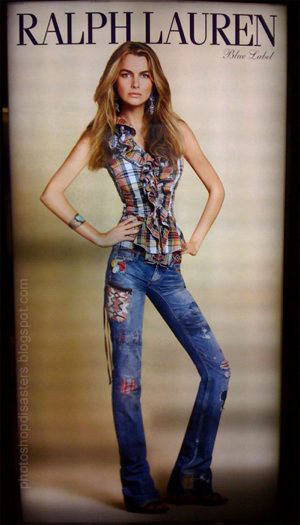 Given that many magazines are starting to use regular-sized women as models (I'm not going to say "plus-size," because while they are larger than your average model, they're not plus-sized for your average person), it seems like Ralph Lauren is rather backward thinking when it comes to their own model selection. I'm not going to slam a fashion brand for choosing a thin model, but not only did Ralph Lauren do that, but they Photoshopped at least 20 lbs off already extremely thin Filippa Hamilton. She looks like a preying mantis. To make matters worse, instead of taking responsibility for their actions, Ralph Lauren legally attacked the websites that were posting the image in order to have a discussion.
Just as the fashion world seemed to be coming around to promoting realistic portrayals of women, designer Ralph Lauren has come under fire promoting an unhealthy aesthetic of dangerously thin women.

Bloggers have slammed the legendary American designer for an ad that shows model Filippa Hamilton in what appears to be a heavily altered photo. The ad in question appeared on Boing Boing, with a blogger noting "Dude, her head's bigger than her pelvis." Indeed, Hamilton, whose thin body appears to be in keeping with the fashion industry aesthetic of tall and incredibly thin, looks emaciated in the photo.

But the fashion house did not take well to the criticism and slammed the site, claiming that the use of the image was a copyright infringement. Boing Boing shot back saying it was fair use because the reproduction was being used for purposes such as "criticism, comment, news reporting etc."

Still, despite the legal issues, we were concerned by the imagery in the photo. The message of a model who is already probably less than 115 pounds having 20 pounds digitally removed from her body is disconcerting at best. After Glamour magazine and other fashion sites have been praised for the use of plus size models, some are arguing that Ralph Lauren is moving backward.
[From Fox 411]
The photo originally appeared on the website PhotoshopDisasters. Ralph Lauren filed a Digital Millennium Copyright Act against the blog in order to force the entries to be immediately removed, which their ISP (and most ISPS) automatically do when a DMCA is filed. Because why fess up to your poor decisions when you can blame someone else? Eventually Ralph Lauren admitted wrongdoing yesterday.
"For over 42 years we have built a brand based on quality and integrity. After further investigation, we have learned that we are responsible for the poor imaging and retouching that resulted in a very distorted image of a woman's body. We have addressed the problem and going forward will take every precaution to ensure that the caliber of our artwork represents our brand appropriately."
[From Extra]
What a great way to make a medium-sized problem so much worse. It's inexcusable to try to show that a healthy "ideal" woman should look like she has a – what size would that be, a 15 inch waist? Instead of saying, "Yeah, our bad, we're ridiculously superficial (obviously) and don't give a crap how unrealistic and unhealthy our expectations are" they try to distract with a bunch of legal b.s. claiming we don't even have the right to look at and comment upon the image. Ralph Lauren used to be a nice brand with a reasonably classy image. This is just pure trash.
Here's what Filippa Hamilton (and her waist) looked like in previous Ralph Lauren ads.