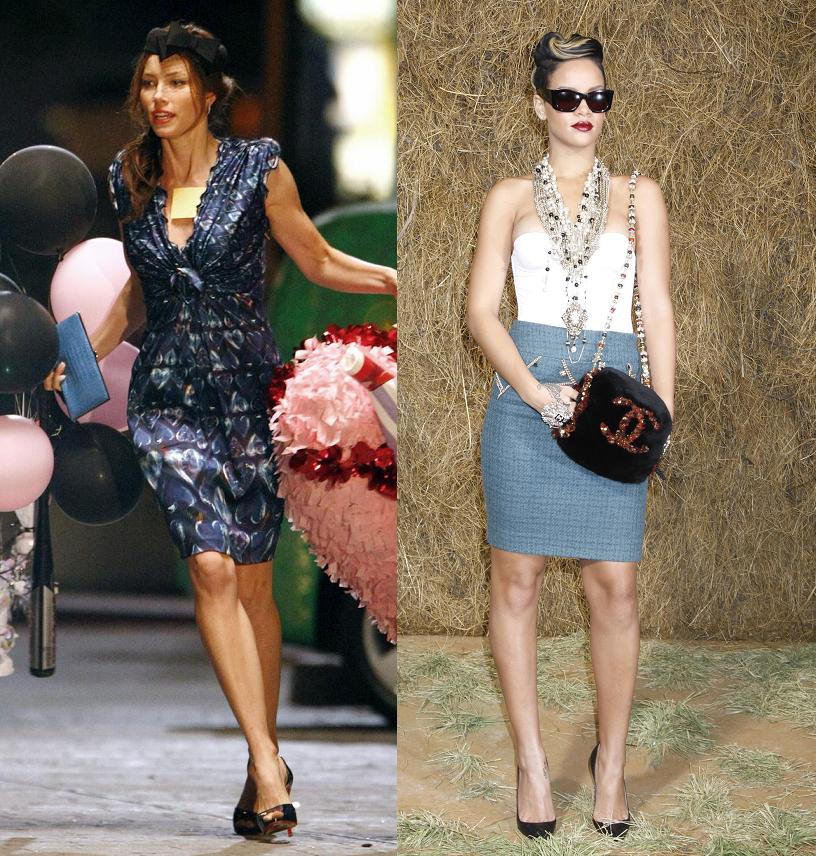 Ever since people started realizing that Justin Timberlake and Jessica Biel might be having serious problems, or might already be broken up, the next thing that comes to most people's minds is something along the lines of "I bet JT and Rihanna are totally doing it." It kind of makes sense – we know from JT's history that he moves on from relationships really quickly, and JT and Rihanna make some kind of crazy sense together. Plus, there have been rumors swirling about JT and Rihanna ever since the VMAs, when some sources had them hooking up backstage or whatever.
Even though Rihanna's name has been consistently reported as JT's maybe-hookup, she hasn't taken a press hit for it. Maybe the press treats her with kid gloves after the Chris Brown incident, or maybe people are just waiting to see if it's true. But now it looks like Rihanna might have been concerned with how it looks… to Jessica Biel. The Enquirer is reporting that Rihanna called Jessica to tell her "I'm no homewrecker."
Rihanna secretly called Jessica Biel to say she's not chasing Justin Timberlake, sources say.

"Rihanna doesn't want to be pegged as a homewrecker," a close friend says. "She loves Justin, but only as a friend."

Justin and Rihanna are collaborating on Rihanna's new album, and reports began to swirl that they were fooling around. But Rihanna wanted to make it clear to Jessica the stories are off-base. She had her assistant track down Jessica's cell number from Justin's assistant last week and got Jessica on the phone.

"Rihanna apologized over the ridiculous nonsense that's been printed… she has been cheated on in the past, and one thing she would never do is take another woman's guy. Sure, she and Justin are close. He's producing her CD."

The two women chatted and even made a tentative lunch date, said the source.

When Justin took Jessica away on a spa getaway, "he assured Jessica that he and Rihanna are nothing more than friends and collaborators… She believes him, and she was touched by Rihanna's call."

"Justin told Jessica he wants to be with her, but there will always be rumors about other women, and she's got to end her jealousy," the source said.

Sure enough, once Jessica was safely in Canada filming The A-Team, Justin was out on the town with a crew of cuties.

"Justin has done what he can to reassure Jessica and explain that he's going to be seen with other women… As for their future? That's in Jessica's court now."
[From the National Enquirer, October 18 2009]
My take on the moral of this little story is that Rihanna isn't really attracted to Justin, and she wants people to know it. And that Justin is going to continue to act like a douche to Jessica until she dumps him. That's pretty much it. As for the veracity of this story… eh. Part of me thinks there's a better chance that JT and Rihanna are hooking up or have hooked up before, but I could also see how JT isn't Rihanna's type. As for Jessica… I don't even know what to say about her anymore. It really looks like her epic beauty isn't just costing her jobs, it's costing her relationships!
Here's Rihanna at the Chanel runway show as part of Paris Fashion Week on October 6th. Images thanks to Fame Pictures . Header of Jessica Biel filming scenes for the romantic comedy 'Valentine's Day' on September 18th. Image thanks to INF Photo.