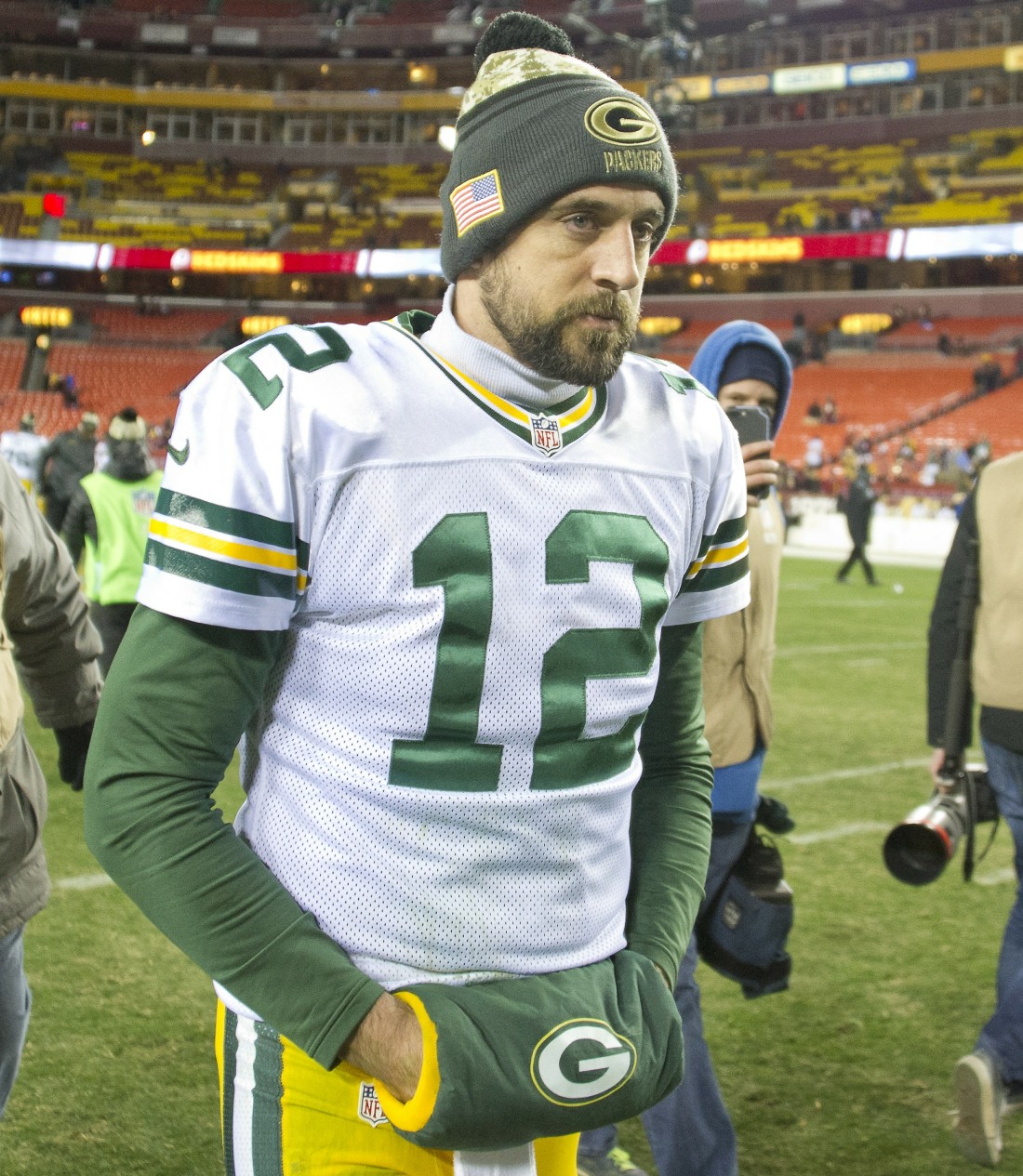 On Saturday, the 49ers canceled Aaron Rodgers' unvaccinated ass. The 49ers beat the Green Bay Packers in the NFC divisional-round game, meaning the 49ers are going to the playoffs (and not the Packers). On Saturday and Sunday, the vaccinated masses were clowning heavily on QAaron's dumbass. It was made all the sweeter because just before this game, ESPN dropped a long-read interview and profile with Rodgers, where he refused to apologize for sending an online mob to harass journalist Molly Knight and where he bitched about President Joe Biden's comment that Aaron should get vaccinated. This ESPN piece is bonkers – go here to read. Here are the most relevant quotes:
On the copy of 'Atlas Shrugged' featured prominently on his bookcase: "I was laughing about it before. I was moving some books over and replacing some things behind me, I was like, 'Oh dude, I could never read this book.' It's however many pages. That's how stupid this thing is. I'm reading some mentions or Twitter stuff and these people are loving me up. They're like, 'Oh yeah, libertarian, blah, blah, blah.' I'm like, 'What the f—?' And then the people on the other side canceled me. 'That's kind of trashy, he's reading Ayn Rand.' I'm like, I haven't read it! And even if I did, who gives a s—? It's a book. I can read something and not immediately have it overtake my personal ideologies. And that's the problem with society, is everything is triggering and offensive. It's wild."

It's necessary to both-sides everything: "We isolate ourselves into these echo chambers where we're only going to listen to things or read things or watch things that confirm our initial thoughts about things. That's no way to grow; that just keeps us divided even more."

Why he told journalists "I've been immunized." "I had a plan going in for that question to be asked. It was a pseudo witch hunt going on — who was vaccinated, who wasn't vaccinated. I was in a multimonth conversation that turned into an appeal process with the NFL at that time, and my appeal hinged on that exact statement [immunized]. So what I said was, No. 1, factually true. I went through a multi-immunization process. And at the end of that, I don't know what you would call it, I would call it immunized."

On Biden telling a Packers fan that Rodgers should get vaccinated: "When the president of the United States says, 'This is a pandemic of the unvaccinated,' it's because him and his constituents, which, I don't know how there are any if you watch any of his attempts at public speaking, but I guess he got 81 million votes… But when you say stuff like that, and then you have the CDC, which, how do you even trust them, but then they come out and talk about 75% of the COVID deaths have at least four comorbidities. And you still have this fake White House set saying that this is the pandemic of the unvaccinated, that's not helping the conversation."
He's a dipsh-t clown but it's actually a huge bummer? People really liked him. People thought he was smart. People respected him. And he's spent the past year exposing himself as a complete moron, a troll, a liar and a Joe Rogan fan. There's a real element of toxic masculinity to this too: there are so many men like Rodgers and Rogan who think they'll "look weak" or "look like p-ssies" if they… believe in science, or read a book or listen to doctors. The fact that Rodgers targeted Molly Knight for harassment because she merely made a joke on the internet too is the cherry on top of this f–king mess.
Aaron Rodgers' playoff run thwarted by snowflakes, cancel culture strikes again

— Kyle Neubeck (@KyleNeubeck) January 23, 2022
How Fauci looking at Aaron Rodgers pic.twitter.com/xmV5M15902

— Josiah Johnson (@KingJosiah54) January 23, 2022
Wild that Aaron Rodgers didn't get better protection against the Niners with his natural immunity

— Zito (@_Zeets) January 23, 2022
AARON RODGERS GOT HIS ASS CANCELLED FROM THE PLAYOFFS #NINERGANG

— Jemele Hill (@jemelehill) January 23, 2022
aaron rodgers should've done more of his own research on the 49ers defense

— Robby Kalland (@RKalland) January 23, 2022
Aaron Rodgers and the Packers can still make it to the Super Bowl if Mike Pence has enough courage.

— Daily Trix (@DailyTrix) January 23, 2022
every corner of twitter coming together to dunk on aaron rodgers pic.twitter.com/wK305VaUbF

— Conor Ryan (@ConorRyan_93) January 23, 2022
Photos courtesy of Avalon Red, Instagram.