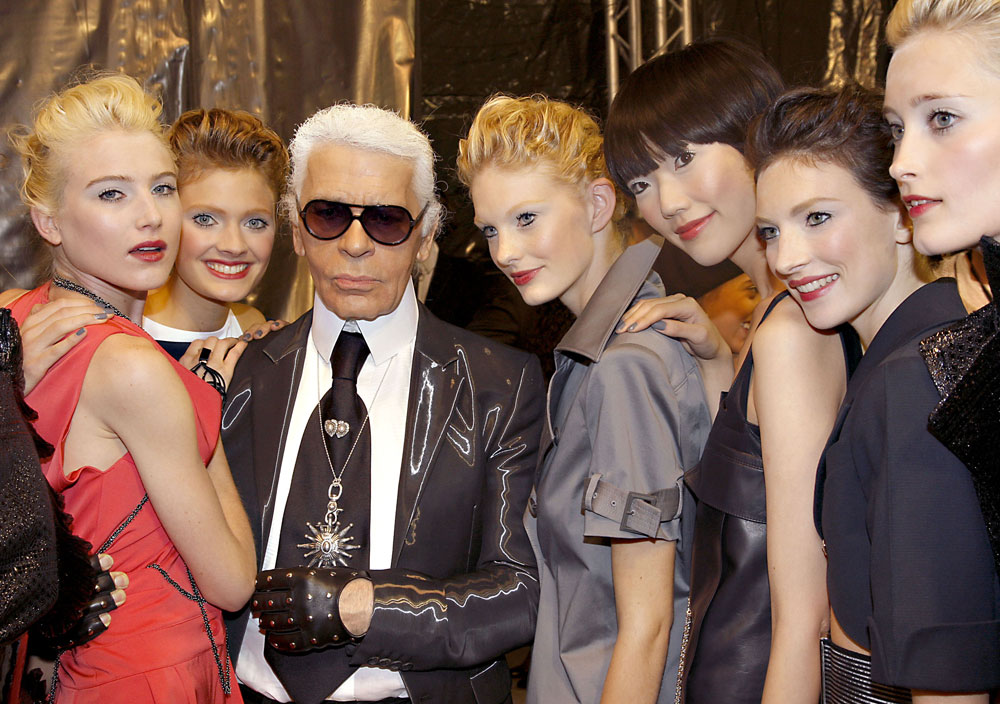 Anger Bear Karl Lagerfeld has decided to wade into the latest debate about the size of the current crop of models. Oh… you know this is going to be good, too. Can you feel it? Karl was asked about a magazine editor's recent decision to use "realistic" women in their photo shoots as the backlash against insect-thin models grows. Of course, Karl had to shut that sh-t down. Karl sniffed: "It's absurd. No one wants to see curvy women. You've got fat mothers with their bags of chips sitting in front of the television and saying thin models are ugly." Karl thinks fashion is "dreams and illusions." The Guardian has more background on this story, but I do have to make one note – they change the words "mothers" and "chips" to "mummies" and "crisps". Karl's original comments were either to Agene France or Focus Magazine (or both) and I do wonder if he originally said this stuff in German, and everyone is translating however they see fit. Maybe it sounds different in German? Maybe it's not as harsh?
Karl Lagerfeld, the eccentric German fashion designer, has waded into the debate about size-zero models by stating that people prefer to look at "skinny models", and those who do not are "fat mummies".

Lagerfeld, 71, was reacting to the magazine Brigitte's announcement last week that it will in future use "ordinary, realistic" women rather than professional models in its photoshoots. He said the decision by Germany's most popular women's magazine was "absurd" and driven by overweight women who did not like to be reminded of their weight issues.

"These are fat mummies sitting with their bags of crisps in front of the television, saying that thin models are ugly," Lagerfeld said in an interview with Focus magazine. The creative director of the fashion house Chanel added that the world of fashion was all to do "with dreams and illusions, and no one wants to see round women".

Lagerfeld, who is known in the trade as a designer with a particular penchant for skinny models, adopted an almost emaciated look himself a few years ago, losing a lot of weight when he went on a strict low-carbohydrate diet. He has continued to share his diet tips over the years, stating: "I only like the things that I'm allowed to eat, so it's not like I have to avoid anything, which is how I don't put on weight."

He has also repeatedly defended the fashion world against claims that it encourages anorexia.

Three years ago in Berlin, the designer, known in the trade as King Karl and who sports a trademark upturned white collar and black leather gloves, created a stir by saying that it was psychological problems that caused models to be underweight, not pressure from the fashion industry.

"They aren't deliberately skinny because they want to be models, they've probably had family problems or suffered from other traumas," he said, adding that he had never seen any anorexic models himself, "only extremely slim ones".

Brigitte's editor, Andreas Lebert, said that after years of having to "fatten up" pictures of underweight models "with Photoshop", the magazine will produce its first edition with non-professional models on 2 January.

"We will show women that have their own identity – the 18-year-old A-level student, the company chairwoman, the musician, the footballer," he said. Lebert, who said the average weight of a model was "23% less" than that of a non-model, is calling for readers to sign up for photo sessions.

Brigitte's decision follows a recent appeal by British Vogue editor Alexandra Shulman to major fashion houses to end the "size-zero" culture, and a scandal over a Ralph Lauren advertising campaign in which a model was "thinned down" using computer graphics.
[From The Guardian]
I'm starting to think Karl enjoys riling us too much. Like, it turns him on to be so nasty. Since we already know Karl hates fatties (and I'm using that term as a joke), I suppose we don't really have anything to add to our running tally of Karl Lagerfeld's List of Hate. At last total, Karl hated: love, the internet, Heidi Klum, food, mornings, Seal, mirrors, Diane von Furstenberg, the 1990s, traveling, human contact, anyone with a skin condition, fatties, anyone who doesn't gush over the current Chanel line, public transportation, Audrey Tautou, sunshine, feminists, children, and models who have never been in Paris. I'm going to add fat mothers, potato chips, sitting in front of the television, and anyone who says thin models are ugly.
By the way, for anyone who needs a good laugh, check out this awesome video of Katy Perry trying to interview Karl Lagerfeld at his Paris show. He corrects her over and over, tells her he hates Sundays, talks about how he loves Lily Allen, compliments her on being "only a size 2" and says she did okay "for a beginner". It's pretty incredible.
Karl Lagerfeld is shown at his farm-themed Chanel show in Paris on 10/6/09 with Natalia Vodianova, Rihanna, Katy Perry and models. Credit: Fame Pictures