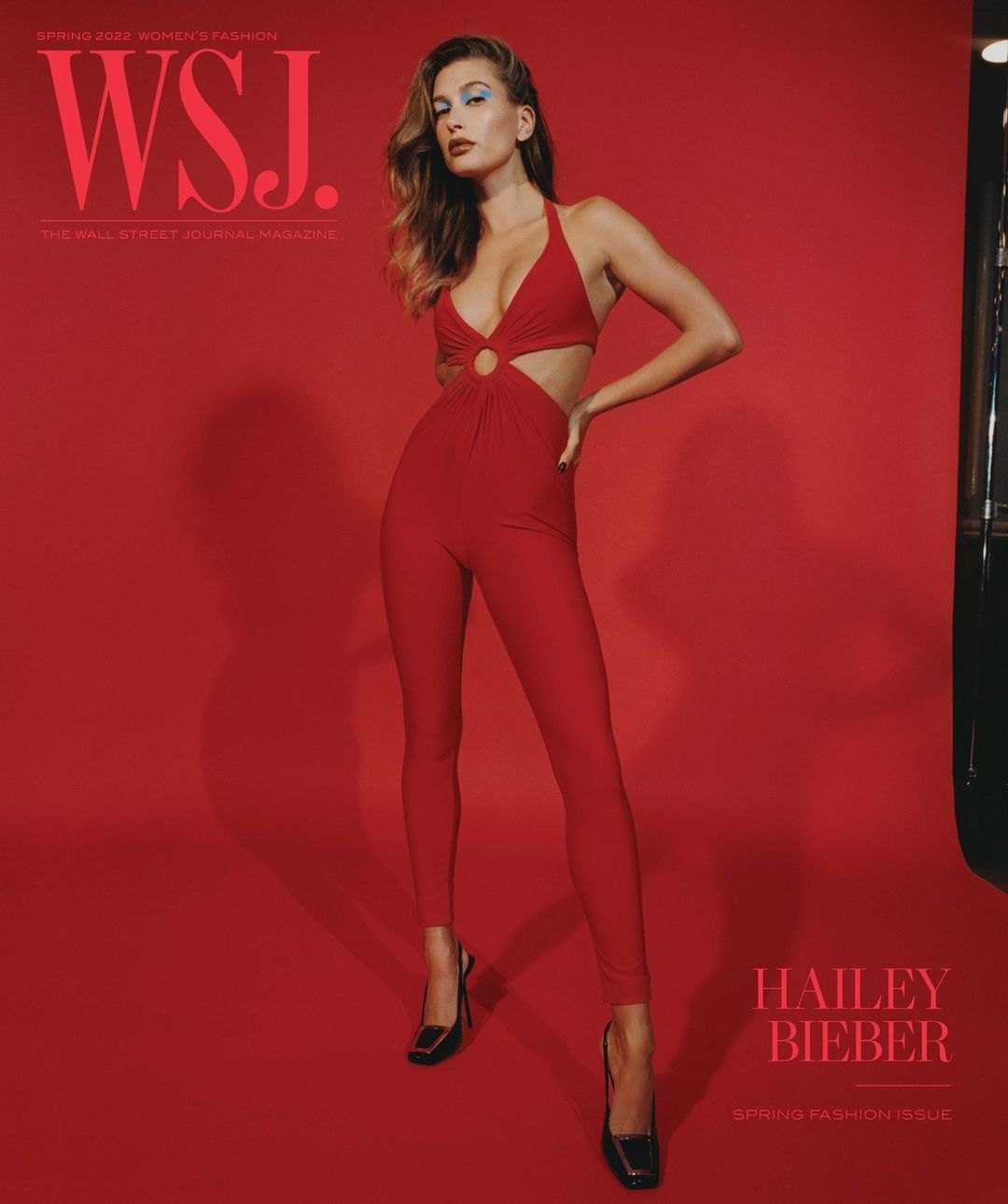 Hailey Bieber covers WSJ. Magazine to promote her skincare brand, Rhode, which she's been developing for a few years now. She does have nice skin, and hell, every celebrity has a skincare line these days, so why not Hailey. Somewhat hilariously in this interview, Hailey makes a big deal about how she's no longer going to talk about her marriage to Justin Bieber, then she does just that by talking about when she would ideally like to try to have Bieber babies. Some highlights:
On her new skin care brand, Rhode: "My role in the brand is the Creative of Everything, putting together the packaging and the colors and the aesthetic. The whole ethos of my brand is access to really good-quality products that are really affordable," the 25-year-old model continued, adding that consumers shouldn't have to shell out loads of cash in order to achieve a dewy, "glazed donut" complexion – something that Bieber has become famous for in the beauty sphere. Added Bieber: "I just don't see why a $200 cream has to be the answer to good skin."

She's relatable: "I want to make people feel like I'm another gal next door. I'm just a girl from New York who happened to get to this place."

She won't talk about her marriage from now on: "The media loves to take a tiny little blurb of something for clickbait… the media has always been a disgusting thing."

Her marriage to Justin is very normal: "Behind closed doors, we're two really normal people that just have not-normal lifestyles and careers. I think given the magnitude of Justin's career, he's a very normal person, and I don't think that always happens."

Whether she's thinking about getting pregnant this year: "I think ideally in the next couple of years we would try. But there's a reason they call it try, right? You don't know how long that process is ever going to take…. Definitely no kids this year; that would be a little bit hectic, I think. There's this thing that happens for women when you get married. Everybody always assumes it's: First comes love, then comes marriage, then comes the baby. Well, what about all the things I want to accomplish in my business? I think I had it ingrained in my head that I was going to want to have kids right away and I was going to want to have kids super, super young. Then I turned 25 and I'm like, I'm still super, super young!"
[From WSJ. Magazine via Just Jared & People Magazine]
First of all, I wish she had said "no comment" or "it's rude to even ask me that" when she was asked directly about babies and all of that. She doesn't have to say anything, and we absolutely need to stop asking celebrity women "when will you have a baby." If it comes up organically in an interview, so be it. But Hailey shouldn't have to justify her timeline whatsoever. All that being said, Justin has been saying for a while that HE is ready to start a family. So it's pretty clear that Hailey is the one putting the brakes on it. Which, again, is fine and her right.
As for the dumb sh-t about "clickbait" and not talking about her marriage… lmao. Oh, honey. Bless.
Cover & IG courtesy of WSJ. Magazine.