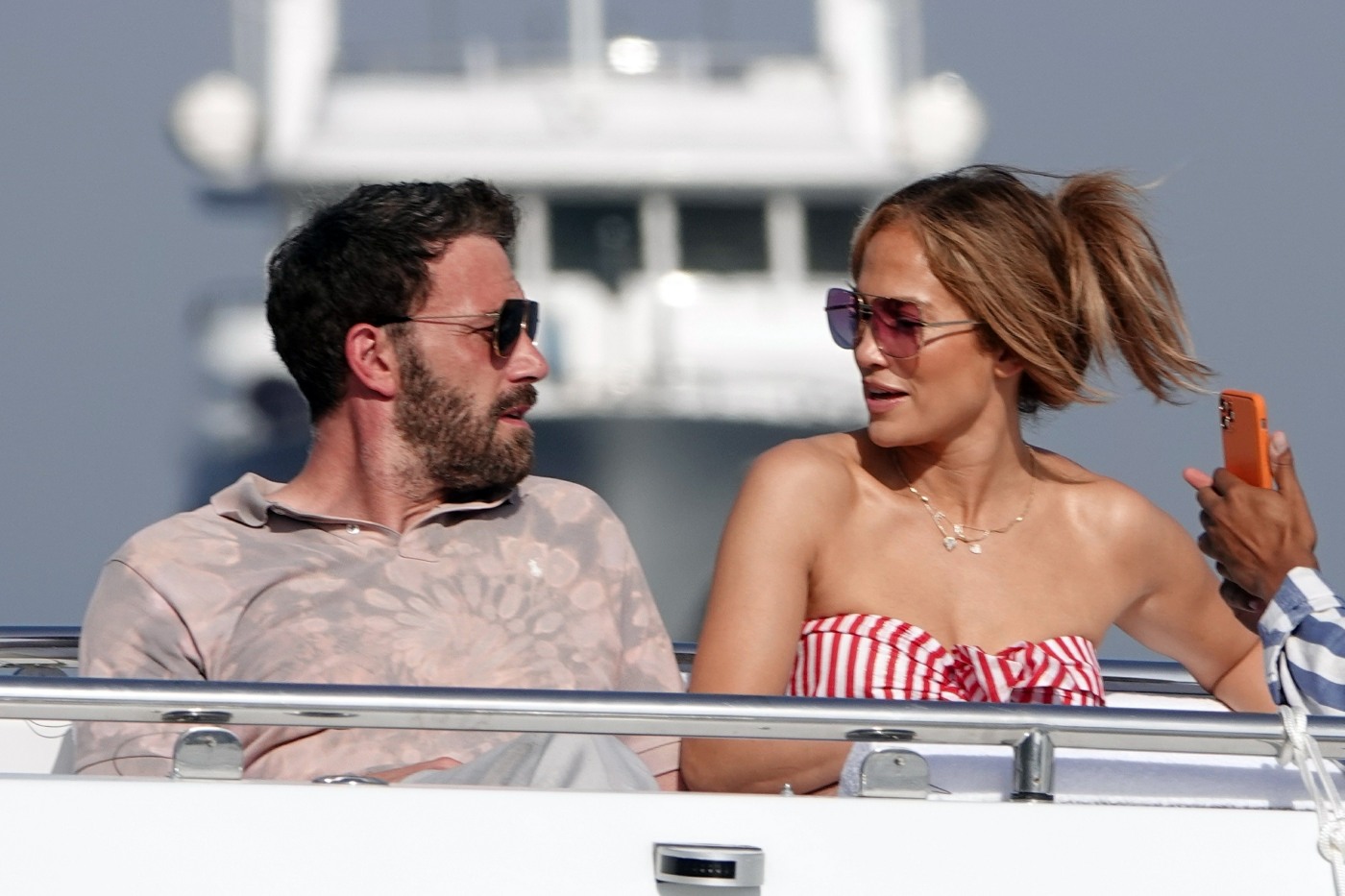 Last July, Jennifer Lopez and Ben Affleck went on a weeks-long excursion on a yacht. They came to port in St. Tropez, Capri, Monaco and more. They went shopping and out to eat. But on the yacht, they were enjoying themselves by sunbathing and relaxing. It was there that the prophecy came to fruition: Butt Rubbing SZN!! While on the yacht, Ben and Jen ended up recreating various scenes from her infamous "Jenny From the Block" video, including Ben lounging on J.Lo's body and rubbing her ass. It was glorious and one of the best gossip moments of the year. It led some people to wonder if Jen and Ben were purposefully recreating the music video (they were). Well, in J.Lo's big People Magazine cover story, she was asked about Butt Rubbing SZN and whether they were doing it on purpose (she says they weren't but they were).
When Jennifer Lopez and Ben Affleck were snapped by the paparazzi celebrating Lopez's 52nd birthday on a yacht in St. Tropez last July, people were positively abuzz. Yes, it was exciting to see the newly reunited couple so happy together, but eagle-eyed fans had a theory: They were recreating the iconic scene from Lopez's music video for her hit song "Jenny from the Block."

While the two were indeed lying down and relaxing in the sun as they were 19 years ago in the video — and Affleck's hand was similarly placed just so on her derrière over her bikini — the Marry Me star dispels the rumor.

"We were just on the boat! There was no recreation!" Lopez tells PEOPLE in this week's cover story. "I was lying down. … It was a trip I like to take for my birthday, but no, we were not intentionally recreating it. I didn't know there were paparazzi out in the middle of the ocean either!"

Lopez admits she found the rampant fan theory "funny," and says she's appreciated the affection she and Affleck, 49, have felt from the fans and public this time around.
I DO NOT BELIEVE YOU, J.LO. I believe J.Lo is in love with love, I believe she's head over heels in love with a problematic man, I believe she would marry Ben today if he asked, but I do not believe that she and Ben "accidentally" recreated scenes from the "Jenny From the Block" video without realizing it. We were literally talking about it as soon as they got back together!! And the butt-rubbing-on-a-yacht thing wasn't even the ONLY scene they recreated. Liar liar G-strings on fire!!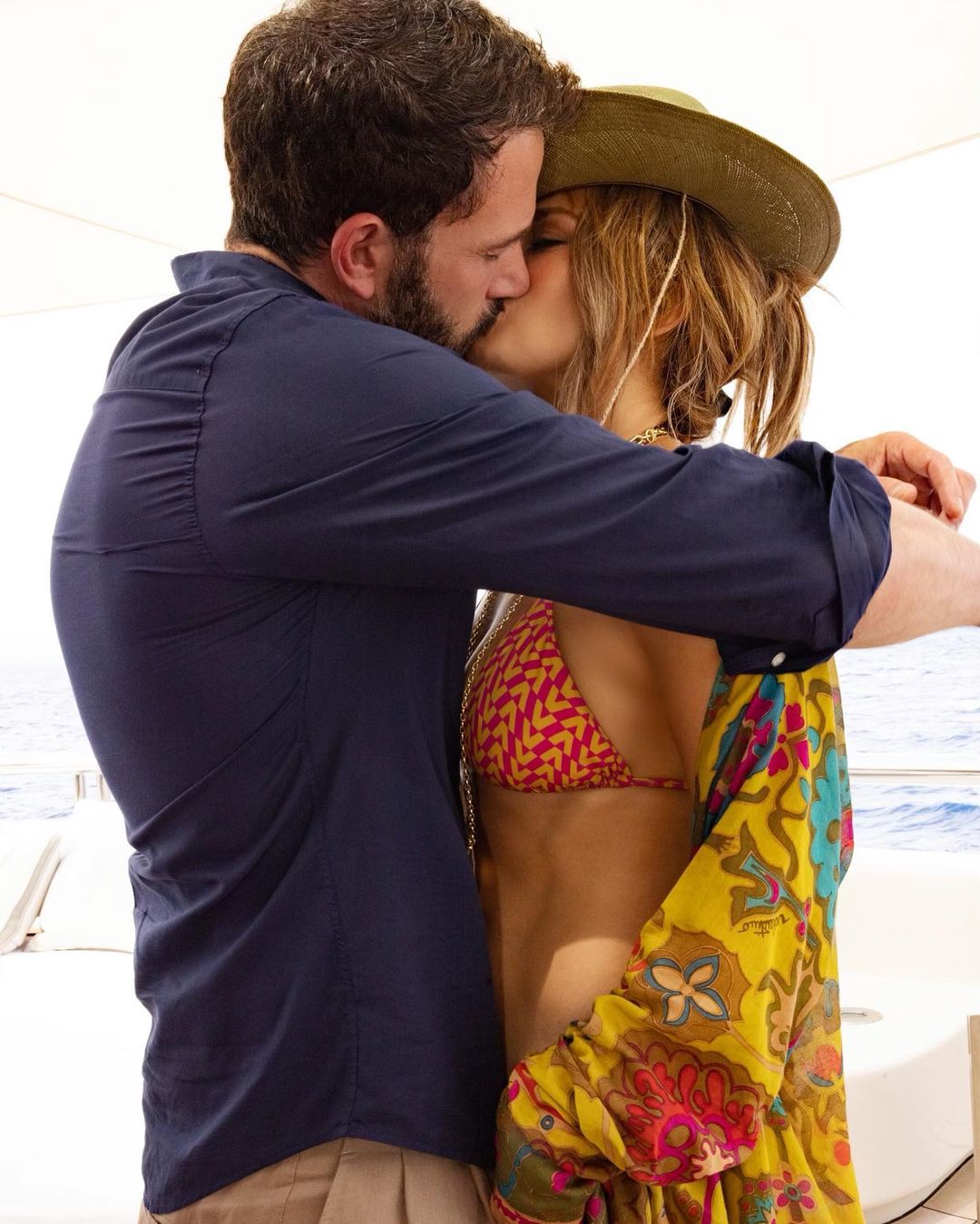 Jennifer Lopez, Ben Affleck Seemingly Recreate Yacht Shot from 'Jenny from the Block' Video https://t.co/4rtXmbh05H

— People (@people) July 26, 2021
PICTURE EXCLUSIVE: Jennifer Lopez and beau Ben Affleck put on a raunchy display aboard $130m mega-yacht https://t.co/y8AhWdEprS

— Daily Mail Celebrity (@DailyMailCeleb) July 25, 2021
Photos courtesy of Backgrid, Instagram.