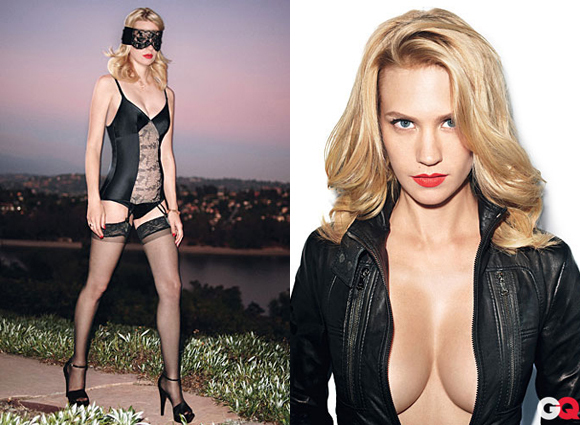 Possible spoilers for past episodes of Mad Men below
I know January Jones is one of the best actresses working today because I hate her character on Mad Men. Seriously, I used to have sympathy for Betty Draper, but now I loathe her. She's such a petty, immature, snotty woman. She's a horrible mother too. I have to admit this, though – if January wasn't so amazing at playing Betty in such a brilliant way, I wouldn't have such strong feelings about her. In my mind, January is the unsung acting hero of the cast of Mad Men. Jon Hamm, John Slattery, Elizabeth Moss and even Bryan Bratt (Sal! Poor Sal, he was fired Sunday) get more attention and accolades than January.
Is it because January is so beautiful? That her character is such a flawless, icy, Grace Kelly-esque blonde? I don't know why January doesn't get more recognition for her work on Mad Men, but I hope this season changes things for her. She's started getting more press, and people are starting to pay more attention to her. Thus, she's got her first American GQ cover (she was on the cover of GQ UK earlier this year). The full interview hasn't been put up yet, but Huffington Post has some early excerpts. GQ does have the slideshow up already - and January Jones is stacked. I didn't really know her body was this amazing. Also, I have to admit – I didn't really know anything about her private life. It turns out that January, 31, dated Ashton Kutcher from 1998 to 2001, and Josh Groban from 2003 to 2006. Lord, she has weird taste in men, doesn't she? Anyway, she alludes to her relationship with Ashton in the interview, and he sounds like a total jerk:
GQ has a lengthy profile "Mad Men" star January Jones, conducted during a Chicago-LAX flight over six beers.

Jones, who started out as a model, talks (but doesn't name) her first boyfriend when she moved to Los Angeles to try acting.

"The guy I was dating when I first got to L.A. was not supportive of my acting," she says. "He was like, I don't think you're going to be good at this. So– f-ck you! He only has nice things to say now–if anything, I should thank him. Because the minute you tell me I can't do something, that's when I'm most motivated."

The interviewer later writes that the ex was Ashton Kutcher.

Another person she came across, when first working at 18 as a model in New York, was Laura Steinberg, ex-wife of 80′s financier Saul Steinberg and the mother of her boyfriend Julian Steinberg.

Laura became something of a surrogate mother, taking January on far-flung vacations–a wedding in Italy, a month in Bali–even after January had split with her son.

"Laura taught me how to hold my knife and fork and to be a lady," says January. "To keep my forearms on the table–never my elbows–and place my napkin on my lap. She got me out of the models' apartment, and my Fargo accent was really strong then, so she taught me how to speak."
[From GQ via Huffington Post]
I always forget that too – she's a farm girl from South Dakota, not some icy New England princess. I sometimes worry that January's career beyond Mad Men will not compare favorably. She worked her ass off playing forgettable characters in forgettable films for so many years – I really hope she's able to parlay her critical respect from Mad Men into a major, substantial career. Oh, and Ashton sounds like a douche, doesn't he?
January Jones with Ashton Kutcher in 2000

With Josh Groban in 2005

Header image from GQ via Huffington Post. Thumbnails below from 9/24/09 and 9/20/09 credit: WENN.com