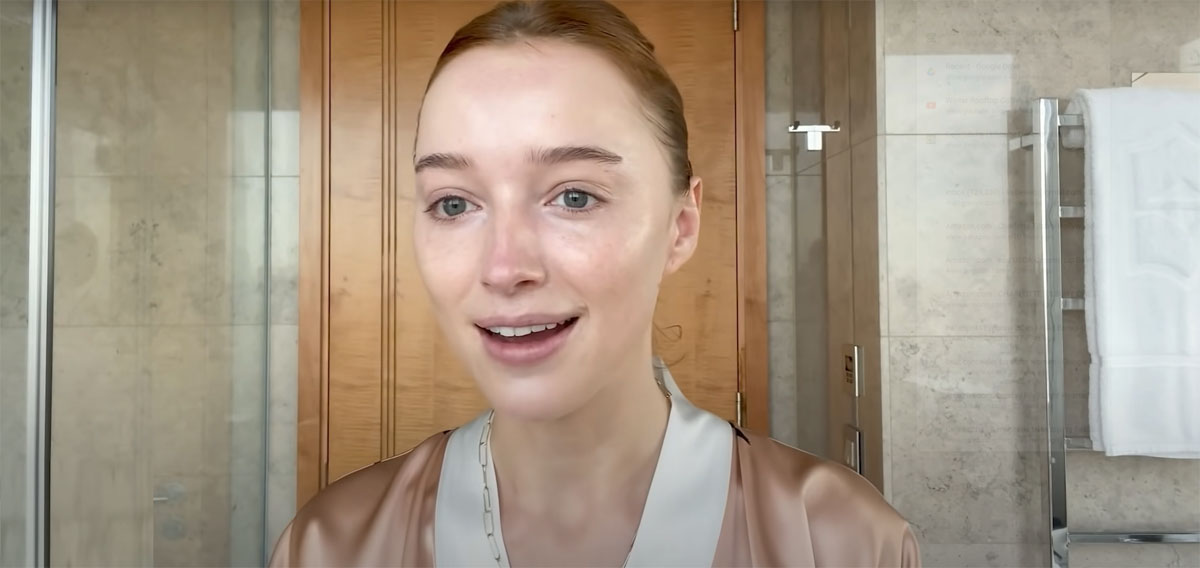 Phoebe Dynevor has a video with Vogue showing her skincare and casual makeup routine. She's only 26 so it's not as interesting to me as some of the older women's skincare. She still has some quotable things to say, particularly about the Bridgerton wigs, using sunscreen and eyebrow trends. She was fun to watch and I like her personality. I've only seen one interview with her before. Dynevor is a Charlotte Tillbury brand representative so that's the makeup she uses. Her skincare is Sunday Riley. Those products are way out of my price range so I've added links to similar, more affordable products in the text below. (In many cases it's the skincare and makeup I use.) Here's some of what she said and the video is below.
She doesn't wash her face in the morning
"I don't wash my face in the morning unless I'm working out and then of course I will wash my face afterwards. Usually I just splash cold water on my face and pat it dry."

Her skincare products
She uses Sunday Riley CEO Brightening Serum [TruSkin Vitamin C Serum] and then Sunday Riley Autocorrect Eye Cream [CeraVe Eye Repair cream]. She moisturizes with Sunday Riley ICE [CeraVe Moisturizing Cream] and follows with Sunday Riley's Juno oil [Pura D'or Organic Rosehip Seed Oil]. She then uses a gua sha tool to smooth and depuff and applies sunscreen from Sunday Riley [CeraVe Ultralight Moisturizing Lotion].

On the makeup and hair for Bridgerton
"Bridgerton was challenging because your skin is being put through so much, you're not getting enough sleep and they're putting makeup on you every day. You're being put in foundation every day and powder as well. [It clogged] my pores every day. When you get a spot [it] stays for like three weeks."

"I love wearing wigs on any job because it saves you the hassle of having to wash your hair at all. On Bridgerton it was ideal because I didn't really want to cut micro bangs into my hair. Everyone was very happy when they found out it wasn't my real hair."

On the success of Bridgerton
When you're filming all you're thinking about is 'how am I going to stay healthy and mentally and physically well enough to do this job?' You're not really thinking about what it's going to be or how people are going to see the show. It's all about getting through it. Then covid happened and the show came out at a time everyone was at home. It was weird stepping out into the real world and realizing the success of the show. I love it when girls come over in the street [who] were so affected by it. It brought people a lot of joy in strange times.

She doesn't wear makeup every day
"I'll usually do a little bit of concealer, a brow, I'm obsessive about my brows. I used to cake on makeup when I was a teenager. It would clog my nose and it would be flaking. I know they used to say 90s brows were skinny, but I swear brows 10 years ago were pretty bad too. We had really thin brows and would pencil them in."

"I was about 13 when I started wearing SPF every day. It's a game changer."

The makeup products she uses
She wears Charlotte Tilbury beautiful skin foundation [L'oreal True Match Foundation] and applies it with her fingers. She then uses Nars creamy concealer [Maybelline Instant Age Rewind Eraser] with a brush. She brushes her brows up and then uses a pencil to make them square. She finishes them with Barbara Carranza Brow Soap [Beauty Glazed Eyebrow Soap]. She contours her eyes with a brown eyeshadow, does a light winged liner and then uses Charlotte Tillbury Full Fat Lashes mascara [L'Oreal Paris Makeup Voluminous Million]. She uses Charlotte Tillbury contour wand [NYX Wonder Stick] and Charlotte Tillbury Pillow Talk Lip and Cheek Glow. Her lipstick is Lip Cheat [L'Oreal Colour Riche Matte Lip Liner] with WeDo Protect Balm [Eos Lip Balm]. She fills in her beauty mark with the Instant Freckle Pen and finishes with the highlighter Hollywood Beauty Light Wand.
Dynevor's finishing look is so gorgeous and natural! She makes me want to buy all new makeup and skincare, but that's how I feel after all these videos and again she's 26 years old. I should probably do a more natural look though, this is the type of look that's popular now for good reason.
Also, the Bridgerton hair was so convincing! The wigs were very good and they looked natural. That's the way to go if you're going to give the actresses terrible micro bangs. You don't want them to have to spend over a year growing that mess out.
I love how gracious she is about the success of the show. Bridgerton season two is coming March 25th!
Here's that video.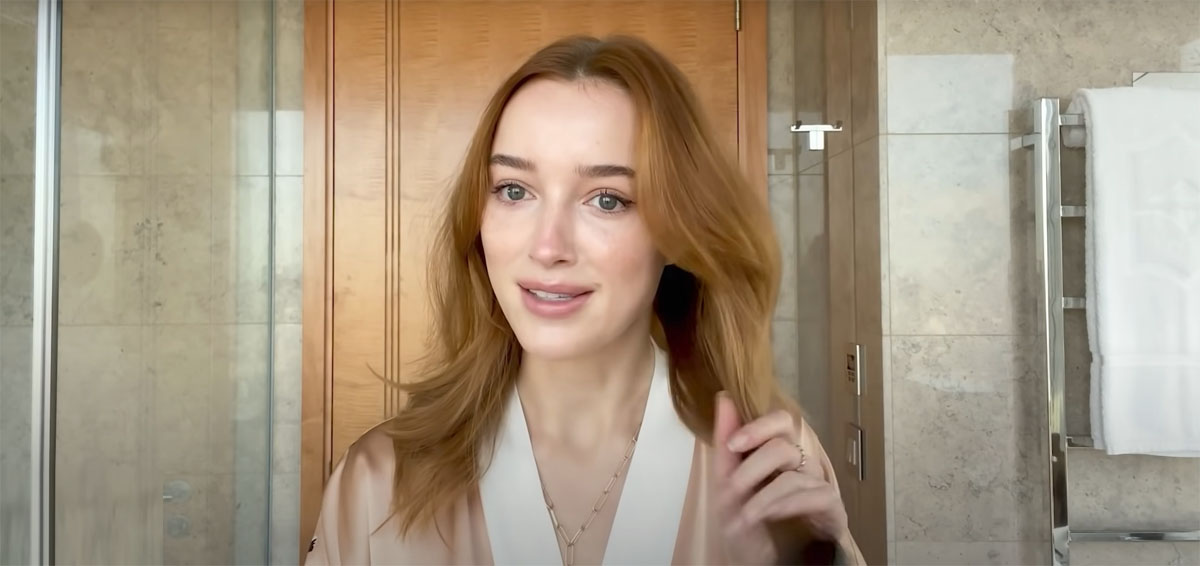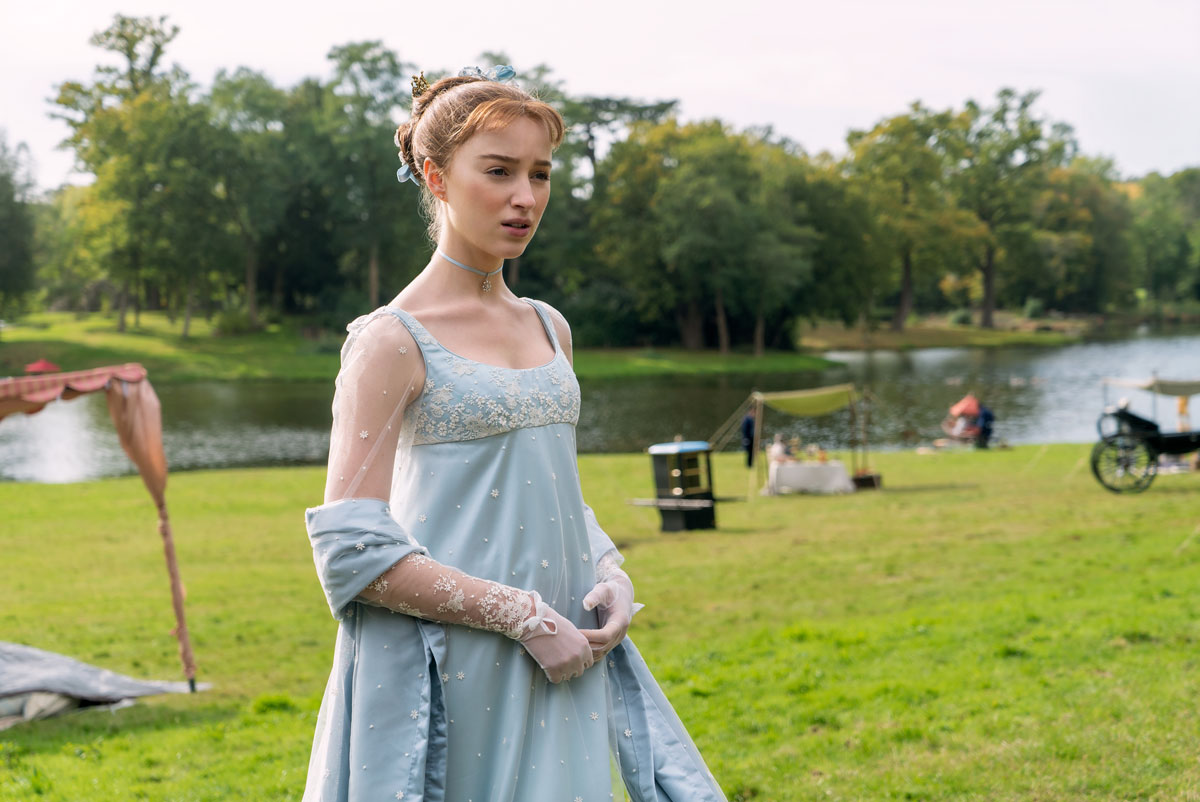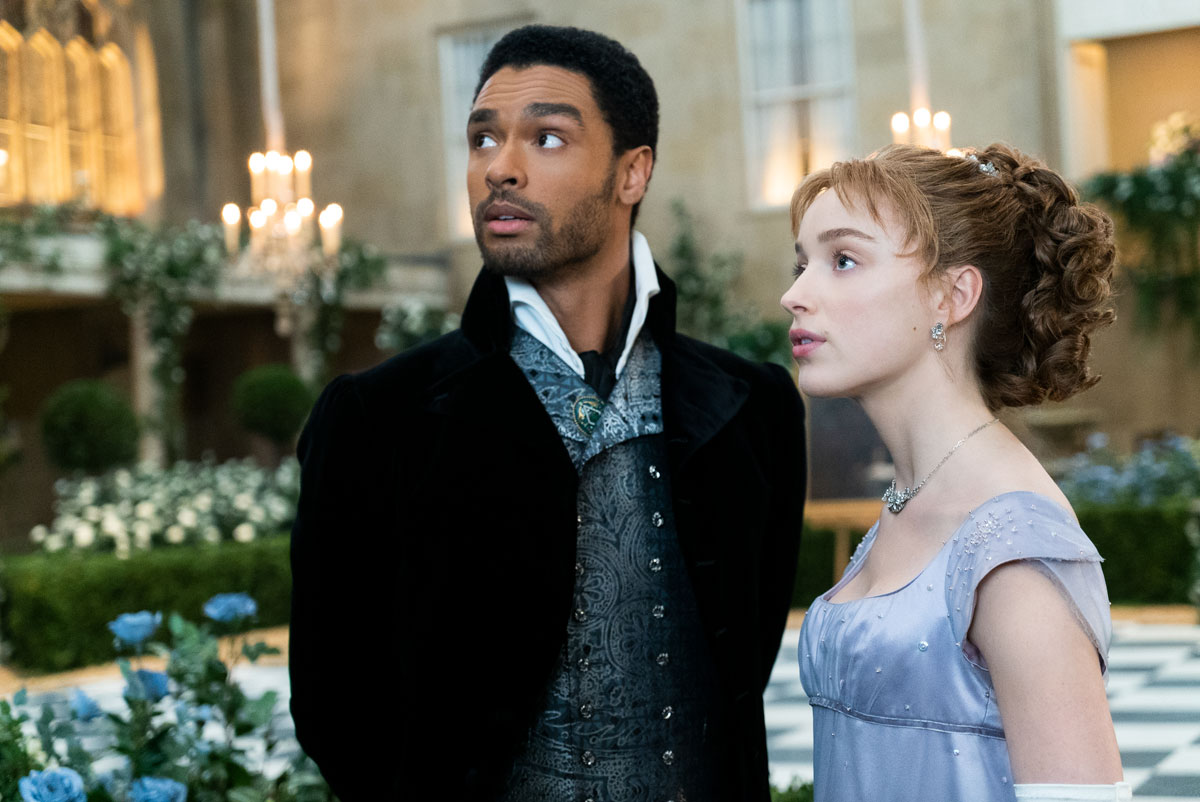 Photos via YouTube and credit Netflix. This post contains affiliate links. If you make any purchases through these links we get a small percentage and appreciate it.