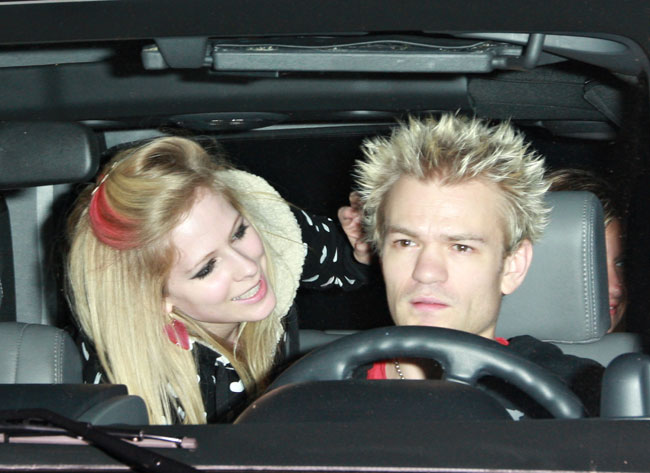 Surprising absolutely no one, Avril Lavigne has officially filed for divorce from her estranged husband Deryck Whibley. The two have been separated for a few month at least, after Avril spent the better part of this year stepping out "looking anything but married". She's been partying with everyone from Brandon "Greasy Bear" Davis (who allegedly caused her estrangement with Deryck) to Dole Food Company billionaire Justin Murdock (who she's been maybe stepping out with lately). Avril and Deryck were married for more than three years. Avril is not seeking sposal support, nor does she want to pay Deryck palimony.
Avril Lavigne has filed for divorce from Deryck Whibley.

The singer, 25, cites "irreconcilable differences" in court paperwork, according to TMZ.com. She's not asking for spousal support, and has also requested not to pay spousal support to Whibley.

Us Weekly first reported on Sept. 17 that the pair had called it quits after three years and one month of marriage.

"She dumped him and told him she was leaving him. She wants to move on," a source told Us, adding that she forced him out of their $9.5 million, 12,000-square-foot estate in L.A.'s Bel Air.

Whibley, 29, "is crushed," another insider told Us then.

The following day, Lavigne confirmed on her blog that she was separating from her Sum 41 rocker husband.

"Deryck and I have been together for six and a half years," she wrote. "We have been friends since I was 17, started dating when I was 19, and married when I was 21.

"I am grateful for our time together, and I am grateful and blessed for our remaining friendship. I admire Deryck and have a great amount of respect for him. He is the most amazing person I know, and I love him with all my heart," she went on. "Deryck and I are separating and moving forward on a positive note."
[From Us Weekly]
Interesting that Avril was the one to file for divorce. Perhaps Deryck wanted to play the victim a bit. Or perhaps he really is "crushed" and he truly hoped they would work it out. God knows. I think she's a belligerent twerp, but I'm kind of amazed at how many seemingly normal, nice guys seem to dig her bratty act. Maybe they were too young – although I think Avril is still going to be a terrible little hellion twenty years from now. Whatever.
Avril and Deryck are shown on 12/1/08 and 8/22/08. Credit: Fame Pictures