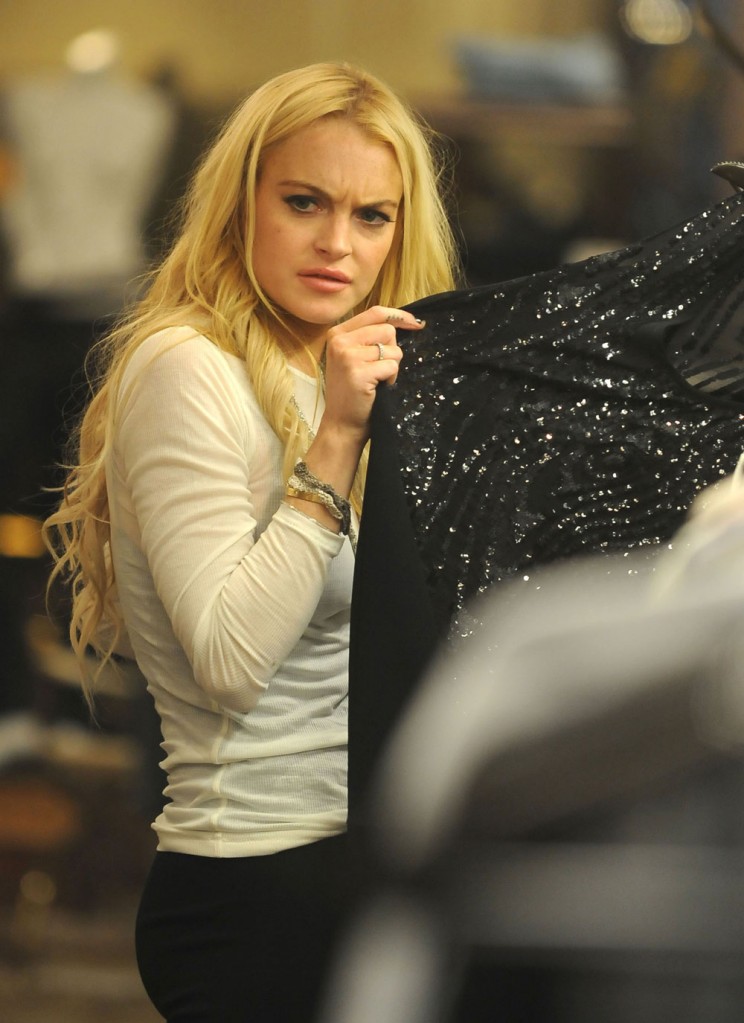 Fresh off the heels of her "obituary waiting to happen" Star Magazine cover story, Lindsay Lohan went out and about in New York last night. Because when everyone is talking about how you're a train wreck, the best thing to do is go gallivanting around to events cracked out of your mind and making excuses for everything. I will say this though – Lindsay was photographed in New York earlier Wednesday, and being back in her home country agrees with her. I'm not saying she looks good or anything, just that she looks less strung out. Anyway, while she was attending a Victoria's Secret party last night, she spoke to People about her epic failure as a "creative consultant" to Ungaro:
The Paris fashion world never expected to see pasties on the runway. Nor, apparently, did the creative consultant behind the disastrous line, Lindsay Lohan.

The actress, 23, who was skewered by the fashion press for the first Ungaro collection she served as artistic advisor on, blamed the fiasco on "coming in so late and having not that much time to do a whole collection."

As for the much-maligned sequined pasties flashed by the models when they opened their jackets and blouses, Lohan said told PEOPLE on Wednesday at a Victoria's Secret Velvet launch party in New York that she was as shocked as the audience.

"I wasn't aware of the nipple tassels on the girls until they were walking out," she says, adding that "I am going back to Paris for the next collection….I am learning." Still, the clock for her next collection is already ticking. "It's already in January," she says. "I thought it was in March."
[From People]
When all else fails, Lindsay pulls the wide-eyed "I didn't know anything about anything" act. My guess is Little Miss "I wasn't aware of the nipple tassels" Lohan had the brilliant idea for the heart-shaped pasties and now she's trying to blame that poor Ungaro designer. Next Lindsay is probably going to try to claim that her designs were "hacked".
Meanwhile, Lindsay's dad is still talking. This bastard just won't shut up. Even though I agree with some of the stuff he's saying, the way he keeps giving interview after interview about his daughter's train wreck life, all as a way to get more attention for himself, is pissing me off. Anyway, Michael's latest interview is all about how he's now concerned about Lindsay's influence on his 15-year-old sister Ali. I hate myself for saying this, but I co-sign Michael on this one: "Lindsay's leaning on Ali right now. Do you think that's good? Leaning on your 15-year-old sister?"
When Michael is asked by Radar if he thinks Ali will end up a cracked-out mess like Lindsay, Michael says: "Absolutely! The biggest argument I had with Dina when it came to Lindsay was when she allowed her to go out to California by herself at age 17 and live with another girl. I was totally against it. That was when we were going through difficulties in our marriage and Dina wasn't listening to a word I said. That's when we broke up. Lindsay was living out there with a 19-year-old girl and everything went haywire." Well… it wasn't just living alone at the Chateau Marmont at the age of 17, a great deal of her current problems involve her sketchy famewhore parents, the motherload of drugs, and no one ever telling her no.