While several shows were announcing their renewals, one announcement was conspicuously absent: Abbott Elementary. I'm not just saying that as an uber fan, the show is killing it in the ratings and getting great critical acclaim. Celebrities have amplified Abbott and fans cannot stop talking about how much the show means to them. Many of us assumed there would be a second season, but there was no formal announcement. Until Monday. Quinta Brunson and ABC found a really fun way to do it. The announcement was made via a memo from the show's narcissistic Principal Ava Coleman who is responsible for hiring the camera crew to follow the teachers. And in keeping with the show's dedication to helping schools, the announcement also took the opportunity to ask people to donate to DonorsChoose.org in honor of the good news.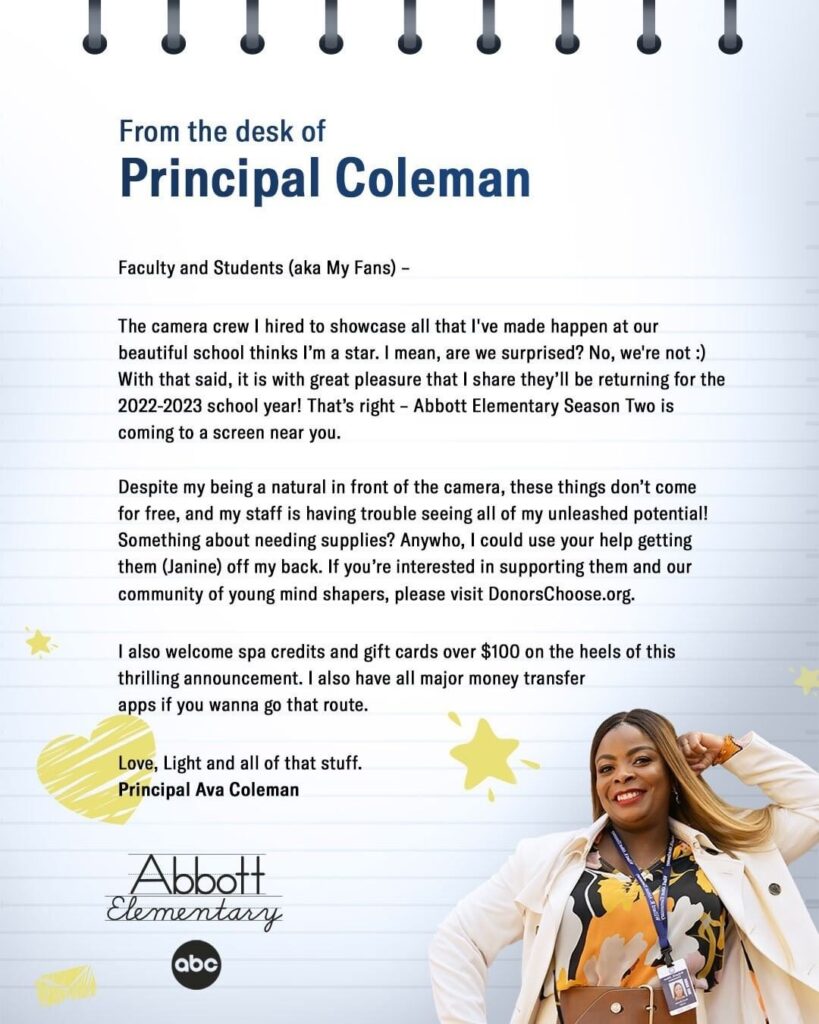 As a couple people mentioned in the IG comments, I read this in Ava's (Janelle James) voice. It's a clear announcement and I love that they're plugging DonorsChoose, which is a great link that you should all bookmark. If you aren't familiar with it, you can search the site for a particular project to fund by location, subject, grade or teacher. If you know a teacher, ask them for their info and plug it in. You'll get updates any time that teacher adds a new project or wishlist.
I act like this was a long time in coming but the truth is, we're still in early renewals. It just seemed like some other shows that were, well, *blows a raspberry* were announcing their renewal before Abbott. And we knew Abbott was going to be renewed so why put off telling us? I hope it was so they could renegotiate giant paychecks for the whole cast to thank them for bringing us such joy. I didn't know that Abbott is tied with Ghosts for the number one comedy. And Ghosts has also gotten early renewal, which thrills me because I really like that show too.