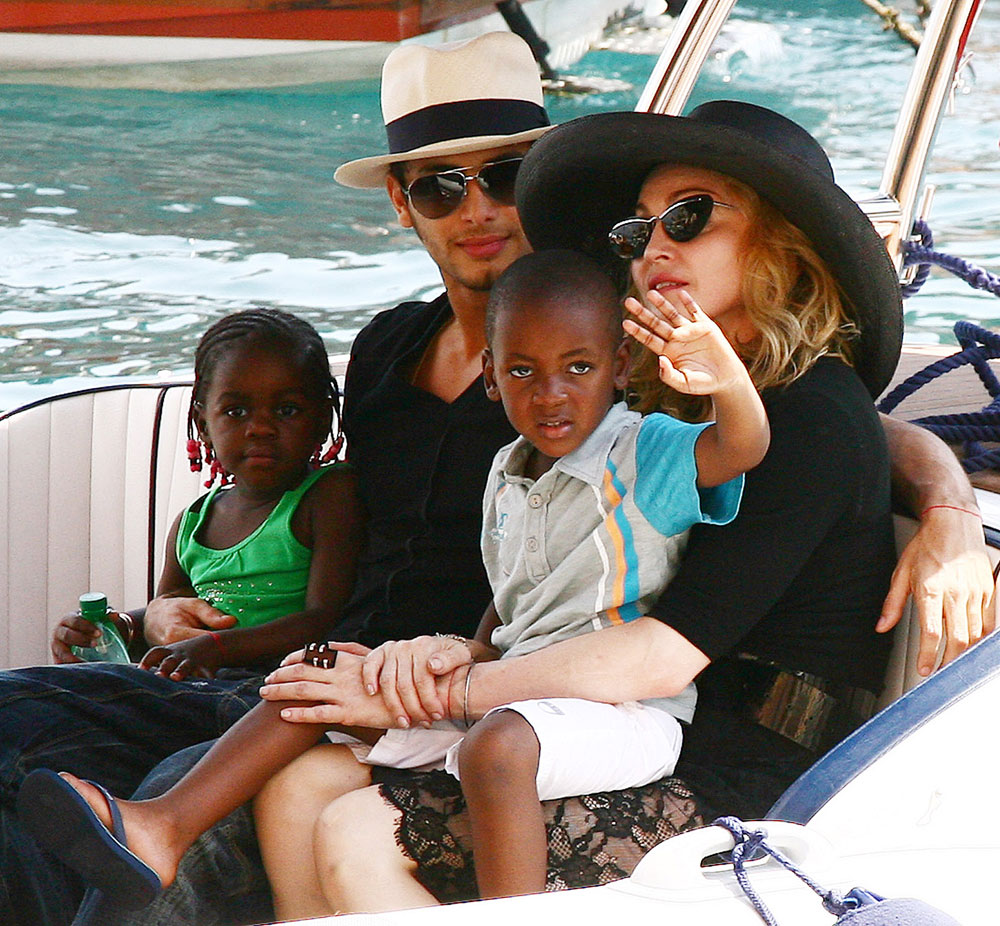 I like to joke around about Madonna and Jesus Luz because their dynamic just seems funny to me. I don't have anything against "cougars" and their "cubs" per se, but with Madonna and Jesus is just feels like it's not even about an older woman getting her rocks off with a young guy. For the Madge Vadge, it just feels like it's always about the power struggle. And with Jesus, there is no power struggle, like there would be with one of those "grumpy, fat, balding" men closer to Madge's age. In the relationship with Jesus, Madge has all the control, all of the intelligence (because Jesus doesn't seem too bright), all of the power, all of the money. She's in charge, and everything is about her. And that's how Madge really gets her rocks off.
We know Madge has the power. And we keep hearing that Madge is a benevolent ruler of her divadom. Last week, Jaybird wrote about the reports that Madge is buying a little $2.5 million New York apartment… for Jesus Luz. Just for a lark, so he'll have some place to go when the Vadge is done with him. Now In Touch is reporting that Jesus is even getting his own allowance from Madge!
Madonna's boy toy Jesus Luz knows it pays to stick close to the Material Girl. According to a friend, Jesus, 23, put his modeling career on hold in order to accompany Madonna around the world – and that move is definitely paying off.

"Jesus basically lived paycheck to paycheck before he met Madonna, and he, like most people, had bills," a friend explains. But now, his money worries are a thing of the past.

"Madonna gives him about $10,000 a month to cover his expenses, including his cell phone, insurance and credit card payments," adds the pal.
[From In Touch Weekly, print edition, October 26 2009]
I wonder if Lourdes gets a bigger allowance? Probably not. Anyway, how much do you want to be Madge's boy toy? I have to admit, I'm no hooker or anything, but that sounds like a sweet deal. Put it all on the table – $10 K a month, plus a rumored $2.5 million apartment – and all you had to do was hang out with Madge for a few months, play with her cute kids, pose like Zoolander for the paparazzi and occasionally do some sex stuff with Madge. I'd do it. I kind of hate myself for admitting it publicly, but I would totally do it.
Madonna and Jesus are shown in Italy on 8/17/09. Credit: Fame Pictures