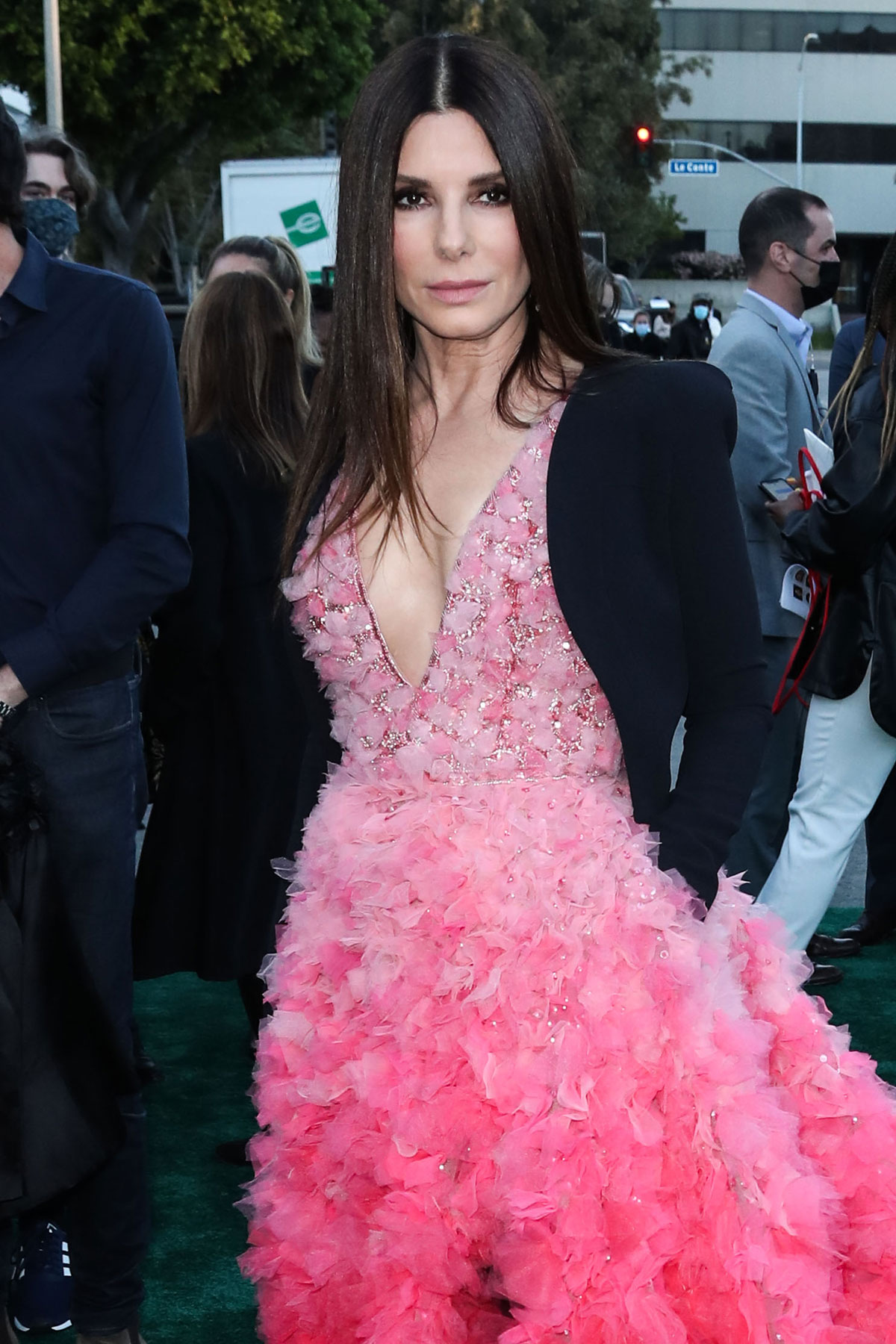 This is Sandra Bullock at The Lost City premiere in LA last night in a pink ombre Elie Saab with a sequin bodice and full feather skirt. This dress is wild and she paired it with thigh high boots and a tuxedo jacket! Her style has been wacky cool this entire press tour. I don't like this look exactly but I appreciate the effort and the fact that it's unique. She
came with her sister, Gesine Bullock-Prado. How cute are they together? Bonus Daniel Radcliffe looking like a snack.
Sandra Bullock gave a celebrity masterclass on handling a scandal when she was faced with her then-husband Jesse James cheating news, right after she won the Oscar in 2010. She kept quiet and then emerged about two months later with her new baby, Louis, on the cover of People Magazine. At that point she gave a somewhat candid interview about the process of adopting Louis. Sandra revealed that the adoption process took a few years and that she wanted to spend time with her baby before the press found out. She also denounced James' antisemitism but did not talk much about his serial cheating, instead remaining cordial and referencing the life they shared. I mention this because I needed to review what Sandra said, even though I covered some of it. She doesn't have talking points and when she gives personal details they seem fresh, even though she's told us before.
In an interview with CBS Sunday Morning, Sandra confirmed that she's planning on taking some time off acting now that The Lost City is coming out. She explained how she adopted Louis, now 12, and she also has daughter Laila, 10. She said she worries about her children in a way that non-white mothers have for hundreds of years. (She opened up about this on Red Table Talk last year and has said before that she's a protective mom.) Here's some of what Sandra said on CBS:
On adopting Louis right as she split with Jesse James
He was unexpected, he was not planned. I got a call one day 'your placement is here.' That was years after having filed. Years. I was handed a plastic bag and a child.

On thinking of baby Louis when she won an Oscar
All I kept thinking about was 'he's at home.' I didn't care, I just wanted to go home. I was sewn in the dress. All I wanted to do was just go home and feed Louis. I ripped [the dress] and then I asked them to fix it. 'I don't know what happened. The beads came off.'

On having a baby to care for during her split and divorce
How do you process grief and not hurt your child in the process? It's a newborn they take on everything that you're feeling. My obligation was to him and not tainting the first year of his life with my grief.

On being a mother to Black children
My children are Black. I have a level of defense that millions of mothers have that aren't white. I have an understanding of how scary it is. [cries] I get really emotional because I think of hundreds of years of women who've never been able to relax into motherhood. [Worried] in a way that we as white women have not had to worry.

You worry about other things but if you really take a minute and think about hundreds of years of mothers not being able to enjoy freely the birth of a child, their son becoming a young man. All of those things represent fear and loss.

She confirms that she's taking a break
I can be creative, I can be part of a community, but right now work in front of a camera needs to pause… I want to be at home.

I would just love to clean out the basement. I have a room where all my sh-t goes for all the years, I want to go through it, I want to see if I remember any of it.
I don't know what it's like to have a non-white child. I can only imagine my son in a dangerous situation, every day, which is something so many people face just being out in the world. The news about scary high profile cases of racism and the way certain people react to that must be exhausting. I appreciate that Sandra is trying to educate people about that.
As for Sandra's plans for her time off – cleaning out the basement, really? I have a lot of sentimental stuff in my basement and I do not look forward to going through it at all. At least Sandra can hire someone to help her with that.
Also Sandra has done a video interview with her daughter, Laila, and we've seen both of her children in candid photos, but she asked CBS not to air photos of them. She doesn't want her children to be targets and that's understandable.