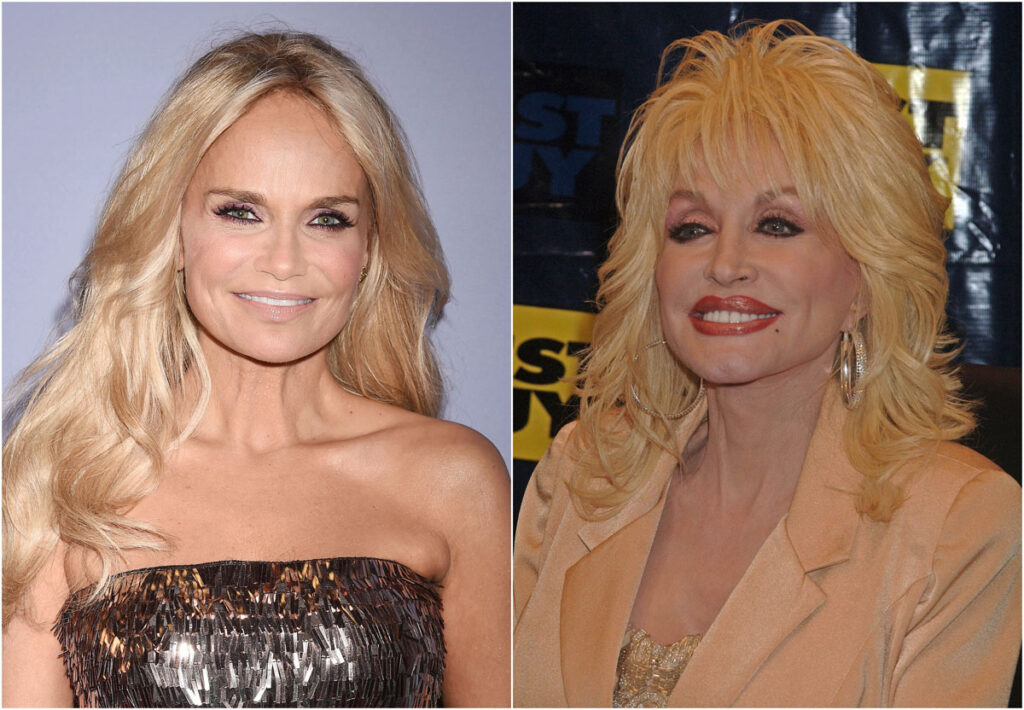 How is it we haven't been blessed with a Dolly Parton musical yet? Of all the people whose life should be a musical, it's Dolly. Not only because of her incredible body of work, but her life reads like a Hollywood production already. She was born to a family of 12 kids in a one-room cabin. Her first guitar was homemade. She got her start as a child singing on the radio and was signed to a label before she was 20. Her whole history with Porter Wagoner and how (platonically) loyal she stayed to him up until his death. And that's just the first half. Fortunately, it sounds like something is in the works to tell Dolly's tale. She told Mr. Nashville Talks that they started discussing a musical before Covid broke out but the pandemic put the plans on hold. During the freeze, Dolly shifted gears and now thinks she might want to do a biopic instead. And she's already picked who she wants to play her: Kristin Chenoweth.
Dolly Parton has long wanted to do a Broadway musical about her life, but the pandemic has her reconsidering that.

"We were talking about doing my Broadway musical and we were really, really far out ahead of that, and then Covid hit and that changed my mind about a whole lot of things," Parton said in a recent appearance on "Mr. Nashville Talks."

"I do intend someday to be on Broadway, but I'm thinking now that I might do my life story as a feature," she said. "Maybe possibly even a musical feature, so we're in talks about that."

The legendary singer has some thoughts about who could play her.

"I love Kristin Chenoweth," Parton said. "She's just absolutely fantastic."
Not only is Kristin great in her own right, but she would also be an amazing Dolly Parton. She'd be able to handle the score and pull off Dolly's perkiness without coming off as vapid. Plus, let's face it, if Dolly wants it, shouldn't Dolly get it?
While I do believe La Dolly should get what she wants, I'm kind of bummed she's moved away from a musical in favor of a feature. I feel like a production would be such a fun way to tell her story. I'm sure a movie about her life would be quite interesting, but she's larger than life and I feel like the stage is the place for that. I'd already written the finale with Dolly sitting on a throne of hay, like the barrels out front her Dollywood amusement parks, looking down and smiling as all the singers who have covered her songs appear on stage performing them. Maybe Dolly just feels like she's already got her musical with the 9 to 5 musical and wants to do something else. Although, I can't imagine her husband Carl Dean wants his business in a biopic. He likes his privacy and she's happy to give it to him. How can she write her story and exclude him? Or maybe I'm just making excuses so I can go see Kristin Chenoweth starring in Dolly Lights Up the Night!
I'm ready dolly. https://t.co/ah90bYq6nW

— Kristin Chenoweth (@KChenoweth) March 22, 2022
CMA Awards 2019 Arrivals at Music City Center Nashville, TN Featuring: Dolly Parton Where: Nashville, Tennessee, United States When: 13 Nov 2019 Credit: Judy Eddy/WENN.com,Image: 540932908, License: Rights-managed, Restrictions: USA and SPAIN DIRECT SALES ONLY – Fee Payable Upon Reproduction – For queries contact Avalon.red – sales@avalon.red London: +44 (0) 20 7421 6000 Los Angeles: +1 (310) 822 0419 Berlin: +49 (0) 30 76 212 251, Model Release: no, Credit line: Judy Eddy / Wenn / Avalon

Photo credit: Avalon Red and Instagram