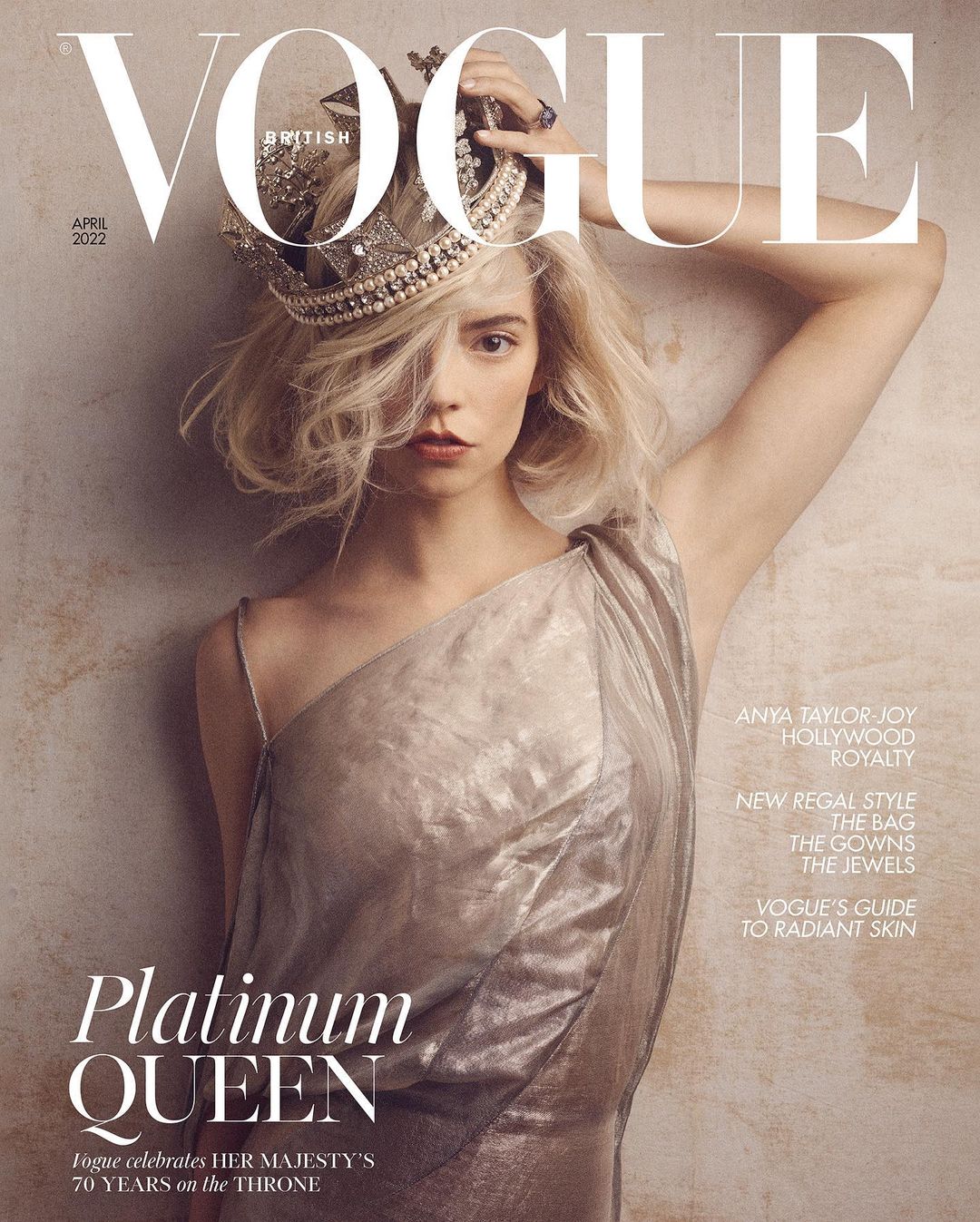 Anya Taylor Joy is one of two covers for British Vogue's April issue. She's promoting The Northman, but she's really taken over as the It Girl who is cast in everything. She's getting all the scripts and she's scheduling projects back-to-back. She sounds very proud of The Northman and her energy is that of a workaholic actress whose happy place is on a film set surrounded by creatives. The fact that she's also one of the must-watch women on the red carpet is icing on the cake. You can read her Vogue profile here. Some highlights:
Modelling had never crossed her mind when she was younger: "When I first started doing red carpets. I couldn't handle the notion of being pretty. I was like, 'I don't do that. I don't attempt it.' I am a scummy, mud-caked ferret and striving for anything different felt disingenuous and scary." But she had "read that sometimes models became actors" and acting was all she wanted to do.

Her parents let her go off model & act at a young age: "They treated me like a little adult very early on," she says. Being the youngest of six children (her eldest three siblings are from her father's first marriage), helped: "Maybe they got tired of a certain type of parenting?"

She partied even in her teen years: "I just did a lot of it when I was a teenager. I grew up in London, you know? By 19, I didn't have a lot of curiosity about many things."

She still loves a rave: She still "loves raving", but more as a form of meditation now. "One of the reasons I love Berlin is that clubbing is not a night-time activity," she says. Taylor-Joy was there filming The Queen's Gambit and on Sundays would go to a club by herself "at 11.30 in the morning, dance until 8pm, not talk to anybody, then go home, have a bath, eat some spaghetti and wake up at 4am to go to work. I felt great."

She reads a novel a day: "I said to my partner [the musician and actor Malcolm McRae] the other day that he was my hobby. I see reading as something that I have to do. He loved it because he's the same. I've finally found someone who will happily sit in silence with me reading. We're basically 80 years old and seven at the same time and it works really well."

She hates casual dating: "I was not a good dater and I'm quite glad to not be. I hear stories from my friends and I'm like, 'God, I would suck at that.'" Whenever she was "down and out about love" she'd watch episodes of Sex and the City. "I remember when I met Sarah Jessica Parker, I was going through a horrible break-up, and I went up to her and I was like, 'I need you to know that I'm watching you and Big and it's giving me hope.' And she was like, 'That things will work out?' and I said, 'No! That this will end and I will finally move on!' She was like, 'Oh, sh-t. Sorry.'"

She's figured out her dream life: "I want to live on a farm. I want goats, chickens, ducks, horses, just all of it. I want to work, come into the city when I want to – and then disappear and ride all day."
As British Vogue notes in their text, it sounds like her dream life is back in Argentina, where she spent her early childhood. She loves Argentina! It wouldn't surprise me at all if she eventually moves back there full time, buys a farm and a place in the city and uses that as her homebase. As for raving-as-meditation… she's saying that in Berlin, you can go to a nightclub around lunchtime and dance for nine hours and go home? The headache I would have. And I'm a little bit wary of people claiming to read a book a day. Like, who has time for that?? And are you really absorbing the book or are you just speed-reading just to say you've read it?
Cover & IG courtesy of British Vogue.