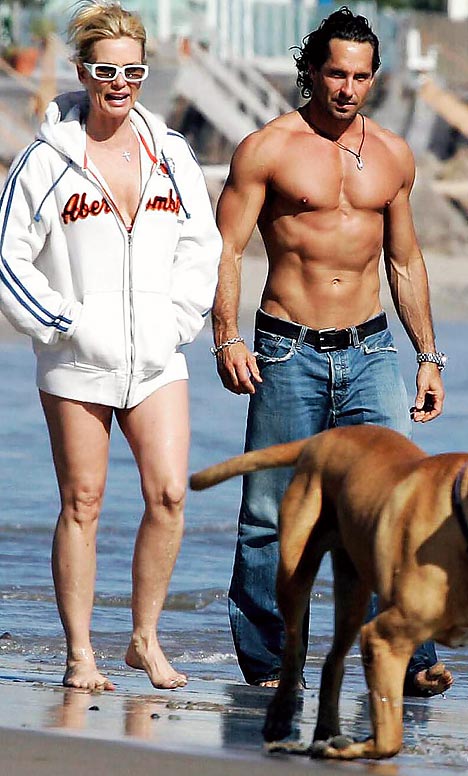 Who needs enemies when you have ex-husbands like this? Nicollette Sheridan's ex-fiance, Niklas Soderblom, is spilling his guts to anyone who will listen about their engagement and has an agent trying to sell his book, titled "Desperate Houseman."
In an interview with the Daily Mail, Niklas whines and whines about how great their relationship was at first, but claims Nicollette treated him badly after a few months.
They met in November 2003, at a gym, and her pick up line was 'Will you be my sperm donor?', which he describes as flattering. He also makes a point of saying he didn't find her very attractive, and that she ran on a treadmill like a man, which doesn't seem like a gentlemanly thing to say about your ex.
She apparently asked him to give up his blossoming Hollywood stuntman career to be by her side 24/7. Which sounds to me like he's blaming her for the failure of his career.
Apparently once the relationship was established, she no longer put out, and they weren't even getting along, she just sat in a room with the dog – a dog he bought her, but "Any love she had in her, she gave to Oliver."
Niklas adds that she was in competition with the other women on Desperate Housewives and angry at being left off of the publicity posters.
"It was a competition. She was a middle-aged woman in Hollywood and deep down I am sure she sees Desperate Housewives as her last big break," he said.

"She was devastated when the posters for the show showed the other four women, but not her. She started crying. She said she was sure the producers intended to ditch her character. She exploded. She screamed, 'Don't you get it?

"Haven't you seen the posters? Teri, Marcia, Felicity, Eva … but no Nicollette. Do you get it. No Nicollette. They don't give a s*** about me. It's like I don't exist.'
Niklas claims that Nicollette would rub her previous relationships in his face.
But he says she seemed to delight in hurting his feelings. On one rare romantic evening, she asked him to wear a pair of pyjamas, which she said she found attractive. "Later that night she told me they belonged to her previous boyfriend," he said.
"The guesthouse was filled with clothes and skiis that were too big for her and, sure enough, I discovered it was a trophy room of belongings of her ex-lovers. When I'd ask her about them, she'd get very defensive.
"She told me: 'Michael Bolton was one of the weakest men I ever met. He never swam in the sea. He said he was convinced it would ruin his hairdo.' But one day she put on a Michael Bolton CD in her car.
So Niklas, if Nicollette was such a bitch, why the hell did you put up with it, you big loser? Oh, that's right, because if your new book detailing your relationship with Nicollette didn't have this kind of juice no one would give you a second thought. The book you still haven't found a publisher for, because no one would buy a book which, if it's anything like this interview, is just you crying because a girl liked Michael Bolton better than you.
I hope they paid you well for your tell all interview, because all of your friends are going to laugh at you, you big baby.