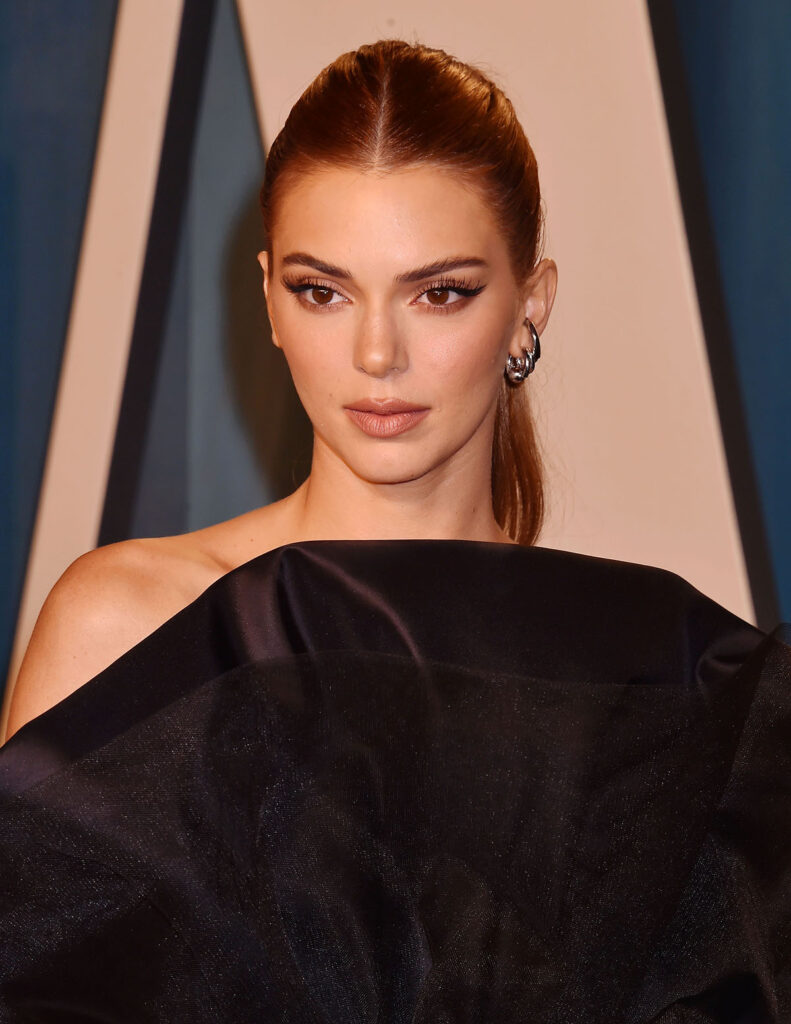 Kendall Jenner is open with her fans about her anxiety, which is admirable. It's admirable in its own right but considering that the Kardashian/Jenners open themselves up for attacks regarding their privilege (understandably) and how they don't "do" anything every time they speak up, continuing to advocate for anxiety is commendable. On Monday, Kendall posted a video of a spot in her backyard where she goes to relax. She wrote a lengthy caption letting her fans know that her social anxiety had been especially triggered of late and that she's dealing with it by being alone. Kendall said she loves her "alone time" so she's making a point to incorporate that into her day.
Kendall Jenner has found ways to calm herself down.

The model, 26, opened up to her followers Monday about dealing with anxiety via an Instagram post about her mental health.

"Happy monday y'all! My anxiety (especially social anxiety) has been on 100 lately," she began in the caption. "I've come to a place where I don't feel bad about it. I love my space and my alone time."

Alongside a clip featuring her beautiful backyard that offers a zen and serene atmosphere, Kendall added, "I am finding ways to help me start my day off with a calmer, more positive mindset."

"That being said, I wanted to just spread some good vibes ☺️," she continued before sharing her routine that helps navigate her anxiety.
"I've come to a place where I don't feel bad about it." I know Kendall means this as she come to a mental space in which she doesn't feel bad, but I kind of like the idea of creating a physical space that we can go and not feel judged about how we're feeling. I fully accept that someone who lives their life in front of the camera needs space and alone time. Kendall listed how she started off her day in her caption and encouraged others to give them a chance:
• 10 deep inhales/exhales before even touching my phone.
• went in my yard and journaled
• wrote down all the things i'm looking forward to today/this month.
• expressed gratitude for all of my blessings.
• took in the sun ☀️
• had my tea and practiced some more deep breathing.
It sounds lovely. I rarely have that kind of time, though. I already get up at 4:30 so I can get a walk in before I have to get everyone out the door for the day. But that walk serves as my alone time. I can do Kendall's routine on the weekends, though. I should try, at least. I like that Kendall's steps are doable for everyone with a moment or two. It's not some unobtainable regime that requires money or other means. A tranquil spot like Kendall's would be nice but if you don't have one, you can watch Kendall's video on loop (I posted it below). In Ashley Tisdale's Architectural Digest video, she has a spot similar in her backyard, with sand covering, drought-friendly planting and a babbling water feature. I love the sound of water and have some (small) features in my backyard. I'm thinking how to use them, though, after looking at these. I think I'm going to turn one into a little mediation spot so I can mentally escape when I need to as well.
Kendall Jenner attends the 2022 Vanity Fair Oscar Party Hosted By Radhika Jones celebrating the 94th annual Academy Awards at the Wallis Annenberg Center for the Performing Arts on March 27, 2022 in Beverly Hills, California,Image: 673532729, License: Rights-managed, Restrictions: , Model Release: no, Pictured: Kendall Jenner, Credit line: – / JPI Studios / Avalon
BEVERLY HILLS, CA – MARCH 27: (L-R) Kendall Jenner and Kim Kardashian attends the 2022 Vanity Fair Oscar Party hosted by Radhika Jones at Wallis Annenberg Center for the Performing Arts on March 27, 2022 in Beverly Hills, California.,Image: 673635234, License: Rights-managed, Restrictions: , Model Release: no, Pictured: (L-R) Kendall Jenner and Kim Kardashian, Credit line: Jeffrey Mayer / Avalon
BEVERLY HILLS, CA – MARCH 27: Kendall Jenner attends the 2022 Vanity Fair Oscar Party hosted by Radhika Jones at Wallis Annenberg Center for the Performing Arts on March 27, 2022 in Beverly Hills, California.,Image: 673635222, License: Rights-managed, Restrictions: , Model Release: no, Pictured: Kendall Jenner, Credit line: Jeffrey Mayer / Avalon
Photo credit: Avalon Red and Instagram