Kourtney Kardashian finally said something about her (fake) elopement in Las Vegas late Sunday/early Monday morning. Kourtney and Travis Barker were in Vegas for the Grammys, and following the awards show, they went to one of those 24-7 chapels and "got married." Except they didn't have a license, so none of this was a legal wedding. From Kourtney's IG:
Found these in my camera roll.

Once upon a time in a land far, far away (Las Vegas) at 2am, after an epic night and a little tequila, a queen and her handsome king ventured out to the only open chapel with an Elvis and got married (with no license). Practice makes perfect.
So that clears up a few things. I kind of wonder why they even bothered? I mean, I guess it was a fun experience and they looked like they were enjoying themselves. As it turned out, Kourtney didn't wear the same black Et Ochs jumpsuit she wore to the Grammys. She changed into a Versace bustier from 2012. I'm kind of offended that she wore YELLOW to her fake wedding? I mean, come on. Say what you will about the Kardashians, but all of them look good in white.
Kourtney joined her sisters on Jimmy Kimmel Live last night as well. This appearance made news for a variety of reasons, but they really didn't say much new stuff. They're all in promotional mode.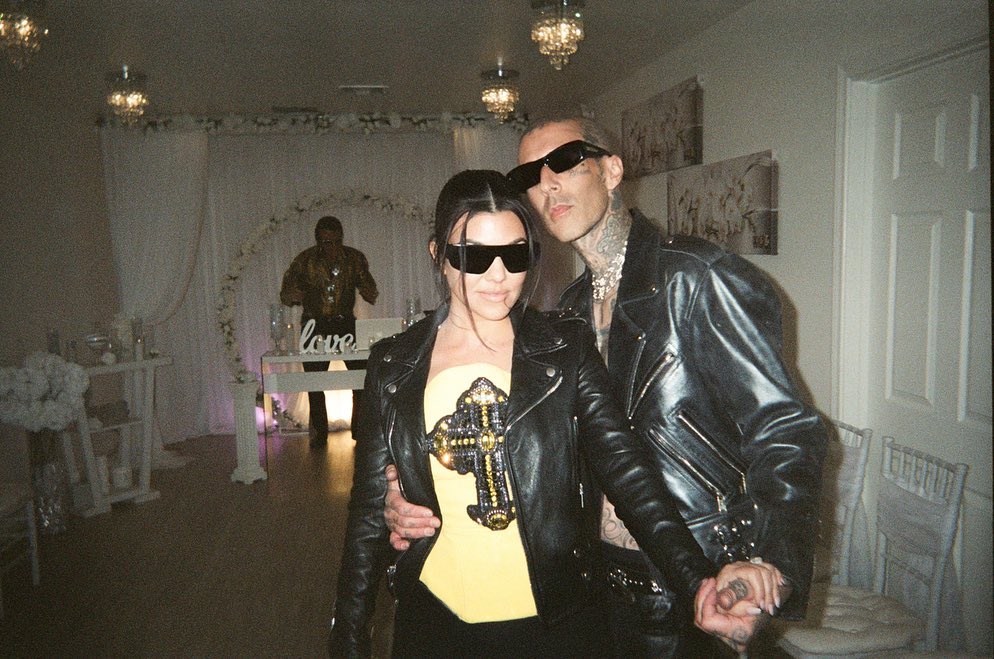 Photos courtesy of Kourtney's IG.