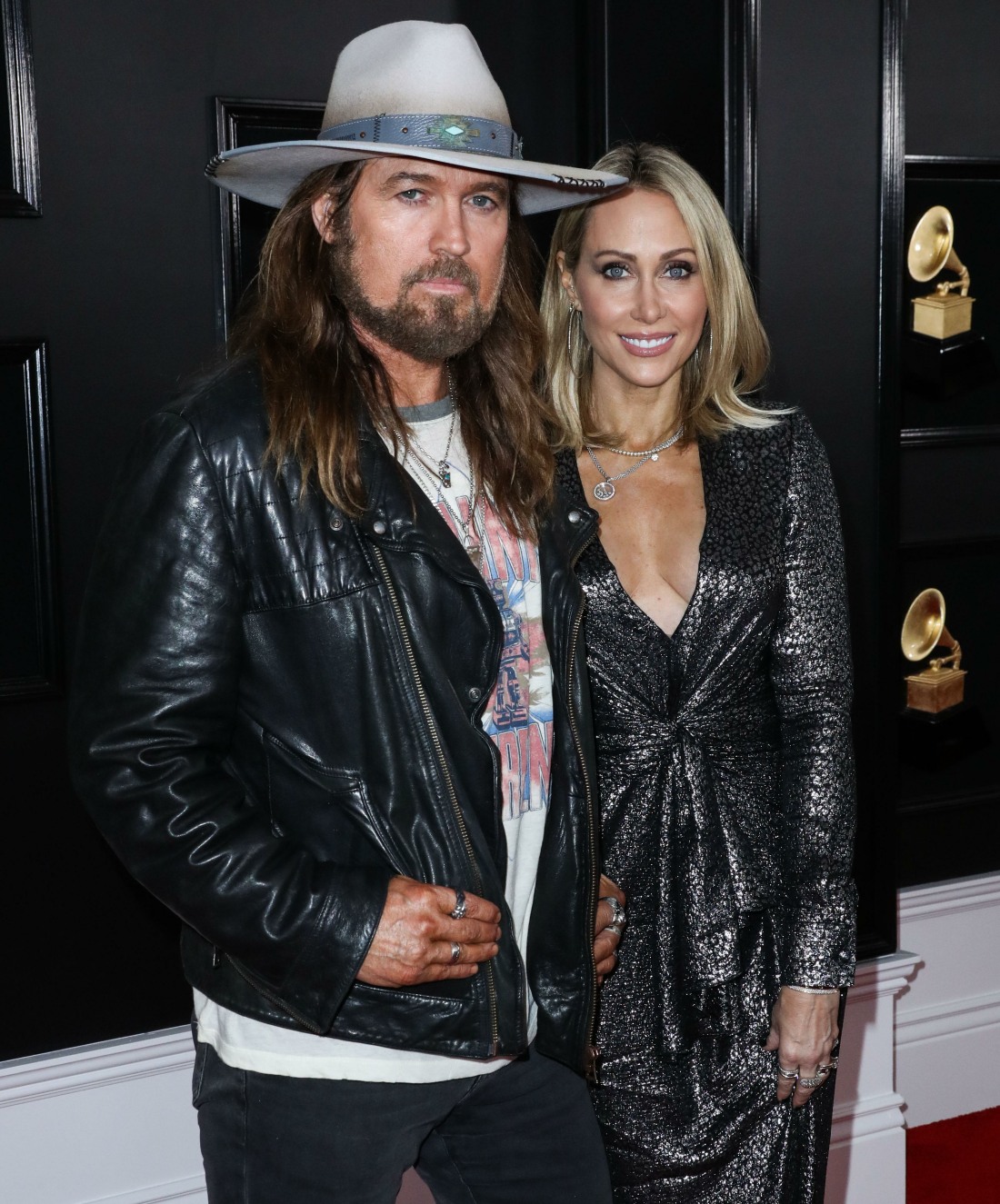 Don't yell at me but I truly thought that Tish and Billy Ray Cyrus had been divorced for years? Tish and Billy Ray's marriage has been on the rocks for a while, and before this month, they've already been through two cycles of filing-for-divorce and reconciling. They last reconciled in 2013 following Tish's divorce filing, and I tend to believe that while they "reconciled" on paper, they've been living separately for years. Well, third time's the charm. Tish filed for divorce again:
Tish Cyrus has filed for divorce from Billy Ray Cyrus, after nearly 30 years of marriage. According to court records, Tish filed docs in Tennessee last week, they have 5 kids together including Miley and Noah Cyrus. Noah is the youngest at 22 years old, so there is no need for a judge to figure out custody of any minor children.

In the divorce docs, obtained by TMZ, Tish says the couple hasn't lived together for more than 2 years … and lists "irreconcilable differences" as the reason for the split. She's asking the court to equally distribute all marital assets.

This is the third time the couple has filed for divorce. Billy Ray filed in 2010, that was called off, and in 2013 Tish filed … though that was called off a short time later as well. Tish and Billy Ray got married in 1993 in their living room in Franklin, Tennessee. Miley followed in mom and dad's footsteps when she and Liam Hemsworth got married in the same spot in 2018. Miley and Liam finalized their divorce in January 2020.
As I said, they've been living separately for a while. I bet they've been apart for a lot longer than two years. Tish and Billy Ray ended up issuing a joint statement a few hours after the news came out:
"It is after 30 years, five amazing children and a lifetime of memories, we have decided to go our separate ways — not with sadness, but with love in our hearts," reads a joint statement issued by the couple via a family representative exclusively to PEOPLE. "We have grown up together, raised a family we can be so proud of, and it is now time to create our own paths. We will always be family and look forward to a continued and loving shared experience as friends and parents. We have not come to this decision lightly or quickly but with so much going on in the world, we wanted to provide some clarity and closure, so we can remain focused on what is important. With Love and Hope… Tish and Billy Ray Cyrus."
I double-checked the ages for Cyrus children, and it's true, they're all adults. Noah is the youngest, and she's 22 years old. Miley is 29, Christopher is 30, Trace is 33, Braison is 27, Brandi is 34. And let's be clear, Tish was the one raising the kids. They're all very attached to her. Billy Ray has always gone off and done his own thing.
Photos courtesy of Instagram, Avalon Red.

LOS ANGELES, CA, USA – FEBRUARY 10: Billy Ray Cyrus and Tish Cyrus arrive at the 61st Annual GRAMMY Awards held at Staples Center on February 10, 2019 in Los Angeles, California, United States. (Photo by Xavier Collin/Image Press Agency),Image: 531637132, License: Rights-managed, Restrictions: WORLD RIGHTS – Fee Payable Upon Reproduction – For queries contact Avalon.red – sales@avalon.red London: +44 (0) 20 7421 6000 Los Angeles: +1 (310) 822 0419 Berlin: +49 (0) 30 76 212 251 Madrid: +34 91 533 4289 – Fee Payable Upon Reproduction – For querie, Model Release: no, Credit line: Xavier Collin/Image Press Agency / Image Press Agency / Avalon
LOS ANGELES, CA, USA – FEBRUARY 08: Actress Tish Cyrus and husband/singer Billy Ray Cyrus arrive at the 2019 MusiCares Person Of The Year Honoring Dolly Parton held at the Los Angeles Convention Center on February 8, 2019 in Los Angeles, California, United States. (Photo by Xavier Collin/Image Press Agency),Image: 535252429, License: Rights-managed, Restrictions: WORLD RIGHTS – Fee Payable Upon Reproduction – For queries contact Avalon.red – sales@avalon.red London: +44 (0) 20 7421 6000 Los Angeles: +1 (310) 822 0419 Berlin: +49 (0) 30 76 212 251 Madrid: +34 91 533 4289, Model Release: no, Credit line: Xavier Collin/Image Press Agency / Image Press Agency / Avalon
LOS ANGELES, CA, USA – FEBRUARY 08: Singer Miley Cyrus with mother Tish Cyrus and father Billy Ray Cyrus arrive at the 2019 MusiCares Person Of The Year Honoring Dolly Parton held at the Los Angeles Convention Center on February 8, 2019 in Los Angeles, California, United States. (Photo by Xavier Collin/Image Press Agency),Image: 535255982, License: Rights-managed, Restrictions: WORLD RIGHTS – Fee Payable Upon Reproduction – For queries contact Avalon.red – sales@avalon.red London: +44 (0) 20 7421 6000 Los Angeles: +1 (310) 822 0419 Berlin: +49 (0) 30 76 212 251 Madrid: +34 91 533 4289, Model Release: no, Credit line: Xavier Collin/Image Press Agency / Image Press Agency / Avalon