Usually we hear about celeb/fan encounters from the fan. There are a few types of celeb photo stories. There's the "I asked them for a photo and they said yes because they were so nice" story. There's the "I didn't want to bother them because they were with their family but I did anyway and I asked for a photo and they said no but they were really nice" story. And there's the "I asked them for a photo and they said no and they were a total dick about it" story. Most fan photo request stories are variations on those three, but very rarely does the fan ever describe their own behavior, only the celebrity's. Well Keke Palmer is talking about a fan's bad behavior when she was asked for a photo.
Keke was out at a bar recently and another patron asked her for a photo three times. Each of the three times, Keke politely declined, but the woman then filmed Keke against her will. Keke felt she couldn't react because that would become the story — "star loses it on innocent fan who just wants a photo of her idol!" — so she just laughed it off. But later, Keke took to social media to tell the story and talk about her feelings on the topic.
Keke Palmer is opening up about an invasive encounter with a fan.

The actress and singer, 28, penned a set of statements on Twitter Saturday, detailing a recent interaction. Palmer said that a woman refused to accept that she did not want to take a picture with her numerous times.

"No means no, even when it doesn't pertain to sex," Palmer began her first tweet. "I was at the bar the other day and this girl asked me three times for a picture and I told her three times nicely that I did not want [to] take one with her."

Palmer said that the woman then "still preceded to film me against my will," as she noted in a follow-up message that she did not react to her, explaining, "If I went off on her I would've been wrong, so I just nervously laughed while my privacy was invaded upon."

Palmer continued to write about the fan encounter in an Instagram post on Saturday, where she shared her two Twitter messages and added in the caption of that post that she was "still upset" about the moment.

"I hated that I smiled, but that is my defense mechanism to laugh or joke in an uncomfortable situation and it misleads people every time," the Scream Queens star said.

"Literally I could be wanting to scream, and on the outside I'm still preforming [sic]. The fact that I tell people no at all is therapeutic progress for me [o]bvs," Palmer continued.

The Emmy-winning star then said that "boundaries can sometimes be so difficult but when you people please or always try to avoid conflict, you let yourself down every time…"

"Goodluck to all those who also struggle with this from time to time. ♥️," she added, before concluding her message with a plea for fans.

"If you ever want a picture with me and I say no, let's just let that rock," Palmer wrote.

In the comments section, Palmer was met with an outpouring of love and support from friends and fans alike.

"You handled that like the Queen you are!!" one user wrote as another said, "People are really out of order! Ughhh."

Another added: "Yessss set your boundaries queen!!! 👏 it's hard but soooo rewarding when you prioritize yourself over others."
That "fan" is honestly so obnoxious. Imagine being told no once and then asking the same question two more times. That's honestly embarrassing and thirsty. Was she really drunk and forgot she asked? Even so, that woman should not have filmed Keke against her will. Keke doesn't give a reason for saying no, and honestly, she doesn't have to. Sometimes you just don't feel like taking a photo and want to fly under the radar. Despite all her success, I think Keke does still occupy that liminal space of fame where she's recognizable, but most often in that "hm, where do I know her from" way and taking a bunch of photos with a random would blow up her spot. Or maybe she just wanted to have drinks in peace. This probably wasn't a problem for her, but sometimes I don't even like to take photos at the bar with my actual friends because I think I look like a total uggo and don't want to immortalize that. Unfortunately, Keke was right not to react in the moment; that would have given the fan a "better story," which was clearly what she wanted.
Having your boundaries violated like that completely sucks. I know, she's a celebrity, etc, etc, but her whole life isn't a performance. Keke is just as entitled to her personal space and downtime as the rest of us are. But unfortunately people feel ownership over celebrities and women in general. I still very clearly remember a time when I went shopping in the city with my friends when I was 15 and some creepy grown ass man with a video camera spotted and followed us for blocks, shamelessly recording me up and down with his video camera. (One of my friends told a patrol cop and he literally shrugged, thanks NYPD). He never even got that close to me or spoke to me, but even thinking about it now brings up those icky feelings of violation and lack of control over your own image. And that was just one time 17 years ago. Imagine having that happen to you, in varying degrees, all the time. I feel bad for Keke that she had to deal with that fan and I'm glad she called it out.
No means no, even when it doesn't pertain to sex. I was at the bar the other day and this girl asked me three times for a picture and I told her three times nicely that I did not want take one with her. She still preceded to film me against my will..

— Keke Palmer (@KekePalmer) April 23, 2022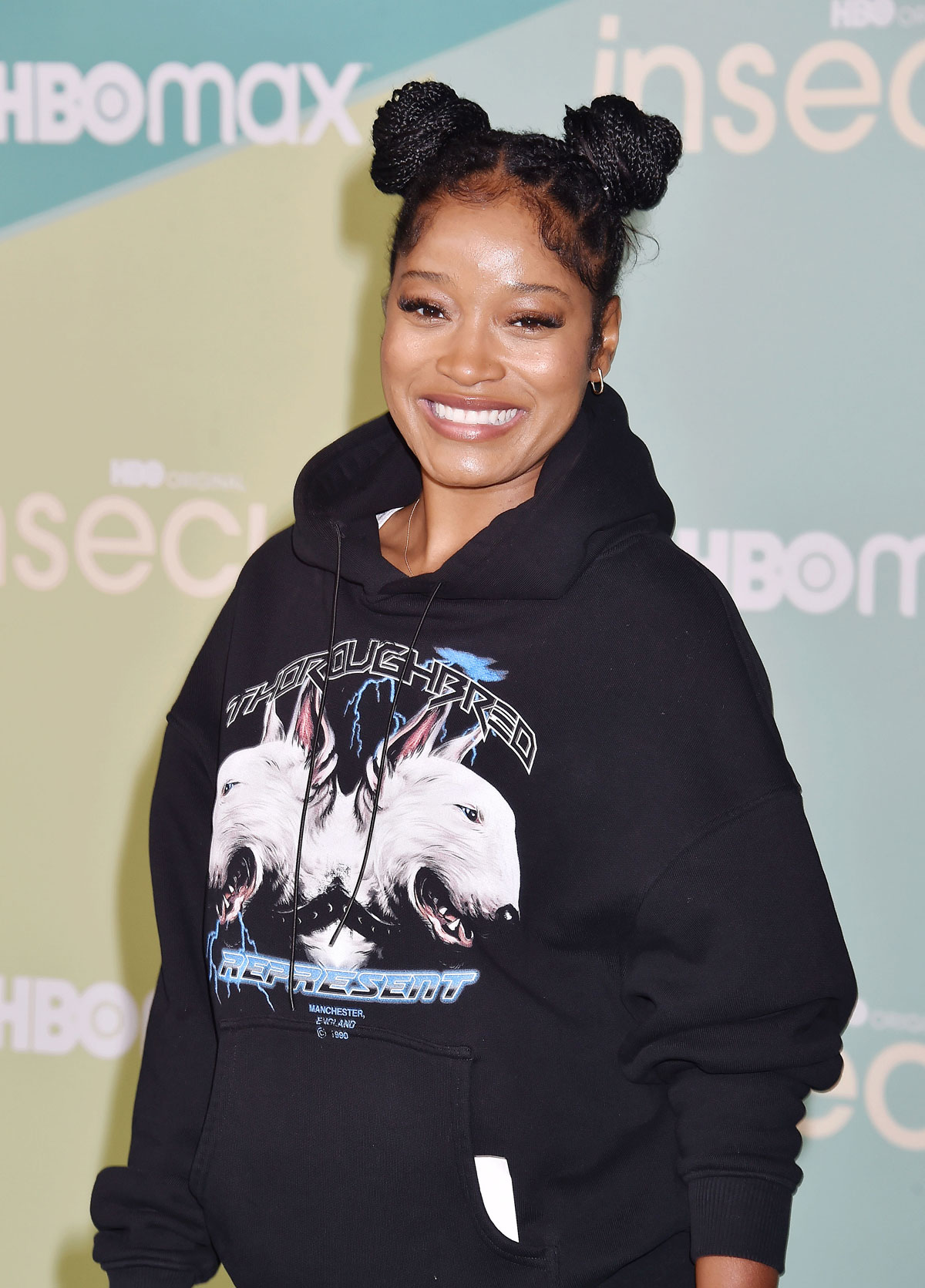 Photos credit: Avalon.red, Instar and via Instagram