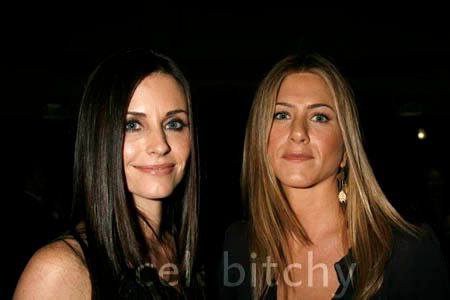 Jennifer Aniston and Courtney Cox are said to have had a huge falling out when Cox couldn't make it to visit Aniston on set in Oregon where she's filming. Aniston is working on the movie Management with Woody Harrelson and Steve Zahn, and she's out in the small town of Madras staying at a hotel without room service that looks like a no-frills adequate three star. She's said to avoid hanging out with her costars after work, and is supposedly lonely.
Star Magazine reports that she asked Courtney to come visit her and to bring her daughter Coco along and Courtney had to say no because her husband David Arquette didn't want her to go without him. This supposedly made Jen tell Courtney that she wasn't being a decent friend, Courtney said Jen was acting selfish, and now they're not speaking:
Things came to a head when Jen asked Courteney and her 3-year-old daughter, Coco, to come see her on the set. But Courteney's husband, David Arquette, didn't really want them to go, says another source, and that set Jen off.

"She called Courteney from Portland," says a source. "She'd had a bad day on the set and wanted to talk about it. She was hoping Courteney might come to Oregon to see her. But when Courteney told her it wasn't a good time, Jen lost it. She broke down and screamed that Courteney wasn't supportive and never makes time for her anymore.

"Courteney was blown away. She feels like all she ever does is listen to Jennifer whine…

"Courteney told Jen that she was being selfish. But Jen didn't want to hear it and slammed down the phone. They haven't talked since.
[From Star Magazine, print edition, November 26, 2007]
Of course this means that Aniston has been contacting her ex, Brad Pitt. Star claims that they've been "exchanging a flurry of e-mails for weeks," and that Aniston is being flirty in e-mail. But then they push this questionable tale to the limit by adding that they've been talking on the phone too. If Brad and Jen were really talking on the phone, why didn't Star lead with that tidbit instead of focusing on the e-mails first? It all sounds a bit suspect, like most of the other cover stories about the long-dead Brad/Angelina/Jen triangle.
She's really winning Brad's heart with her e-mails. She knows Angelina Jolie doesn't have much of a sense of humor, so she makes her e-mails to Brad extremely entertaining. She's flirting. She's like Meg Ryan with Tom Hanks in You've Got Mail. She's opening up her heart and trying to build a bond."

Besides pouring out her heart in her messages, Jen has also been talking shop with her ex, the friend reveals.

"Brad wants to help her with her career," says the pal, "and Jen has even suggested a private meeting. I think she asked him to visit her in Oregon, but that's totally unrealistic. If Brad flew out there, it would look just awful to Angie – and to the whole world.
[From Star Magazine, print edition, November 26, 2007]
All that sounds like total bullshit to me, but it could be true that Aniston and Cox are fighting. You could see single Aniston getting upset when Cox doesn't drop everything to be with her. As for the supposed e-mails and phone calls with Pitt, it's doubtful.
Header image is of Aniston and Cox together at the Dirt premiere on 12/10/06, thanks to Splash News. They are shown below in an older image at the SAG Awards on 3/9/03, thanks to PRPhotos.