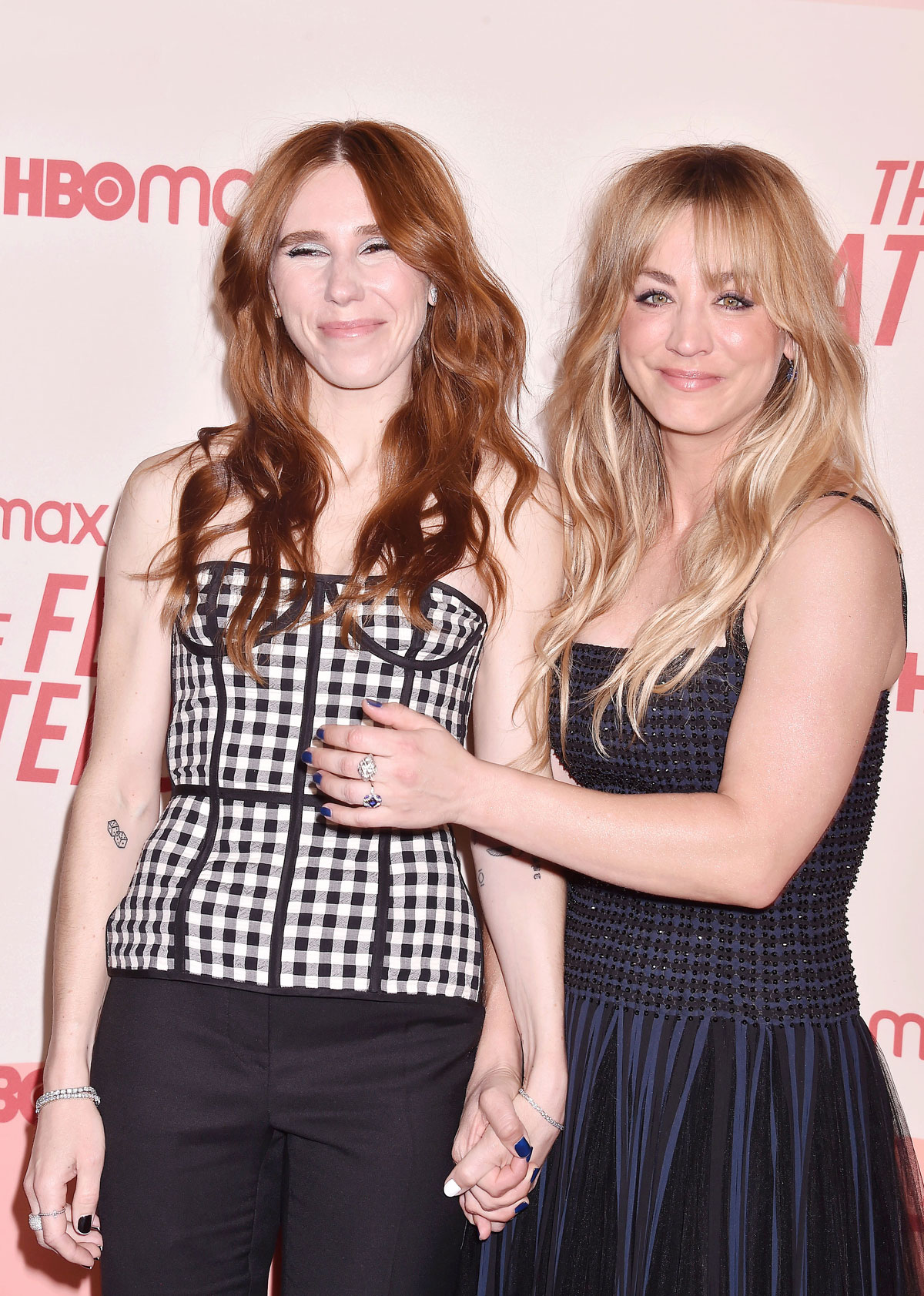 I'm really liking the second season of The Flight Attendant. Despite Cassie's sobriety, it still has the same frenetic, madcap energy. No spoilers, but I think it's really good so far! I'm invested in this season's mysteries and I like the cadence of releasing two episodes per week. It's better than just one, but not too much at once!
Anyway, Kaley Cuoco is still making the rounds to support/promote the show and she appeared on Kelly Clarkson's talk show this week. Kaley talked a lot about her friendship with co-star Zosia Mamet, calling Zosia her best friend. Zosia helped Kaley through a tough time — her divorce — and they spent a lot of time together on and off set.
Kaley Cuoco knows all about the power of female friendship, thanks to her bond with her The Flight Attendant co-star Zosia Mamet.

The Big Bang Theory alum appeared on The Kelly Clarkson Show this week, where she spoke about how the Girls star supported her during filming of the show's second season.

"Zosia is my co-star and my best friend. She helped me so much through Season 2," Cuoco gushed to Clarkson. "She basically lived with me the last few months of shooting, we just moved in together. And she, I don't think I would have gotten to work some days without her. I never thought I had to depend on anyone like that before, and I really depended on her. She helped me through so much."

Cuoco, who recently split from her husband Karl Cook after three years of marriage, got emotional as she explained how Mamet would come to set on days when she had off, just to have lunch with Cuoco.

"She heard I was having a rough time," Cuoco explained. "She would sit in my trailer. She's the best, I'm very lucky that I have her."

When Clarkson shared how important her own female friends are in her life, Cuoco added, "I'm always promoting that with everyone. I'm like, 'You need to have good girlfriends in your life. It's so, so important.'"

Cuoco and Mamet, who grew close while working on The Flight Attendant, recently got matching tattoos of the word "Boop." The 8 Simple Rules star shared a photo of herself and Mamet's new ink on Instagram in April, along with the caption, "I 'booped' you many years ago @zosiamamet. Glad we made it official." Last year, Mamet told The Hollywood Reporter that in their first audition scene together, Cuoco had "booped" Mamet on the nose, which at the time wasn't in the script.
This story is very sweet and a much better than that Sharon Stone one. It's really nice that Zosia would come to set just to have lunch and hang out with Kaley and that she was staying with Kaley at her house. It probably really helped Kaley to have a friend around so often while dealing with her divorce. Especially since movement and socializing was probably a bit more restricted at that point due to covid. From what Kaley has said about her divorce, it clearly took a toll on her. And sometimes when you're going through something, it just helps to have people physically around you, even if you're not specifically talking about the issue. Being around others just helps with getting out of your own head. It's good that Kaley had Zosia for support during that time. And I agree with what Kaley says about needing to have good girlfriends in your life. A lot of people neglect or abandon friendships for romantic or familial relationships. But finding good friends who will always be there for you is very important. Honestly, I've never understood people who just don't care about having friends.
While I'm not of the mind that co-stars have to be best friends — after all, it is work — it's cool that they are. I like their dynamic onscreen, with Zosia's character being the more reserved and rational one with her own questionable past as a mob lawyer as a foil to Kaley's flighty, huggy, impulsive energy. And while they're obviously not exactly like their characters, their onscreen dynamic makes me glad they're friends in real life as well. The way they're fleshing out Zosia's Annie character this season is interesting. She's move involved in the central mystery and they're giving her more of her own side story with her relationship and work woes. And they managed to bring her to California in a way that wasn't too contrived, given the events of the past season. I'm interested to see how this season's story shakes out and the friendship between Kaley and Zosia's characters grounds the show (no pun) through all the zaniness.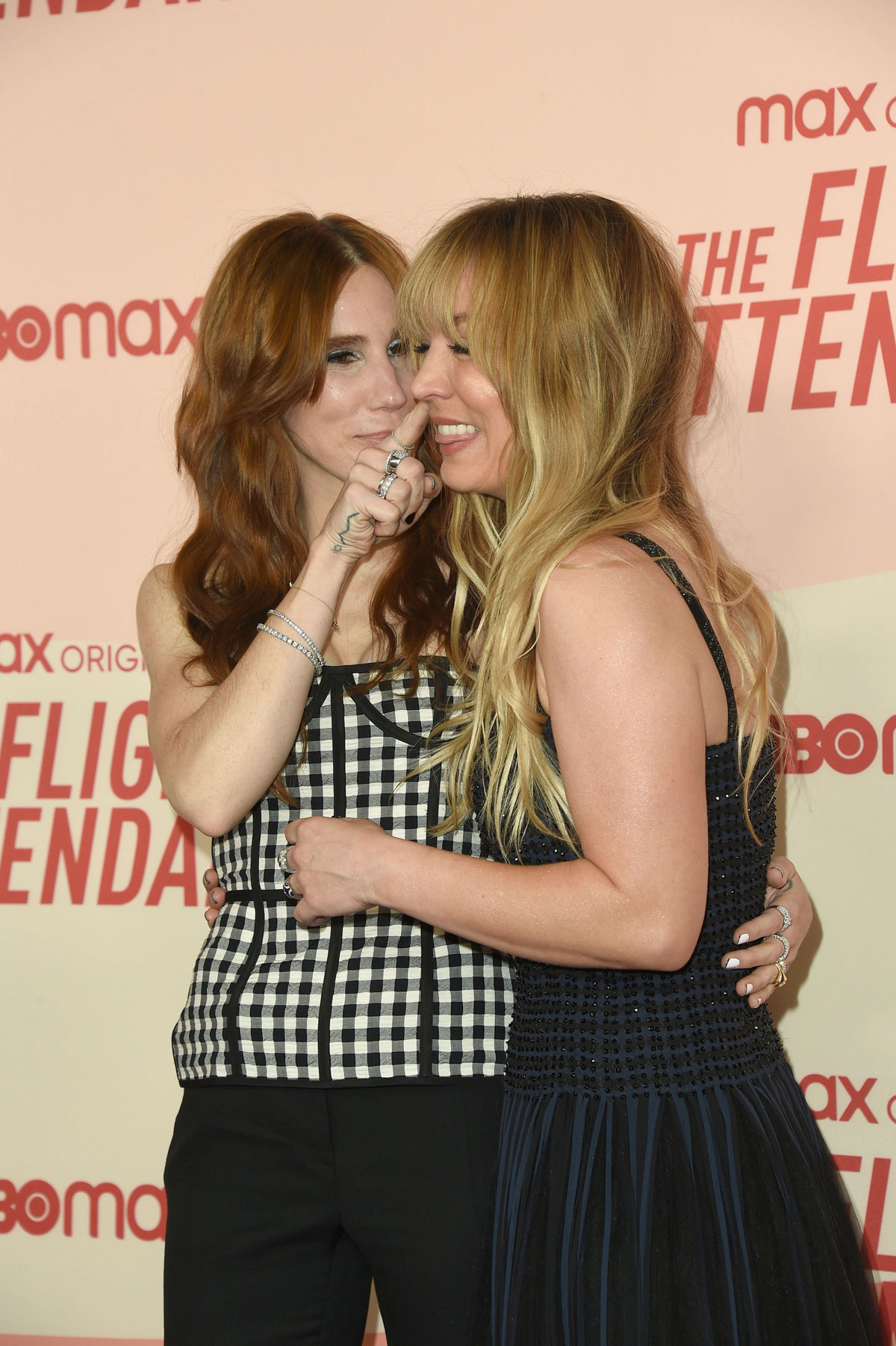 Photos credit: Avalon.red and via Instagram