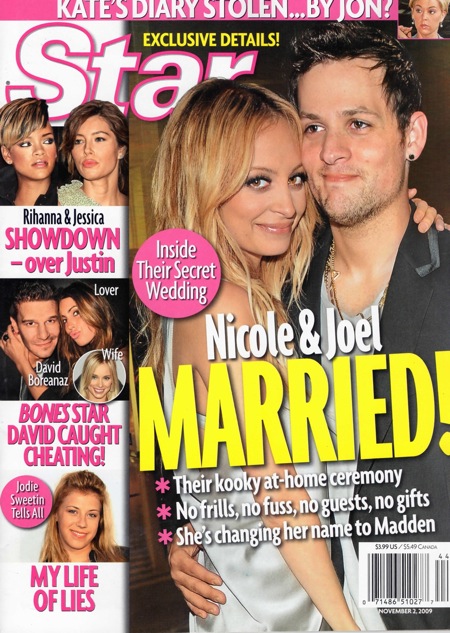 Surprising no one, Star Magazine's cover story this week is total crap. They claim that Nicole Richie and Joel Madden got married a few weeks ago. If that was the basic gist of the report, I wouldn't think anything of it. After all, a bunch of different sources were running variations on the "Joel and Nicole might be secretly married" story, including us. Star Magazine took it to a different level though. According to Star, "The long-time loves exchanged vows during an intimate at-home ceremony on Oct. 14 with Joel's brother and bandmate Benji as a witness. But the couple were hardly alone on their big day. They were actually married — along with 45,000 other people worldwide! — as part of a mass wedding by the Unification Church." Of course this was crap. Joel Madden called Star Magazine out with a low-key, two-sentence posting on Good Charlotte's website:
Hold those congratulations: Nicole Richie and Joel Madden haven't gotten hitched. The new issue of Star claims they've wed, but Madden, 30, denies it on his band's website.

"I keep getting emails from old friends and family asking about a wedding. NO we didn't get married," he blogs.

Richie, 28, and Madden are parents to 1-month Sparrow and 21-month-old daughter Harlow.

Last May, they said they have no immediate plans to wed.

"I think for both of us, we are going to do it because we want to, not because that's what you do," Richie told CNN's Larry King. "We're going to do it when the time's right."

Added Madden, "We're really focused on our family, and … we already feel kind of married, you know? Our family system that we have down, we feel like this is a real family and marriage, one day it will come."
What more is there to say? They might get married at some point, they might not. It's their business, and they seem to be keeping their stuff pretty private these days, save for the odd People Magazine cover celebrating their cute kids. Most sources claim that Joel is the one who really wants to get married, and that Nicole is the one who doesn't seem to care. I have no idea if that's the case. But I do hope that both of them agree on their decision not to marry. I'd hate to think either of them was holding some kind of grudge.