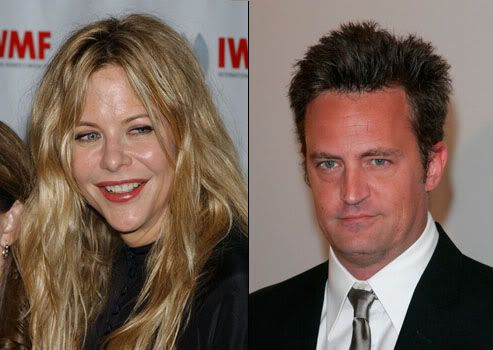 Matthew Perry was briefly linked with singer/crappy actress Mandy Moore after the two were seen out holding hands on a romantic date together earlier this month. Not much seems to have come of that because there were no further sightings and Moore has seen been seen out with her ex, DJ AM.
Now there's news that Matthew Perry may also have reconciled with one of his exes, new mom Meg Ryan, right around the same time. The two were first linked this February, and it sounds like they've been reacquainted. 38 year-old Matthew and Meg Ryan, 48, had a dinner date at the Chateau Marmont that sounds like it ended with a late night hookup in a romantic hotel suite. They also had another date a little over a week later.
Matthew Perry's on-again, off-again romance with Meg Ryan appears to be very much on. The couple, who dated earlier this year, met for a late-night dinner date at LA's Chateau Marmont on November 1, and Matthew even booked at suite at the hotel, says a friend of Meg's.

"It finally dawned on him that he and Meg have a great connection," says a friend…

The romance continued the following week, too. On November 10, Matt… and Meg… took in a Swell Season concert at the Wiltern theater in LA.
[From Life and Style, print edition, November 26, 2007]
And while Matthew has been playing the field, dating Mandy and then Meg in quick succession, so has Meg. The former a-lister with the trout pout was seen out on a maybe-date with single Hank Azaria on November 6, which was in between her sleepover and follow-up date with Matthew. Meg was either on a double date with Azaria and another couple, or they were just all together as friends, but the two took pains not to be photographed together as they left the restaurant:
[Meg Ryan and Hank Azaria were] spotted together leaving the exclusive Manhattan restaurant The Waverly Inn on November 6. Meg and Hank dined with NFL Network anchor Rich Eisen and his wife, Suzy Shuster, an ABC Sports sideline reporter.

"As Meg and Hank walked out, he opened the door for her and let her pass," the eyewitness said. "As soon as she saw a photographer waiting outside, she ducked to the side because she didn't want to be in the photo."
[From The National Enquirer, print edition, November 26, 2007]
Whatever the case, it looks like both Meg and Matthew have active social lives. Maybe they're just keeping things casual for now.
Meg Ryan is shown on 10/30/07 at The International Women's Media Foundation Courage in Journalism Awards. Matthew Perry is shown on 10/13/07 at The Lili Claire Foundation Benefit Dnner and Auction. Thanks to PRPhotos.