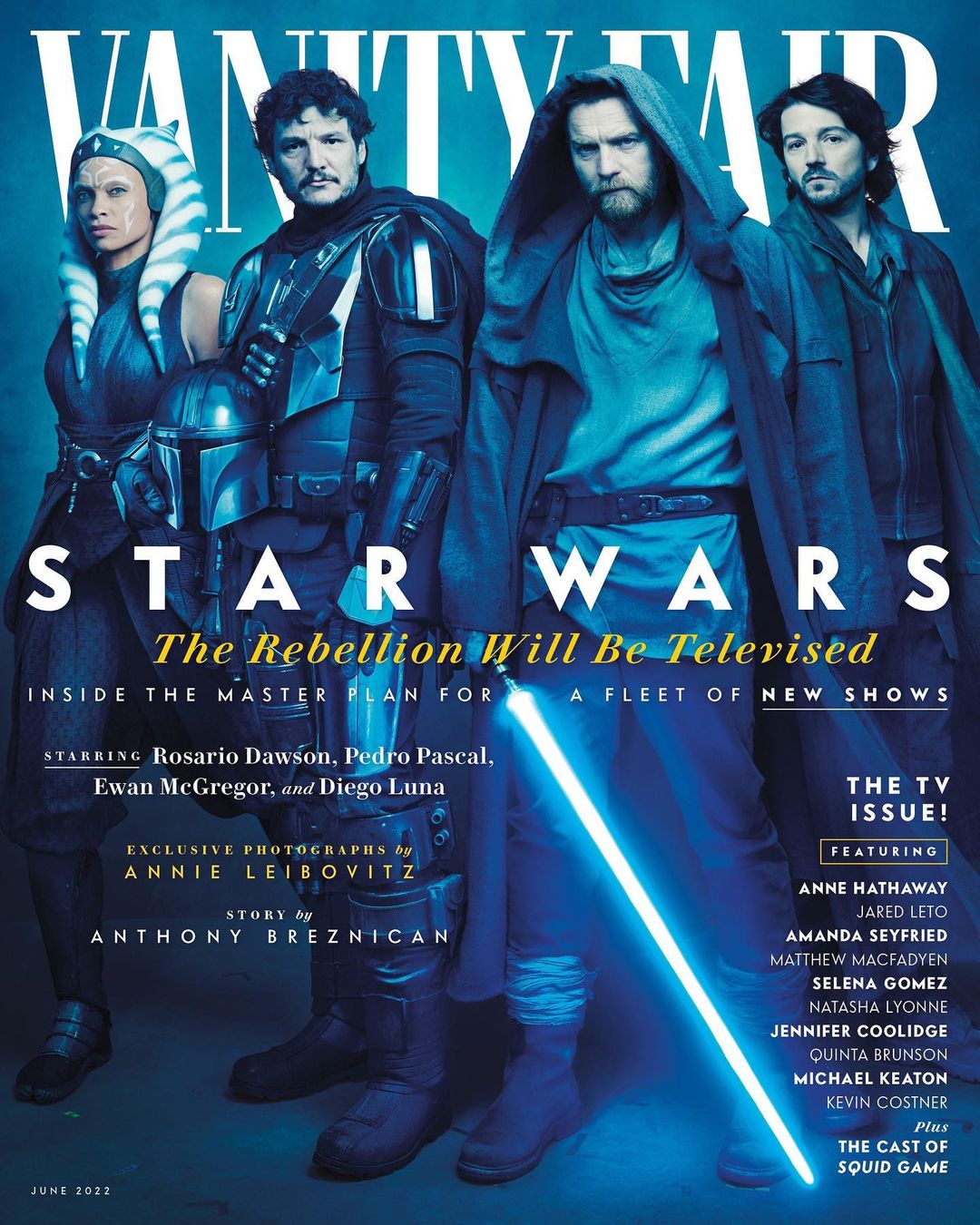 Get hyped about all of the new Star Wars-related series coming out on Disney+. That's what Vanity Fair's June cover is all about! Disney has already dealt with some hard truths about their need to milk the Star Wars universe in every way, shape and form. They hit pause on many of their films after Solo bombed (relatively speaking) and everything was a shambolic mess behind-the-scenes. But Disney found their groove with the Lucas properties by moving so much over to their streaming, and focusing on episodic storytelling. The Mandalorian is a huge hit. The Book of Boba Fett got less energy, but it was still considered a success. Obi Wan Kenobi is about to launch. And VF's cover story talks about what else Disney has in the pipeline:
The streaming success: Now, with 130 million subscribers waiting, Disney has upped its demands to three separate Star Wars shows within a year. For this story, Lucasfilm has lifted the secrecy surrounding its TV universe and how it formed, as universes do, under immense pressure.

The Kenobi series: First up is Ewan McGregor's return to his role as a weary Jedi master in exile. Obi-Wan Kenobi debuts May 27, tracking the character 10 years into his time on the desert world of Tatooine, where he serves as a distant guardian to young Luke Skywalker and is hunted by a dark side "Inquisitor" named Reva (played by The Queen's Gambit's Moses Ingram).

The Andor series & Ahsoka series: Diego Luna's spy saga, Andor, hits screens late this summer. Season three of The Mandalorian, reuniting Pedro Pascal's helmeted gunfighter with his little green ward (you know who), drops in late 2022 or early 2023. Next year, Rosario Dawson will lead the series Ahsoka, playing the live-action version of a fan-favorite Force wielder from animation who was once an apprentice to Anakin Skywalker. Slightly further off is The Acolyte, with a tale set about a century before the era of the Skywalkers.

Ewan McGregor on how Star Wars has taken over his life: "My partner, Mary, is doing that Star Wars series with Rosario and she's about to start," he says. Lucasfilm hadn't previously confirmed rumors that Mary Elizabeth Winstead will be in Ahsoka, but…now they don't have to. "Our little boy has been born into this massive Star Wars family," says McGregor, whose son with Winstead was born last summer. "He will either embrace it or really go the other way. I don't know. Maybe he'll be a Trekkie!"

Diego Luna on Andor: When Luna was recruited for Andor, the actor remembers looking out the car window at the rooftops of the adjacent buildings, visualizing the tale about resistance-minded spies and near-death escapes. He was especially glad that Gilroy's proposal included details that resonated personally. Luna describes Andor as a refugee story, with desperate people fleeing the Empire at the full force of its power. "It's the journey of a migrant," he says. "That feeling of having to move is behind this story, very profoundly and very strong. That shapes you as a person. It defines you in many ways, and what you are willing to do."
I like the emphasis (within the VF piece) on Diego Luna coming back to tell the backstory of his Rogue One character. Spoiler: Cassian Andor sacrificed himself at the end of Rogue One. But he was a fan favorite, and people loved seeing a Mexican actor within the Star Wars universe. It sounds like his story will not just be the migrant's story, but a full-on spy caper too, and a story of political power and how it affects migrants. Anyway, Disney is putting a lot of money into these series, but I'm actually really glad that they've shifted priorities away from films and into episodic television. It feels like creators are given much more time and space to tell the Star Wars stories they want to tell.
Cover & IG courtesy of Vanity Fair.