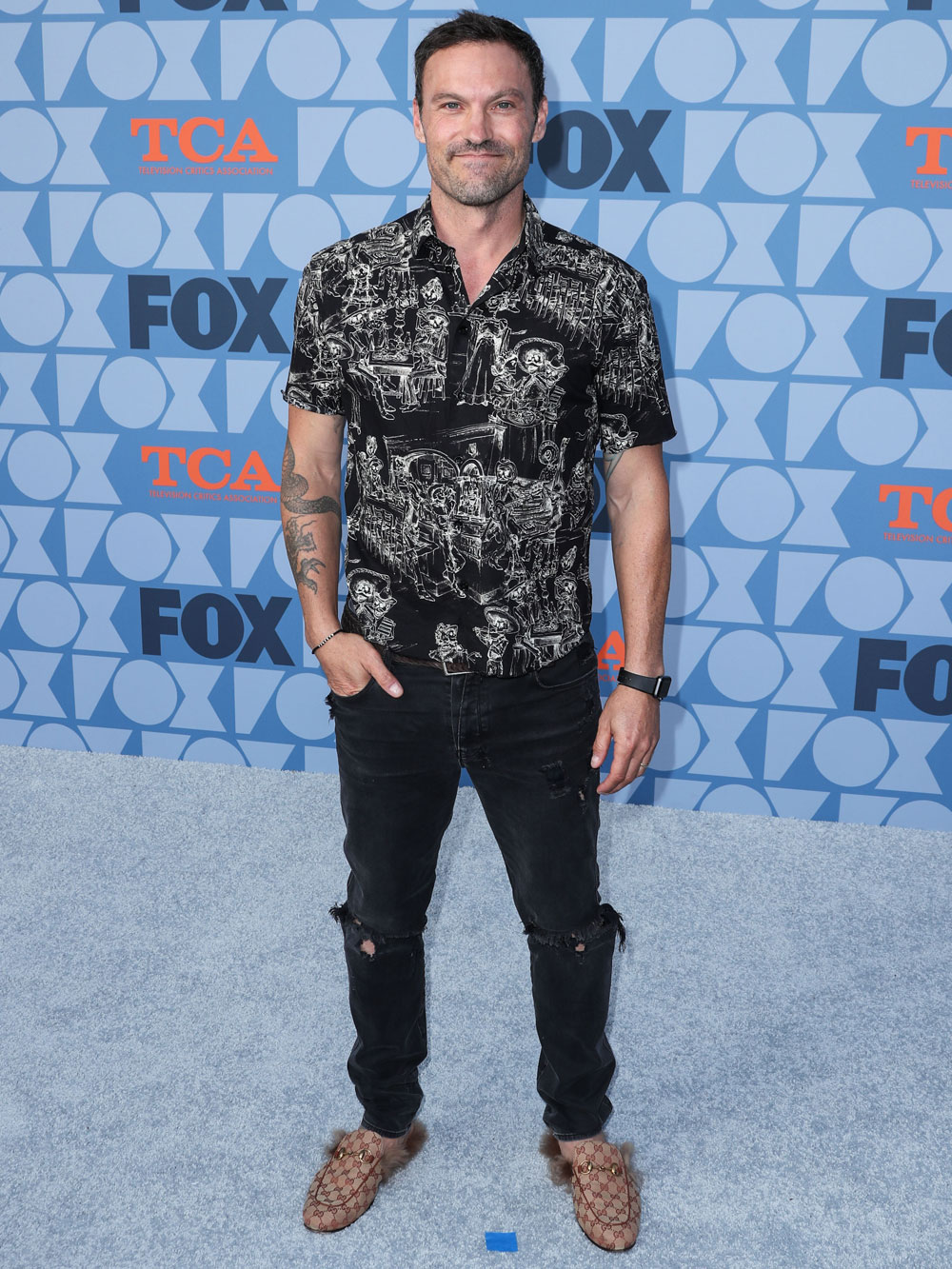 Brian Austin Green and Sharna Burgess were on Good Morning America recently talking about their relationship, their upcoming baby and Brian's health problems. Sharna said she was 33 weeks pregnant, meaning she's due in about two months since a pregnancy is around 40 weeks. (Correct me if I'm wrong! This site says 33 weeks is eight months pregnant but that there are seven weeks left. I have a kid but that has always confused me.) Brian opened up about his battle with ulcerative colitis, which is an inflammatory bowel disease that can be debilitating. He said he'd lost 20 pounds from it.
Brian Austin Green… The actor, 48, appeared on Good Morning America Thursday morning, where he spoke alongside pregnant girlfriend Sharna Burgess about his recent health issues.

Noting that he has "dealt with ulcerative colitis a few times," Green called dealing with the illness "a real rough experience."

"Sharna had never experienced it at all," he continued, before Burgess, 36, chimed in, adding, "I didn't realize how debilitating it was until I saw him and watched weight drop off him."

[Brian] revealed that he "lost like 20 lbs.," Burgess said that symptoms of the illness made her "scared," given that she had no experience dealing with something like it the past.

"Not having experienced this type of thing before, and still learning, I was supportive and loving and [like], 'I'm here for you,' and internally fearful for how long does this go on for?" she said.

Green then noted that he has revamped his diet in an effort to better live with the disease.

"I try and avoid gluten and dairy as much as possible," he said during his GMA chat. "It's really just dietary, like, as long as I can keep things within my system that my body doesn't think I'm poisoning it with, then it doesn't fight back."
My mom has microscopic colitis. Like Brian she doesn't eat gluten and dairy, and is on a FODMAP diet along with that. She can't have specific foods like onions, fruits, sweeteners and more. It's extremely restrictive but has allowed her to restore her health and to live without pain and frankly – diarrhea. It goes unsaid in this interview, but some foods can go right through you and you have to stay close to the bathroom. My mom's doctor thinks she got it from longterm ibuprofen use before her knee replacement. If you take NSAIDs regularly, please make sure you take them with food.
Getting back to Brian and Sharna, Brian seems to be a controlling person given what we've heard about his relationship with Megan Fox, but I hope he's worked on that aspect of his personality and that he and Sharna are happy together. I got a weird vibe from them here, but it could have been due to the interview format. They do seem to be supportive of each other. Plus they're going to have a baby soon! I'm glad that Brian has figured out his health problems somewhat as colitis is just awful.
They are so cheesy!
Photos credit: Avalon.red and via Instagram