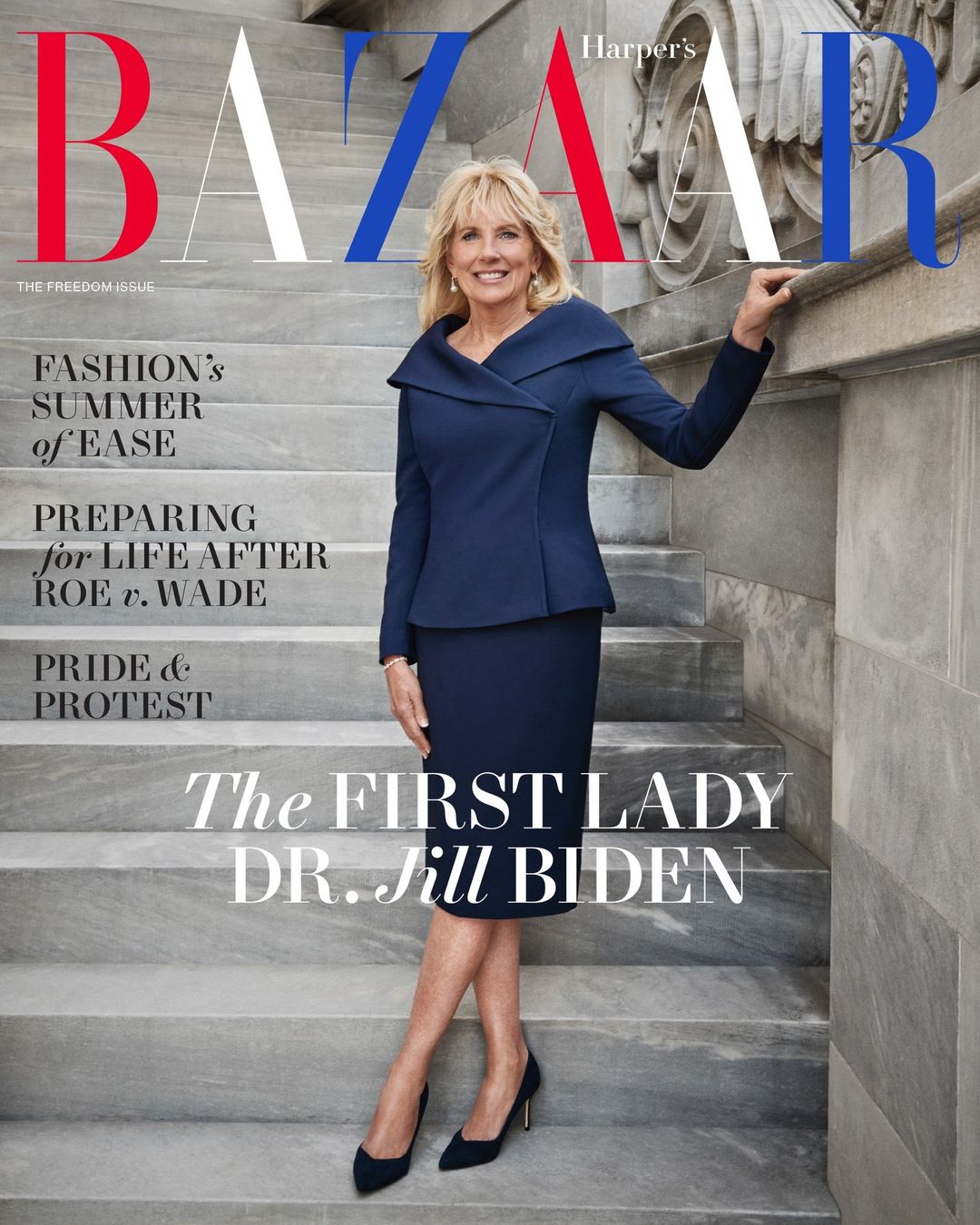 There are certain magazines which are deemed "appropriate" for a FLOTUS to appear on. A First Lady can appear on Vogue, Good Housekeeping, Vanity Fair, People Magazine and… that's usually the end of the list. Michelle and Barack Obama posed for Ebony and Essence a few times. I wouldn't be shocked to see a sitting president or First Lady on the cover of The Advocate. So it's a nice surprise to see Dr. Jill Biden on the cover of another fashion magazine, Harper's Bazaar. She covers the June/July issue and it seems to have a stars-and-stripes/Independence Day theme. This is the first time a FLOTUS has appeared on the cover of Bazaar. I'll say this as well… I think Dr. Biden is an attractive woman, but Bazaar overdid the Photoshop. In a couple of their photos, she's barely recognizable. Anyway, you can read the full profile here. Some highlights:
Her life in the White House: Tthe rigorous slate of meetings and teaching, the barre classes she likes to attend, dinner with her husband, the exams she marks up before bed. (Twice a week, she commutes from the White House to Northern Virginia Community College in Alexandria, where she teaches three classes and has been a professor since 2009.)

She's always working: "Even as a Senate spouse, I was working, going to grad school, doing campaign events, raising kids," she remembers. The pace is intense but not new. "Showing up matters. That's the feeling I get. You're exhausted. You just do it." At the White House, she will set her alarm for sunrise just to steal back a few minutes of alone time. "The first thing I do is open the blinds and look out."

Her first marriage, which ended in divorce: "I believed so much in the institution of marriage. When the marriage fell apart, I fell hard because of that. And for him to turn out to be who he was …" The divorce was emotional torment, but it had practical consequences too. She needed a place to live. She had no income. Her parents offered to let her move back home, but she refused. She scraped up enough to rent a one-bedroom town house in Chadds Ford, Pennsylvania, just over the Delaware state line, while she finished the courses she needed to graduate. "I knew I would never, ever put myself in that position again—where I didn't feel like I had the finances to be on my own, that I had to get the money through a divorce settlement. I drummed that into [my daughter], Ashley: Be independent, be independent. And my granddaughters—you have to be able to stand on your own two feet."

Work as a safety net: "I am a woman who loves to work." She likes how her career has challenged her and what she's learned from her students. With the exception of the few years she took off to be at home with her children, she has always had a job that paid. After a failed relationship, after she married again and her husband became a bigger and bigger force in American politics, her work remained the thing that was just her own: a safety net, a bit of personal freedom. It's the reason Dr. Biden fumes when she thinks about the enduring inequalities that have kept women out of the workforce or from reaching their full potential. "I understand a woman's need to have something for herself," she says.

On her husband: "I try to be a support for Joe, because I don't know how many people are saying to him, 'That was great. That was brilliant.' I try to be that person for him. Some days, I see Joe and I'm just like, 'I don't know how you're doing it.' It's the pandemic and then it's the war and then it's the economy and then it's the gas prices. You feel like you're being slammed."
It is a generational thing for Dr. Biden, and it's a lesson so many women her age and my mother's age learned the hard way: have a job with a paycheck, have something for yourself, don't be financially dependent on a man, have the money to walk away from bad situations. My mom drilled that into me too, and I'm close in age to Ashley Biden. That's one of the things I love most about Dr. Biden, because I feel like younger women need to hear that sh-t and they need to see a role model like Dr. Biden. I love that she's talking about it.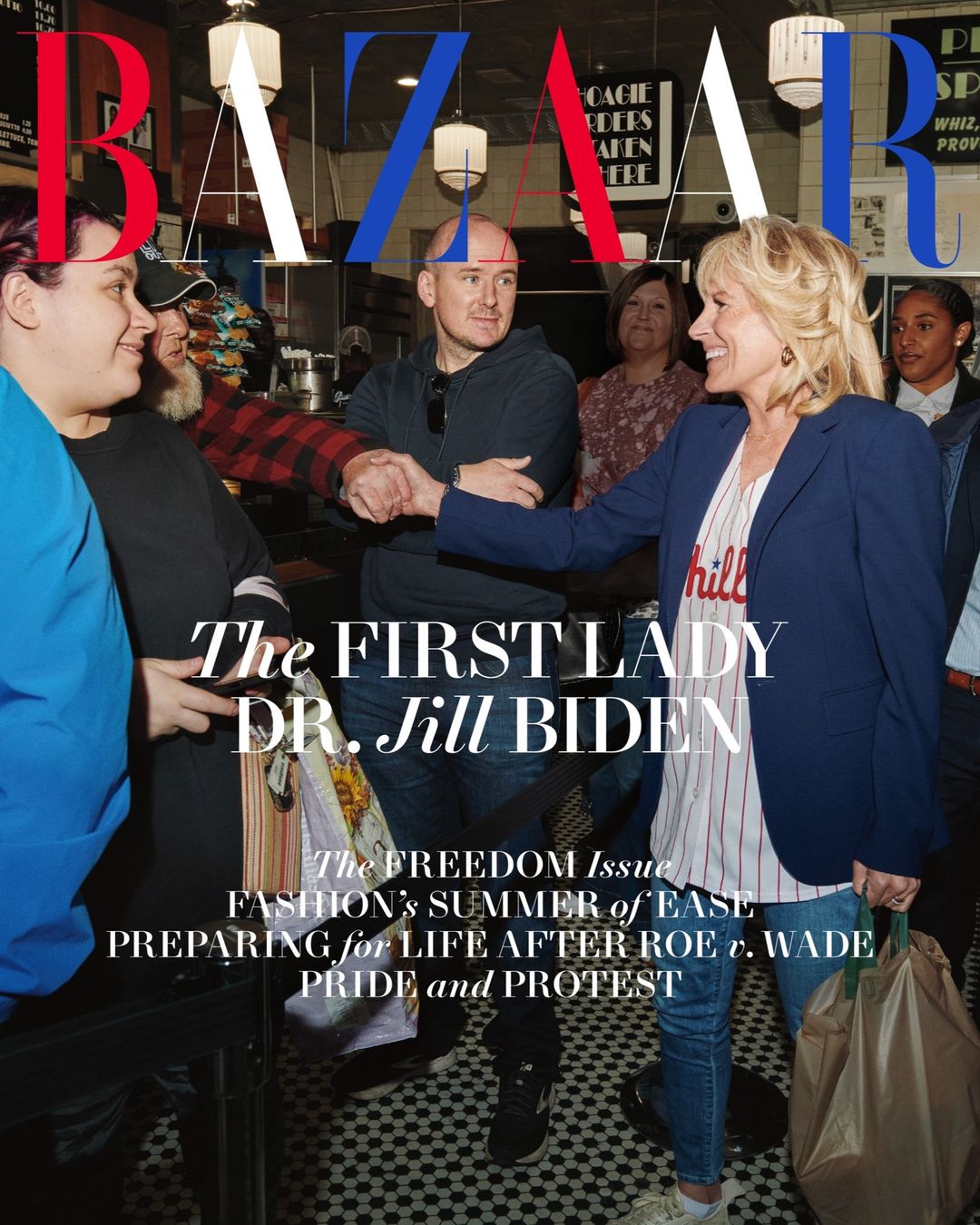 Covers and photos courtesy of Harper's Bazaar.