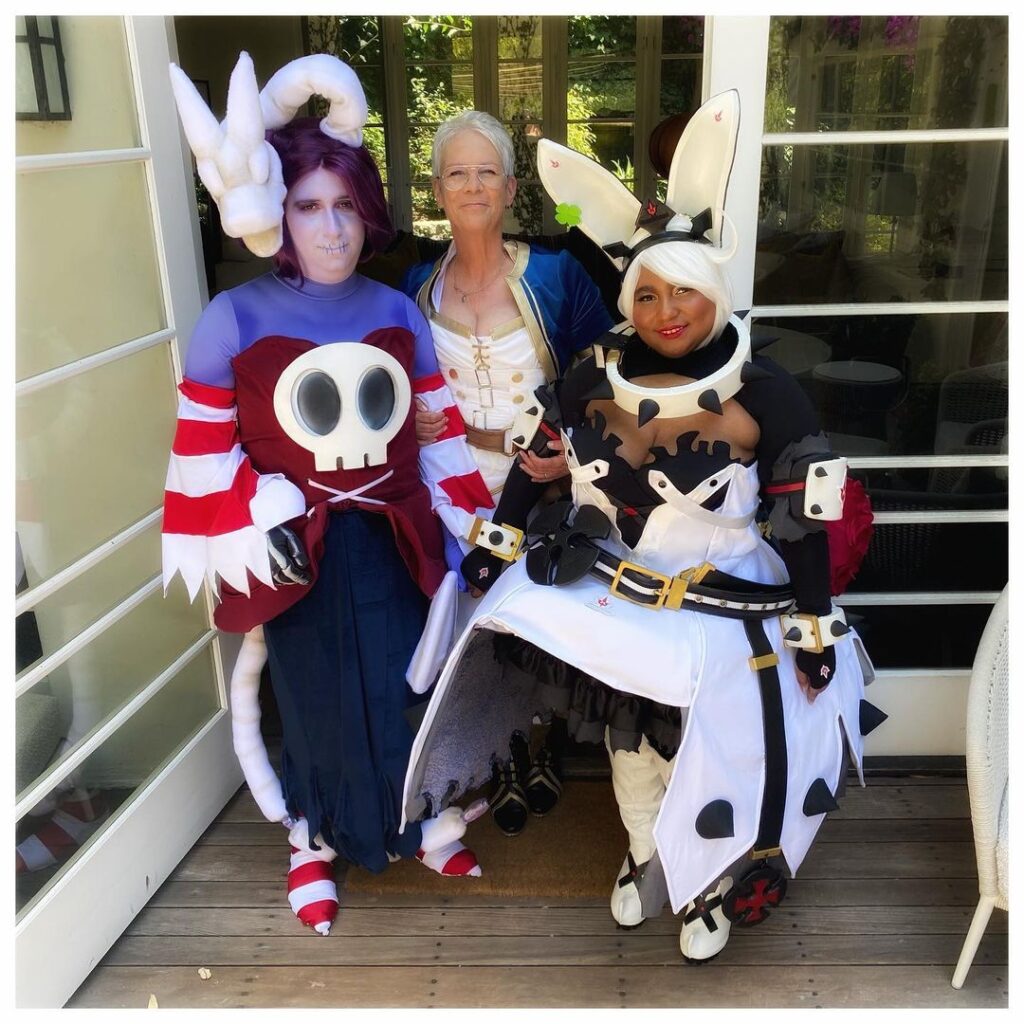 In July of last year, when Jamie Lee Curtis told us her daughter Ruby Guest had come out as transgender, she also said that Ruby was getting married. Jamie didn't give many details at the time, just that Ruby and her fiancée planned to marry this year and that Jamie was officiating. Guess what, we now have the details! Ruby and Kynthia were married on May 28 in Jamie and Christopher Guest's backyard. The wedding's theme looked like Have Fun, if you ask me, but the guests were asked to dress up as World of Warcraft characters, although any ol' cosplay was acceptable. The whole thing looked bright and colorful and simply lovely.
On Saturday Jamie Lee Curtis took some time off from shit-talking Doctor Strange and all other movies that aren't Everything Everywhere All At Once to officiate her daughter's backyard cosplay wedding. 26-year-old Ruby Guest and new wife Kynthia said "I do" dressed up as video game characters; Ruby was Squigly from Skull Girls and Kynthia was Elphelt Valentine from Guilty Gear. 62-year-old Jamie Lee cosplayed as Jaina Proudmoore from World of Warcraft.

Jamie posted the above picture on her Instagram with the caption: "WIFE IS SWEET! Ruby and Kynthia 5/29/2022". Guests were encouraged to dress up in the World of Warcraft theme.

The couple's eldest daughter, Annie, 35, also got married in the family's backyard back in 2019.
Between the costumes and the rainbow color scheme, the wedding was so vibrant. The cake was just a simply chocolate cake but surrounded with color in both flowers and figurines on the table. There were a bunch of balloon clusters, arches and ropes, umbrellas for shade and tents, again, all in the rainbow hues. It's impossible not to feel happy looking at Jamie's photos. As for the costumes, I stand firmly in the camp that a wedding should be exactly what the couple wants. As Emily over at DListed pointed out, Ruby and Kynthia's costumes look like they made their first kiss a little difficult, but they have the rest of their lives to kiss. I admit my first thought was "oh christ, they must've baked in those heavy outfits!" but this weekend was temperate for So Cal, they were probably okay.
As mentioned, Jamie was dressed as Jaina Proudmoore from WoW. I have no idea who that is, but she looked amazing. She said in her caption that she got her costume out of Russia. (She ordered from ETSY, so she's supporting the individual, not you-know-who.) There are no food details beyond the cake, sorry. There was a photo booth. How beautiful that both Jamie and Christopher's daughters married at home and that they'll always have that connection. If I had to give any critique it would be that, as you know, I felt if you're going to have Jamie Lee Curtis at a cosplay wedding, there should've been a decidedly Halloween bent to the theme. At least she got one pic in for me with the shot below, bless her. Congratulations to Ruby and Kynthia, may you know many happy years together.

Jamie Lee Curtis at the 94th Oscars® at the Dolby Theatre at Ovation Hollywood in Los Angeles, CA, on Sunday, March 27, 2022.,Image: 673515217, License: Rights-managed, Restrictions: Avalon Licensing Ltd. do not claim any Copyright of the attached image WORLD RIGHTS- Fee Payable Upon reproduction – For queries contact Avalon sales@Avalon.red London +44 20 7421 6000 Los Angeles +1 310 822 0419 Berlin +49 30 76 212 251 Madrid +34 91 533, Model Release: no, Credit line: Avalon.red / Avalon
Photo credit: Instagram and Avalon Red